A Talk With Jonathan Greenblatt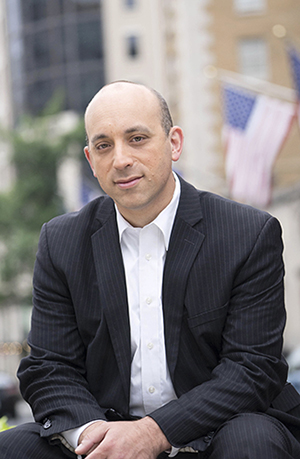 Jonathan Greenblatt, CEO and National Director of the Anti-Defamation League, says his job is to protect the Jewish people. In the nearly three years since he was hired to guide the 105-year-old organization fighting bigotry and rapidly rising anti-Semitism, his outspokenness has made waves. Even before the election of President Trump, he warned that some of Trump's rhetoric "seemed to evoke longstanding anti-Semitic conspiracies" and was "deeply problematic."
Before working under President Obama to accelerate economic recovery and job creation, Greenblatt launched several social entrepreneurial efforts, including All for Good, an online database of volunteer opportunities, and Ethos Water, which brings clean bottled water to children globally. (Ethos was later acquired by Starbucks.) NonProfit Times named him to its Power & Influence Top 50 in 2016 and 2017 and Recode, a technology news website, listed him in its top 100 "people in tech, business and media who mattered in 2017," for working to shut down extremists online.
Greenblatt, 47, grew up in a religiously Conservative home in Trumbull, Conn., marching for Soviet Jewry with his father and grandfather. He interned at ADL's Boston office while an undergraduate at Tufts University, and later received his MBA from Northwestern University. He met his wife, Marjan, an Iranian Jewish political refugee, on a blind date while she was associate director at ADL's Los Angeles office. This interview has been edited for brevity and clarity.
Are civil rights issues always of concern for Jews?
ADL is grounded in the notion that when America is good to the Jewish people, it's good to all its people, and when it's good to all its people, it's also good for the Jewish people. You can't disassemble intolerance and pull out one form of it. They're all interlinked.
Your search to learn about civil rights inspired a new coffee table book, The Good Fight: America's Ongoing Struggle for Justice (Sterling), by Rick Smolan and Jennifer Erwitt, produced with support from ADL. Why do we need such a book?
Before coming to ADL, I looked for but couldn't find a single book that contextualized the struggles of various communities. I discovered that people have forgotten that Jews once lived in this country amidst rampant anti-Semitism. ADL's part in the civil rights movement also wasn't being told. When this country started out, women didn't have the right to vote. African- Americans were considered three-fifths of a person. Today we have the benefit of laws like the Civil Rights Act, yet we still face a great deal of prejudice. The struggle to create a more perfect union is an ongoing one.
What are some of your strategies to end hate?
Technology, partnership and creativity are the tools. We are working with all the major Silicon Valley companies, including Google, Facebook, Twitter and Microsoft, to develop strategies to tackle cyberhate and online harassment. In 2014, we introduced best practices to ensure threats and offensive content violating their community guidelines are taken offline. We have also been instrumental in breakthroughs like the formation of the Twitter Trust and Safety Council, which works with advocates, researchers and organizations to provide input and prevent abuse. Nearly 200 mayors have joined a group to condemn racism and implement public safety programs. A sports leadership council to fight hate, bullying and discrimination and promote positive social change has enlisted commissioners, athletes and owners from all the major sports, including tennis icon Billie Jean King and NBA legend Kareem Abdul-Jabbar.
In the aftermath of the Trump administration's efforts to ban refugees from some Muslim countries, you pledged to register as a Muslim if the administration creates a Muslim registry. Why?
My grandfather was a Holocaust survivor. I don't think we should tolerate labeling and tracking people based on their religion.
After the Charlottesville, Va., rally and protest last August, you said the United States "deserves better" than a president who equated racist white supremacists with the counter-protesters. How do you respond to accusations that you are leading ADL in a partisan direction?
It's not about politics. It's about principles. There's nothing partisan about fighting prejudice.
Rahel Musleah, a contributor to Hadassah Magazine, runs Jewish tours to India (explorejewishindia.com).