Careful! Words at Play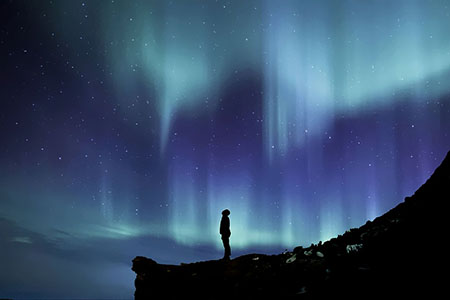 For medieval Hebrew etymologists as well as for the folks at Merriam-Webster, some words, like children, just want to get out and play. Take the example of the Hebrew root ז–ה–ר (zayin, heh, resh), which presents a fascinating enigma. The authoritative Brown-Driver-Briggs lexicon of biblical Hebrew leaves it to us to conjecture how we get from "shining," the root's original sense, to the notion of "warning," its subsequent usage.
In Scripture, the root appears twice in one verse of the Book of Daniel: In 12:3, the angel Michael prophesies that when the dead are resurrected, the "enlightened" ‭ ‬יַזּהִירוּ‭ ‬כְּזֹהַר‭ ‬הָרָקִיעַ (yazhiru ke-zohar ha-rakia), "will be radiant like the bright expanse of the sky." It is not insignificant that our root appears 18 times in the Book of Ezekiel, the prophet of the heavenly chariot. In his vision, Ezekiel is confronted with a ‭ ‬מַראֵה‭ ‬זֹהַר (mar'eh zohar), a radiant figure having the appearance of fire. Today, the word זוֹהַר‭ ‬ (zohar) is used to describe the splendor of nature's Aurora Borealis. These connections are especially striking when we recall that the foundational text of the Kabbalah is סֵפֶר‭ ‬הַזֹהַר (sefer ha-zohar), the Book of Splendor, a mystical text often attributed to Shimon bar Yohai—the rabbi we celebrate with Lag B'Omer bonfires. The Talmud's ‭ ‬זַהֲרוּרֵי‭ ‬הַחַמָּה (zaharurei ha-hammah), the glowing red streak of the setting sun, bridges bright day to ominous night.
In other rabbinic texts, different senses of the root appear, for example in the Talmudic admonition‭ ‬הִזָּהֲרוּ‭ ‬בִּבנֵֵי‭ ‬עֲנִיּיִם (hizaharu bivnei aniim), "Take care of the children of the poor" because they are where Torah will come from. In Jewish law, a sinner may be punished only if‭ ‬הִזהִירוּ‭ ‬אתוֹ‭ ‬(hizhiru oto), he was forewarned of the prohibition. Pirkei Avot warns our Sages themselves to ‭ ‬הִזָהַרוּ‭ ‬בְּדִבְרֵיכֶם (hizaharu be-divreikhem), "Be careful with your words."
In Israel, if you are in the proximity of high voltage, you may come upon a red triangle enclosing an exclamation point. The accompanying word, ‭ ‬אַזְהָרָה‭ ‬(azharah), warning, tells you to be זָהִיר (zahir), cautious, of the danger. Similarly, roadblock signs read ‭ ‬זְהִירוּת (zehirut), "Careful!" In other expansions of the root, there is the brilliant child with an עָתִיד‭ ‬מַזְהִיר‭ ‬ (atid mazhir), promising future, and the gleaming‭ ‬נַעֲרַת‭ ‬זֹהַר‭ ‬(na'arat zohar), glamour girl. Even further from its root, זְהוֹרִית‭ ‬ (zehorit), rayon, refers to the fabric's shiny sheen.
O.K. A quick warning to all those still seeking enlightenment about our root—playtime is over.
Joseph Lowin is the author of the book, Art and the Artist in the Contemporary Israeli Novel, a study of eight Israeli masterpieces.