Elie Wiesel, Hadassah and the Warsaw Ghetto
Fifty years ago, Elie Wiesel's first play, A Black Canopy, a Black Sky, premiered with the Hadassah Players, a troop of actors drawn from members of the Metuchen-Edison Hadassah Chapter of New Jersey and their husbands. Written in Yiddish, Wiesel's play—about the Warsaw Ghetto Uprising—was translated into English for the performance in a script marked "for the exclusive use of Hadassah." A Black Canopy, a Black Sky takes place in an underground bunker, similar to those where 60,000 Jews hid during the uprising in April 1943.
As A Black Canopy opens, Mendel and Sarah are waiting in their bunker at dusk for the return of Chava, Mendel's bride-to-be, who left to make contact with the underground. A maggid (storyteller) steps forward to insist that Mendel marry Chava the moment she returns, "to show God himself that we Jews refuse to lose our belief in ourselves." A knock on the door brings not Chava but a young boy bearing the news that the underground revolt has begun. The play ends with a dark vision of a black chuppah under which the groom stands alone.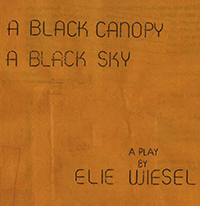 This year, in time for Yom Hashoah (April 11) and the 75th anniversary of the uprising, a new play inspired by Wiesel's vivid drama will come to life. A grant from the Leonard B. Kahn Foundation will enable the Wagner College Holocaust Center in Staten Island to stage In the Light of One Another, a meditation on resistance drawn from the testimony of survivors as well as from A Black Canopy. Staten Island performances will run from March 16-18, with stagings in New Jersey on April 8 and April 29.
Wiesel's play, which he wrote at age 39 while living in Paris, challenges us to emulate those who fight injustice. In the Light of One Another, also partly set in the ghetto, urges a new generation to rise up as well.
Lori R. Weintrob, director of the Wagner College Holocaust Center, is the co-editor of Beyond Bystanders: Educational Leadership for a Humane Culture in a Globalizing Reality.