100 Years of Nursing Education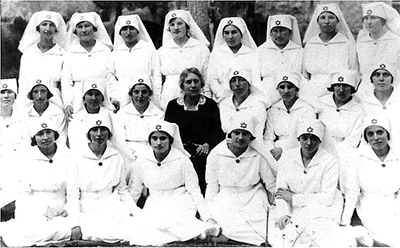 In many ways, little has changed over the past 100 years. In 1921, Henrietta Szold urged the first graduates of what was then called the Hadassah Nursing School to be "strictly truthful, conscientious with a conscience beyond appeal, patient, tolerant, calm in self-evaluation, with balanced judgment and great strength." Today, students are expected to "own not only knowledge and hands-on skills," said Miri Rom, dean of the Henrietta Szold Hadassah-Hebrew University School of Nursing, but they also must learn "critical thinking, communication and decision-making." Different times, but a similar striving for the best.
The school's student body, too, is not so different today, at least in terms of motivation: Hava Shochat-Karlan, who graduated in 1925, became a nurse because "it felt right." Azam Razem, who recently finished his degree in nursing as a second career, "wants to help people," and classmate Odelia Chaumi put it simply: "Nursing called me."
The years, of course, have seen tremendous advancement. Think genetics, antibiotics and regenerative medicine, bio- and nanotechnologies, computers, nuclear energy and feminism—not to mention a flourishing Jewish state in which to operate. Bedside nursing with skilled and educated nurses has replaced bedpan nursing—nurses thought of as mere physicians' helpers—in a global revolution driven by science, necessity, women's rights and common sense.
In Israel, that revolution has been led by Hadassah's nursing school, which marks its centennial this year.
At every stage, the school has built from the ground up. In 1913, Hadassah sent American nurses Rose Kaplan and Rae Landy to open Jerusalem's first health clinic. Five years later, Hadassah created the region's first nursing school—a full 30 years before its first medical school.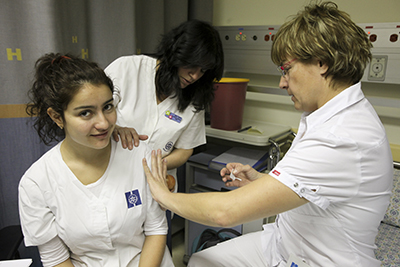 The school's 1918 curriculum followed American coursework—and it was controversial. European doctors thought the three-year training too long and classwork unnecessary when nurses, so the theory went, could train on the wards. German-trained doctors, used to working with nuns, thought nurses must be constantly available; Russian doctors objected to them contributing opinions about patients.
Worse yet for the religious society that once produced the majority of Jerusalem's nurses, "girls from observant homes were taught a profession in which they learned the mysteries of the human body, of both sexes…. It is hard to imagine now how groundbreaking this was," Dr. Kalman Mann shared in his memoir, Reflections on a Life in Health Care. Dr. Mann, who passed away in 1997, was the eighth director-general of the Hadassah Medical Organization.
The school's curriculum continued to break ground. In 1975, after a 20-year battle to promote nursing education spearheaded by then-dean Judith Steiner-Freud, who had graduated from the school in 1944, the school introduced Israel's first academic nursing degree, a four-year Bachelor of Science in Nursing. This was a large change from the standard three-year, entry level Registered Nurse diploma course (equivalent to an associate's degree in nursing). "When the Hebrew University Senate incorporated our school, and Israel at last had a generic Bachelor of Science in Nursing program, it seemed the Messiah had come!" Steiner-Freud said, as recounted in A Tapestry of Hadassah Memories, compiled by Miriam Freund-Rosenthal, a past Hadassah national president. With the introduction of the BSN, the school was renamed the Henrietta Szold Hadassah-Hebrew University School of Nursing.
"Nursing was one of the last health disciplines to shift from vocation to profession," explained Rom, 66, one of Israel's first academic nurses and a graduate of Hadassah's school. "It took decades, here and worldwide, for it to be understood that technologically sophisticated health care needs academically educated nurses." In 2001, the school bolstered its academic offering by introducing a clinical Master of Science in Nursing—Israel's only clinical MSN for the next 16 years. In 2016, the school opened its Ph.D. program.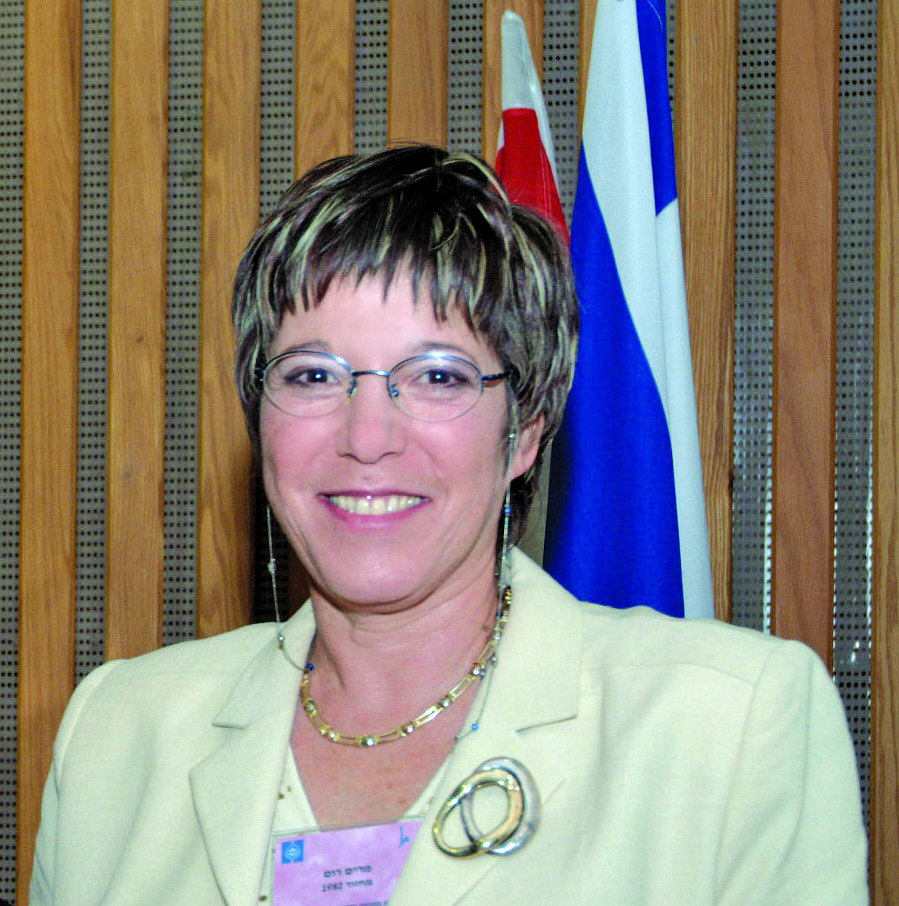 Of the men and women enrolled in the school today, 734 are BSN students and 133 are studying nursing as a second career; in the school's advanced-degree tracks, there are 51 master's students and five doctoral candidates.
Hadassah's second-career nursing track, an accelerated program for university graduates, is increasingly popular. "I have a bachelor's in special education and worked for six years with children-at-risk," said student Odelia Chaumi, 32, from Tzur Hadassah, near Jerusalem, "but nursing was what I wanted." A mother of three children under 7, she graduated in April from the program. "I grew up with a sick mother and saw hospitals from the patient's perspective. Now I'm learning to help others. The program is intensive, but the expectations are clear and the support is there."
Her classmate Azam Razem started his career as a lab technician at Hadassah Hospital in Ein Kerem. Razem, 37, who is Muslim and lives in East Jerusalem with his wife and three children, also completed his nursing degree in April. He entered the second-career program, he said, because of frustration that his contact with patients was limited to "running their blood samples. The more I saw what nurses do, the more I wanted that career." Balancing family and school was not easy, particularly as his wife is also in school, studying social work, but he persevered and was honored as an outstanding student. "The school demands motivation and energy," he said, "but it gives back with a full heart, academically and personally. I'm a different person from when I began."
Faculty is, of course, key. In 1919, Hadassah's nursing school hired 22-year-old Shulamit Yedid-Halevy, whose qualifications were a three-year nursing diploma from a nursing school in Beirut, where she and her family had lived, and a willingness to teach in Hebrew. Six decades later, the school dispatched Rom, among others, on a doctoral scholarship to the University of Pennsylvania to create a higher education nursing faculty. In the 20 years she has served as dean—a tenure that seems only to increase her energy and enthusiasm—she has established a "highly creative team, all of whom work as nurses as well as teach and research, each with a unique area of specialization," she said. "They rank from lecturers to a professor of nursing, the highest academic ranking in Israel. In the past seven years, these academics have published 120 papers in prestigious academic journals."
Freda DeKeyser Ganz is the sole professor. She heads the school's doctoral program and specializes in palliative care in intensive care settings. Nurse-midwife Anna C. Woloski-Wruble, chair of the school's BSN curriculum, has a doctorate in nursing education and is a pioneer in sexual health and intimacy. She runs sexual health clinics at Hadassah Hospital and coordinates a mandatory sexuality course for doctors at its medical school. Other faculty members include Rachel Yaffa Zisk Rony, head of the master's program, whose specialty is pain management in children; Michal-Hana Liebergall, a midwife and adviser to the Health Ministry on women's issues; and Anita Noble, a Health Ministry adviser on inequality and cultural differences in health care. These motivated, high-powered women enjoy opportunities that did not exist for Yedid-Halevy.
What, then, of the school's first students? The school's 1918 class was comprised of 40 young women, of whom 22 graduated. Shabby and malnourished, they were nonetheless determined and eager—some had even snuck through Turkish lines to attend. Two years later, Henrietta Szold set entrance requirements. Applicants had to be over 21 and read Hebrew and the Latin alphabet. According to the school's rulebook, they were "expected to give respectful attention to superiors, obey orders promptly and unquestioningly, refrain from conversation on duty, speak in low voices, move about gently, not indulge in familiarities with patients or discuss their illness with them."
Today, many students are married with children, most are Israel Defense Forces veterans and 13 percent are men. Most noticeable, perhaps, is how little the social, cultural and ethnic mix matters. "We've all chosen to be nurses, and we all want to help people, whether we light candles on Friday night or fast on Ramadan," said BSN student Mirel Mark.
Mark, 35, is a single mother to a 15-year-old daughter. One of 12 children from a haredi family who broke contact with her when she left their world, she had a lot of catching up to do. "I spoke only Yiddish," she recalled. "I didn't know Hebrew or English, never mind math. I'd never been interviewed. I'd never met a Palestinian. But I'm not alone here."
Hadassah nursing students mirror the larger demographics of Israeli society. There are single parents like Mark studying alongside 20-somethings, Ethiopian immigrants, former haredim and Arabs. "Nursing attracts many different kinds of people," agreed Ameer Kazmo, 24, an Arab Christian from Akko now in in his fourth year of a BSN program, "but we all study together."
Razem likewise describes his cohort as particularly united. "We supported each other," he said, adding that "the ethnic and cultural differences were irrelevant, and I am leaving school with a solid group of friends, Jewish and Arab."
The school has courses on different cultural mores and approaches to health and illness within Israeli society. "Relating to patients as people allows me to give them better care," Razem said. He recalled watching a supervisor calm a teenage driver who arrived at the hospital after a car crash; the boy started screaming and refusing care because he thought the nursing student was a police detective come to question him about the accident.
Salomon (Sali) Tapeta, 30, who came to Israel from Ethiopia when he was 5, was a paramedic in the IDF before turning to nursing. "There are health issues in my community, and I want to contribute," he said. He is supported by Achotenu, a joint project of the nursing school; Hebrew University; Hadassah, the Women's Zionist Organization of America; and the Lapan Nursing Scholarship Program to help Ethiopian Israelis obtain nursing degrees. The first-year nursing student credits his successful integration into the nursing school to its "new ideas, the wonderful teachers, close relationships and amazing atmosphere."
He and his fellow students will become integral members of cutting-edge health care teams. Light years from the physician helpers trained in 1918, these future nurses, nonetheless, have much in common with the nursing students of a century ago:
All chose a career that allows them to make a difference—and all chose the best place to learn it.
For information on Hadassah's celebration of the centennial of the Henrietta Szold Hadassah-Hebrew University School of Nursing, including an upcoming mission to Israel, go to hadassah.org/celebration2018.
Wendy Elliman is a British-born science writer who has lived in Israel for more than four decades.