Yaacov Agam's Museum Fools the Eye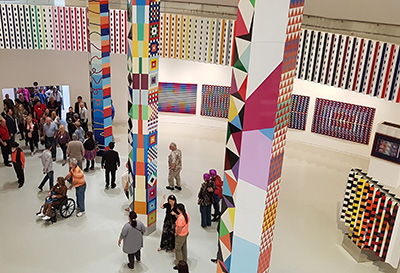 Bold geometric shapes intersect and repeat on the 20 pillars outside the Yaacov Agam Museum of Art (YAMA) in Rishon LeZion, tricking the eye into seeing motion on still forms. Agam named these monumental columns at the new museum's entrance, plus nine scattered within, Pillars of Clila in honor of his beloved late wife. Designed by architect David Nofar, the museum displays six decades of Agam's multifaceted kinetic and optical art that incorporate both real and apparent movement. The pillars are an introduction to the dynamic abstract works collected in YAMA, which often require motion to appreciate the desired effect; Agam referred to them as "tactile interactive artwork" at the opening of the museum last October.
The world-renowned artist, 89, was born in Rishon LeZion in then-Mandate Palestine and now lives in Paris; in Israel, he is perhaps best known for public art such as his Fire and Water Fountain and the façade of the Dan Hotel, both in Tel Aviv.
Among the works on display at YAMA is Panoramagam, which Agam first showed at the Guggenheim Museum in New York City in 1980. The 72-foot-long curved painting with black squares on protruding slats features a rainbow of pastel colors that seem to shift from pastel to white to pastel again as viewers move around the piece.