Ancient Jawbone Unearthed in Israel Rewrites Prehistory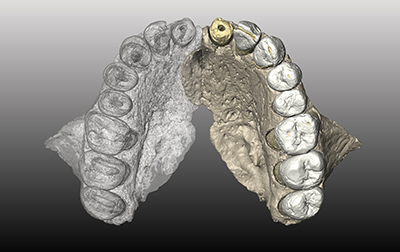 The oldest human fossil found outside Africa—a portion of an upper jawbone unearthed in the Misliya Cave on Israel's Mount Carmel—has recently been dated to 177,000 to 194,000 years ago. This means that modern humans came to the Levant much earlier than previously thought, according to Israeli researchers. And that, in turn, means that modern humans evolved in Africa much earlier than scientists have long believed.
​This "completely changes our view on modern human dispersal and the history of modern human evolution," said anthropologist Israel Hershkovitz of Tel Aviv University, who headed the international collaborative study with archaeologist Mina Weinstein-Evron of the University of Haifa. "If modern humans started traveling out of Africa some 200,000 years ago, they must have originated in Africa at least 300,000 to 500,000 years ago," not the 200,000 years ago that was originally thought.
​The jawbone, with seven teeth still attached, was discovered in 2002 along with thousands of flint tools. A combination of the bone's anatomical features, the objects found with it and modern dating methods enabled the dating, a full report of which was printed in the journal Science in January. Because some of the bone's features resemble those of Neanderthals and other human groups, Hershkovitz said, "some of our traits must have evolved or been acquired outside of Africa."