3-D Printing Gets Fashion Makeover in Tel Aviv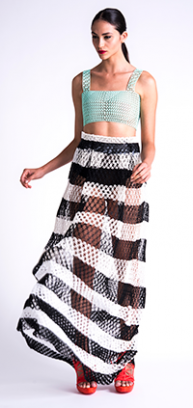 Eden Saadon was a design student in Tel Aviv studying textiles when she came across a television ad for a pen that could be used to create material to build small 3-D printed structures. Intrigued, she ordered it and spent the next year working to perfect what began as a hunch: The pen could be used to print clothing.
​Saadon, 27, has had her work exhibited in New York and has a growing list of private clients coming to her for her one-of-a-kind garments that look like futuristic lace—flowing tunics and dresses in patterns of leaves and flowers set over fabrics like tulle, organza and silk.
​She draws designs for her Flexy Black line with the pen, called the 3Doodler. Without the need for seams or stitches, she molds and drapes the material—a flexible black plastic called FLEXY—directly on the bodies of her clients, so the creations fit perfectly.
​"My work is slow tech; lots of energy and time and material go into a product that is one of a kind," Saadon said. "I'm surprised people want the handwork and the quality, but that's the magic of this technology. It lets me do handwork but at the highest level possible."
​

A visit with Saadon at a local studio is among the stops on fashion expert Galit Reismann's design-focused tours of Tel Aviv. Another stop is the shop of 3-D printed clothing designer and innovator Danit Peleg. Her collection of five designs created from 3-D desktop computers, including jackets, won her international attention, including a TED Talk and write-ups in The New York Times, Vogue, Elle and elsewhere.
​Among the made-to-order items she sells is a $1,500 bomber jacket that takes 400 hours to print.