Style Lessons From Instagram-Savvy Jewish Seniors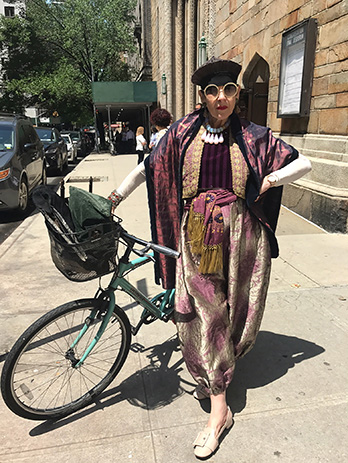 Tziporah Salamon proudly recalls being the best-dressed 9-year-old in Netanya, Israel—largely thanks to elaborate, hand-sewn clothing made for her by her father, a professional tailor, and a mother who embroidered and crocheted.
The ensembles instilled in the young girl an understanding of fabric, proportion, texture and silhouette. These are lessons that stayed with Salamon, 68, who today lives in New York City. She uses her discerning eye to carefully coordinate and model unique outfits for her popular Instagram feed. Style, Salamon insisted, "has nothing to do with age—good design is good design."
Indeed, style—vibrant, joyful, elegant or over-the-top—is part of what draws tens of thousands of admirers to the websites and social media pages of fashion bloggers who have amassed years of experience. In addition to Salamon, this list includes former model and Playboy Bunny Dorrie Jacobson, 83; hat lover Debra Rapoport, 73, who describes her headgear as having "#hattitude"; and jewelry maker Sue Kreitzman, 77, whose feed is a riot of bright outfits overlaid with statement necklaces and whimsical rings in neon yellow, royal blue and bright red.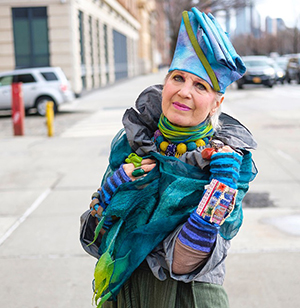 These Jewish style bloggers are just a few among the dozens of women 60 and older—and men, too (check out @fashiongrandpas)—proudly displaying their sartorial splendor online. Some attribute the start of the trend to photographer Ari Seth Cohen. About 10 years ago, he began photographing older women for his blog, Advanced Style. His work helped draw public attention to Salamon, Rapoport and Kreitzman as well as icons like interior designer Iris Apfel, 96, who is active on Instagram and is styling two Barbie dolls for Mattel, slated to be released this fall.
Older women are using social media to assert their presence, to state that "we are tired of being ignored," noted Jacobson. And, she added, these Instagrammers have "a large number of young followers, because we show that you don't have to fear aging. You can be a stylish, sexy woman in your 80s."
Scrolling through Jacobson's Instagram feed and her Senior Style Bible site, it's easy to see the appeal of her sophisticated ensembles. The octogenarian from Las Vegas with short, spikey hair and oversized sunglasses even poses, tastefully, in a black teddy to "encourage women to embrace their bodies at every age," she wrote in a post.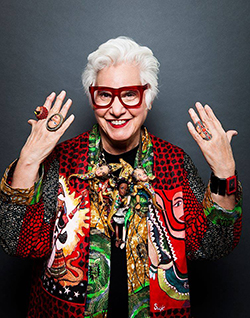 Senior Style Bible aims to combat ageism in fashion—and in American culture. "There are women in their 70s starting businesses today," Jacobson said. "We are a force. We want clothing that is modern but adaptable to bodies changed by age. And we don't want to only be defined by how many grandchildren or great-grandchildren we have."
Forget about dressing "age appropriate," she says to her followers. "Style is a personal thing."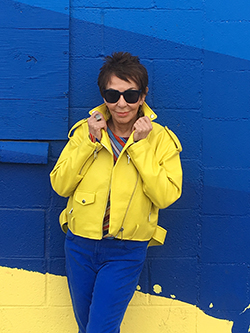 Salamon, a striking figure traveling around Manhattan on her pink Shinola and turquoise Bianchi Milano bicycles, would most likely agree. Salamon says that teaching women of all ages the fundamentals of design, whether through Instagram or in person through her Art of Dressing seminars, is tikkun olam. She notes the moment in 1999 at an Eilat Chayyim spiritual retreat when she realized her calling: That first Shabbat, Rabbi Shefa Gold picked Salamon to help dress the Torah, saying that she had noticed her beautiful outfits. "It was like the parting of Red Sea for me, that a rabbi would acknowledge my clothing," said Salamon, who had previously been embarrassed by her sartorial focus, thinking it was too superficial. Putting an outfit together is "my art," she explained, and her posts on Instragram and on her website prove it. One, for example, shows her in iridescent silk harem pants paired with a short purple jacket heavy with gold embroidery. "I give women permission to dress outside the box," she said, to wear clothing that is elegant and timeless. Her unique look drew the attention of late New York Times photographer Bill Cunningham and helped her become a model for French fashion house Lanvin—at the age of 62.
Cunningham's pictures of Salamon are on display at a retrospective of his celebrated work at The New-York Historical Society through September 9—an acknowledgment not only of her creative ensembles but also, perhaps, another sign of a larger social acceptance of the beauty and relevance of older women.
Leah Finkelshteyn is senior editor of Hadassah Magazine.