Growing the Parent-Child Bond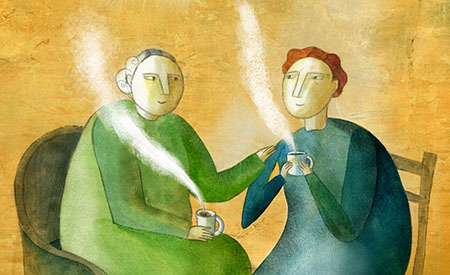 With ever-increasing longevity, our adult parent-child relationships are lasting longer and growing more complicated. Parents and children may have at least 30 years to relate to each other as independent adults. Given this gift of time, we need to understand the challenges and opportunities of this unexplored terrain.
The Torah's central guide on this issue is: Honor your father and your mother. The Talmud counsels parents to educate their kids, and children to care for their frail elders. None of this, however, describes how to achieve respectful adult kinship.
Harvard sociologist Sara Lawrence-Lightfoot says that the direction of leadership and learning changes between childhood and emerging adulthood, defined as ages 18 to 35. In childhood, the parent is teacher and model. In emerging adulthood, she argues, the parent's job is to learn from the child and offer respect—but not to chart the child's course in life.
When children hit midlife, roughly 35 to 55, however, I believe that they and their parents are in a situation that demands mutuality. They must be present to one another's experiences, without jumping in to fix. Our challenge is to learn to accept one another. Our opportunity is to grow together.
Debbie and grace became a couple 30 years ago, but Debbie's mom, Sarah, could not accept that her daughter was a lesbian. She barely acknowledged Grace and refused to attend their commitment ceremony 28 years ago. The couple was understandably hurt, and Debbie did not expect their relationship to improve—Sarah had always been a rigid, difficult person. When the first child came into the family, however, things changed. Sarah was thrilled to be a grandmother, and she built strong, loving ties with her two now-adult grandchildren. Sarah's prejudices and shame were eclipsed by her delight. Amazed at the changes in her mom, Debbie found deeper affection and more patience for her mother's limitations. Sarah's reward was decades of valuable time spent with family members, who then cared for her with love and dignity until she died at age 92.
Such growth and healing can happen at any moment, but we need to be ready for it. Here are a few things we can do to open up a loving relationship:
• Practice humility and approach one another with curiosity rather than assumptions.
• Notice the preciousness of the other, not just the flaws.
• Look for shared ground and savor the time we have.
• Find compassion for the other—and for ourselves.
Several years ago, my mom, then around 80, made the nearly 2,000-mile trip from Denver to visit my family in Philadelphia. We were sitting over a cup of coffee when she said, "If there is anything you want to ask me or say to me—about our family, my divorce from your father or our relationship—I want you to know I am open." I was 55 at the time and more than a little stunned. I immediately described some very old childhood hurts I'd never disclosed to her. My mom listened deeply and responded with acknowledgment of my perspective. I gained empathy for her challenges and pain. I would never in a million years have anticipated this conversation or the result: I felt liberated from baggage I'd been shlepping with me for decades. My mom and I have become closer since then.
Unprecedented longevity offers us the possibility of transformation. We just might find ourselves experiencing the fulfillment of the prophet Malachi's promise (3:24), "And he shall turn the hearts of the parents toward the children and the hearts of the children toward their parents…." 
Rabbi Dayle A. Friedman offers pastoral care, spiritual direction and consulting through Growing Older, her Philadelphia-based national practice. Her latest book is Jewish Wisdom for Growing Older: Finding Your Grit and Grace Beyond Midlife.