Tara Price's Wearable Art for Women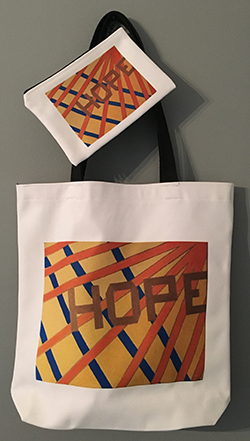 For Tara Price, a work of art does not just belong on a wall, but on a T-shirt, a tote bag or a pair of flip-flops. Price, 46, creates paintings on canvas and then transfers the images onto accessories and clothing.
​She said it was her move from New York City to Charlotte, N.C., four years ago that inspired her to pick up her paintbrush. "Moving from the concrete jungle to the South, where the lighting is extremely crisp and vibrant, got me thinking about painting again," said Price, a brand and marketing executive who was an avid painter as a child.
​Price describes her work as a combination of inspirational and modern art. Her paintings feature big, bold words like "courage," "hope" and "worth" embedded in geometric shapes and lines. "I wanted my art to be meaningful for women and girls," Price said. She also credits her Jewish faith as a "foundational element" that encouraged her to start the business.
​An entrepreneur at heart, she decided to put her art work on the clothing and accessories that women favor so that the inspirational message would serve a double duty: being aesthetically pleasing and offering support throughout the day. ​"These were things I needed to remind myself, and as I spoke to friends, they did, too," Price said. "We all have moments in the day when we need encouragement."
For more information, visit Price's website, Tara Price Art.