Together, Grandparents and Grandkids Make Magic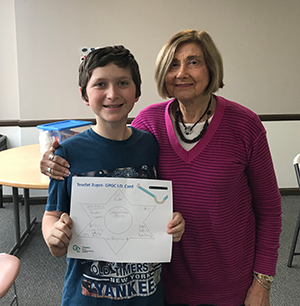 Judah Maccabee Marcus hardly lacks what his grandmother, Carol Marcus, calls "Jewish reinforcement." The Basking Ridge, N.J., sixth-grader has a rabbi grandfather and attends Orthodox day school.
​Even so, "I'm the one who knows all the family stories," said Carol Marcus, 76, of Bloomingdale, N.J. "That's what I can provide." Now she has a defined forum for telling those stories: The Marcuses are among the first 28 families enrolled in the Jewish Agency for Israel's new G2: Global Intergenerational Initiative, which pairs grandparents and their tween grandchildren for monthly in-person discussion groups and activities organized around themes like family, holidays and Israel.
​G2 launched this year in eight cities worldwide: Miami, Cincinnati and MetroWest N.J., where the Marcuses participate; Cape Town, South Africa; and Yerucham, Netanya, Arad and Beit Shemesh-Mateh Yehuda in Israel. The pilot program culminates in an Israel trip for the families next winter. "Grandparents are an untapped resource for passing down Jewish identity, values, why Israel is important," noted G2 Director Jay Weinstein. "And they're more active and healthier than ever before."
​At a recent G2 meeting focused on family narratives, Marcus shared the story behind her grandmother-in-law's Shabbat candlesticks. "Judah's great-grandmother left Russia at 14, alone, whereas when my kids were 14, they couldn't figure out what to do when they missed the bus," laughed Marcus, a Hadassah life member. "It was a great opening to talk about our personal history of Jewish migration."
​Fifth- and sixth-graders like Judah are old enough for meaningful conversation, Weinstein observed, yet "not too cool" to interview their bubbes about family recipes for short videos—another recent project.
​Next year, the program will launch in Pittsburgh and Rochester; eventually, Weinstein, who is based in Israel, hopes a digital version will connect far-flung families.
​"When you get grandparents and grandchildren together," he said, "magic happens."