The Hasidic Feminists of '93Queen'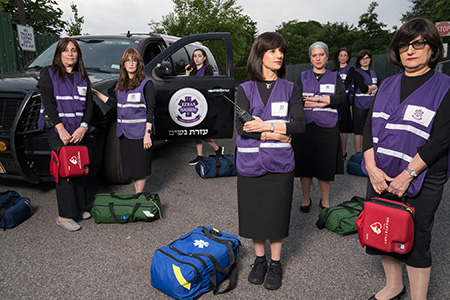 At a time when the women's empowerment movements #MeToo and Time's Up have dominated the news, the documentary 93Queen couldn't be more relevant. It's a David versus Goliath story of a group of Hasidic women in the Borough Park section of Brooklyn, who defied the patriarchal status quo to establish Ezras Nashim (whose logo includes the slogan "women for women"), the first all-female volunteer ambulance service in New York City.
93Queen, Paula Eiselt's debut film, which opens theatrically in New York on July 25 and August 14 in Los Angeles and will premiere on PBS POV on September 17, follows founder Rachel "Ruchie" Freier and her squad from the creation and launch of Ezras Nashim through the group's first year as an official ambulance corps. 93Queen is the code that New York emergency dispatchers gave to the squad. Eiselt, who is modern Orthodox and has family connections to the Borough Park community, recorded the members of the squad for four years as they trained to become EMTs and battled the all-male, politically powerful machine that is Hatzalah—the largest volunteer ambulance corps in the world—for their right to exist.
"Feminism looks different in different communities and takes on a different persona. It's not one size fits all," said Eiselt in an interview with Hadassah Magazine. "This is what female empowerment looks like in the Hasidic community. Hatzalah told them no. They didn't take no for an answer."
Freier, who wanted to give Hasidic women needing medical attention the option of being treated by a woman, risked disapproval from her community and her own reputation to create Ezras Nashim, which began operating in 2014. And emboldened during the making of the film, Freier, a lawyer, successfully ran for a position as a New York judge, becoming the first Hasidic woman to hold elected office in the United States. "Very often, people are afraid to do the right thing. We believed in what we were doing, that this is what God wants, and we were not afraid," she said. "It's not so much about empowerment; it's about emunah—belief in God—and bitachon, trust in God. If you believe that God runs the world. And that gives me the strength to stand up and stand in the line of fire."