An IDF Program that Saves the Lives of Syrian Children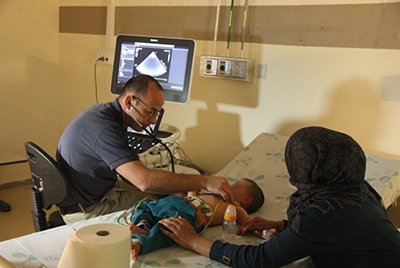 Cradling her 3-month-old son, Ahmed, in her arms, Fatima smoothes back his soft, brown hair and makes cooing noises at the sleeping infant. Tall, wearing a green hijab and a long black dress, she looks like any other religious Arab mother concerned about a sick child being treated at Hadassah Medical Center in Ein Kerem.
But Fatima and Ahmed—their names have been changed for their safety—are from the southwestern Syrian city of Dara'a, where the country's devastating civil war began seven years ago. The situation is constantly in flux in the war-torn country; in June, Syrian President Bashar al-Assad launched a campaign to defeat rebel forces in and around the city, placing Dara'a on the front lines of the fighting as government troops moved to recapture the area.
Fatima had given birth to Ahmed in a makeshift clinic near her hometown; due to the ongoing conflict, there is little medical infrastructure in southern Syria. A doctor at the clinic mentioned that the newborn might have heart problems and should be monitored, but mother and child were sent home a few hours after the birth.
Fatima had noted a bluish tinge to Ahmed's skin, however, busy with her other three children—including a 15-month-old toddler—she did not become concerned until he began weakening. Through word of mouth, she heard about an Israeli pediatric cardiology program that treated Syrian children, and she decided to travel to the border between the two countries to find help for her ailing child.
The cardiology initiative is one facet of Israel's extensive relief efforts on the border with its longtime foe. The program, based at Baruch Padeh Medical Center in Poriya-Tiberias, is part of Operation Good Neighbor, a complex Israel Defense Forces humanitarian aid program. Since June 2016, the army has been providing food, supplies and basic medical treatment to Syrians unable to access hospitals or physicians because of the war, all the while maintaining a policy of non-intervention in the Syrian conflict. The army also facilitates transportation from Syria into northern Israel for sick children and accompanying parents. Once inside Israel, most of the children are treated at the Poriya medical center or at the Galilee Medical Center in Nahariya, both in northern Israel. Hadassah Medical Center, located farther from the conflict, has nevertheless reached out to provide care for pediatric heart patients who require specialized surgery.
The army helped Fatima and Ahmed cross the border at the end of June. They were then taken to the Poriya medical center, where Hadassah pediatric cardiologist Dr. Julius Golender examined Ahmed.
Dr. Golender has been making the two-and-a-half-hour trip from Jerusalem to Tiberias once a month to join a team of doctors treating Syrian children. Upon examining Ahmed, he found that the child had a life-threatening congenital heart condition called Tetralogy of Fallot and coordinated the baby's care and transfer to Hadassah.
"Given the condition of the baby," explained Dr. Golender, "it was clear that if he went back to Syria he would die there. So we arranged for emergency transport to Hadassah and immediate surgery."
At Hadassah, pediatric cardiothoracic surgeon Dr. Erez Eldad spent five hours operating on the baby, successfully.
Ahmed is one of seven Syrian children with heart problems who have been treated at Hadassah Hospital, brought to the hospital by Operation Good Neighbor. Four required catheterizations; three, including Ahmed, needed heart surgery. The procedures—which cost $10,000 to $15,000 per child, after a significant discount from Hadassah—are partly funded by the Tel Aviv-based Peres Center for Peace and Innovation. Donations also have come from private individuals and organizations, including Christian churches in the United States, as well as other Israeli nonprofits.
"They are our neighbors, and they don't have any access to medical care," said Rachel Hadari, director of the Peres Center's department of medicine, business and environment. "There are humanitarian reasons to help them. But I also think it changes attitudes. They go back home to their families in Syria and tell them that the Israelis are human beings and that they helped them."
Israel's medical relief program extends beyond children. The Galilee Medical Center has treated more than 2,500 Syrians of all ages since civil war broke out in 2011, even before the start of Operation Good Neighbor.
Wounded Syrians can choose between Jordan, Turkey or Israel for medical care. More and more are choosing Israel, said Dr. Eyal Sela, chief of head and neck surgery at the Galilee Medical Center.
Dressed in turquoise scrubs, his silver hair covered by an orange-and-black headscarf, Dr. Sela said he has been impressed by the first aid administered to the victims of war violence in Syria, despite the lack of medical infrastructure. "Most injuries we see are high-velocity shootings from snipers," he told a group of visiting reporters in June. "They cause injuries to the face and head that are sometimes hard to repair."
In June and July, hundreds of thousands of Syrian refugees fled the renewed fighting in the Dara'a area, with an estimated 10,000 refugees settling in tent cities near the Israeli border. The growing spread of army tents—many provided by the IDF—can be seen from within Israel, and the occasional explosion is a reminder that the fighting is not far away.
Food and medical supplies are also part of Operation Good Neighbor. In just one week in mid-July, the army transferred 72 tons of food, about 70 tents and 9,000 liters of fuel as well as pallets full of medicine and medical equipment to the refugees.
During that time, in a humanitarian gesture acknowledged worldwide, Israel helped transfer some 100 "White Helmets" rescue workers and 300 members of their families from Syria to Jordan, where they will stay until they are resettled in Canada, the United Kingdom or Germany. The White Helmets, also called the Syrian Civil Defense Forces, are volunteer search and rescue workers who operated in rebel-controlled areas assisting civilians and reporting abuses by troops loyal to Assad, including chemical attacks. Israel facilitated the transfer because of fears of reprisals if Assad recaptures the last rebel strongholds in southern Syria.
In addition, Israeli border communities in the Golan Heights, witness to the nearby humanitarian catastrophe, have launched a campaign to collect toys, games and clothing to be distributed by the army to the Syrian tent cities. Residents of the Golan Heights put together hundreds of personal gift bags for Syrian children, including toys, crayons, candy and handwritten notes. "We, the residents of the Golan, look right over the fence and see the people fleeing from the killing fields together with their children," Eli Malka, head of the Golan Regional Council, said in a statement. "We feel the moral obligation, in accordance with our values, to send humanitarian aid and as much as is possible to build a relationship of humanity with those who have always been our neighbors on the other side of the fence."
Fatima and Ahmed—healthy after two weeks of postoperative care—have left Hadassah Hospital and crossed the border back into Syria, again with the help of Operation Good Neighbor. Before their departure, as her son was recovering, Fatima said she was anxious to get back to Dara'a, and to her other children. Her husband and his second wife—he married another woman just after Ahmed's birth—were taking care of the children in her absence, Fatima explained.
She said she appreciated the care that Hadassah gave her during her time in the hospital. Fatima had almost nothing with her when she arrived since she had initially assumed Ahmed would be examined quickly and the two of them would return home within a day or two. In Jerusalem, a Hadassah social worker found her another hijab and dress as well as clothes for Ahmed. She slept on a cot next to her son's bed. Arab nurses stopped by to chat and helped her pass the time while her child slept.
Indeed, Fatima said that her experience with Hadassah Hospital has changed her attitude toward Israel, which she was always taught was the enemy. "The doctors in Syria would not have been able to save my son, but here they did," she said. "I am so grateful to the doctors and to everyone here."
Linda Gradstein is a freelance journalist based in Jerusalem and teaches journalism at New York University-Tel Aviv.