Tel Aviv's New Natural History Museum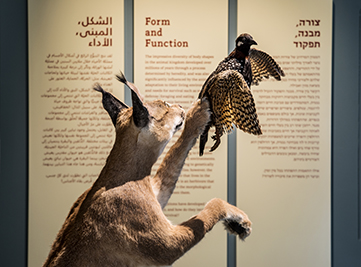 Bears and cheetahs once roamed the area that Theodor Herzl envisioned as the homeland of the Jewish people, and crocodiles snapped their jaws in its rivers. Cities and towns now cover the land, and those species are no longer found there. Today, however, they can be viewed among the exhibits in the new Steinhardt Museum of Natural History, Israel National Center for Biodiversity Studies on the campus of Tel Aviv University.
From ants to whales and butterflies to leopards, the exhibits are aimed at making visitors aware of the diversity of species and habitats—especially those of the Middle East—and the threats to their survival. "Every kind of infrastructure development harms biodiversity," a museum representative stated, adding that the research facilities the museum houses are working on ways to help balance human needs with the crucial need to preserve biodiversity and habitats.
The museum provides an intimate experience of nature in order to "transmit knowledge through emotion," said director Alon Sapan.
Many displays, like the caracal caught in mid-motion, leaping up to seize its prey, appear in the open—not encased in glass. Some can even be touched. Bees and other insects are mounted so that both front and back are visible. And some, like the Madagascar hissing cockroach, are alive. Posters in comics form, touchscreens, multimedia exhibits and dozens of films add to the modern feel.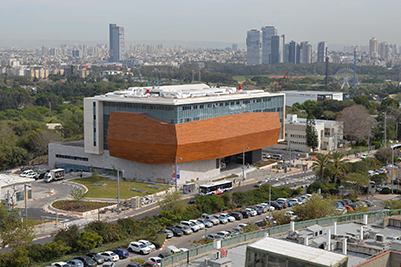 The museum—named for its chief donors, American philanthropists Judy and Michael Steinhardt—is housed in a five-story building that brings together research facilities and collections with more than 5.7 million items formerly scattered throughout the campus. According to Prof. Tamar Dayan, the founding chair of the museum, the collections were begun more than 80 years ago.
The $40-million building was designed by Kimmel Eshkolot Architects, which also designed the new National Memorial Hall for Israel's Fallen, in Jerusalem. The structure is meant to evoke a treasure chest or a cabinet of curiosities—the forerunners of museums. The bowed wooden façade also suggests Noah's Ark.
Accessibility for all ages and abilities is the museum's watchword, according to Sapan: A ramp allows for wheelchair and stroller access to the entire light-filled building, and there are special audio guides for those with vision loss. Texts—in Hebrew, Arabic and English—are designed so as to be understandable to a 10-year-old. Four of the six planned exhibits launched over the summer. The remaining two are opening in September and include what our species likes to think of as nature's crowning achievement: the evolution of humankind.
Esther Hecht is a journalist and travel writer based in Jerusalem.