How Hadassah Revolutionized Eye Care in Africa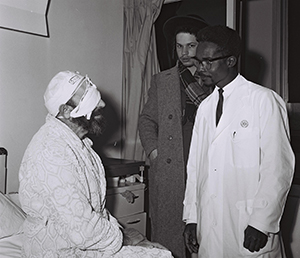 In 1959, Liberian President William Tubman broke his glasses. As Liberia had no opticians, optometrists or ophthalmologists, his choice was waiting three weeks for glasses to come from London, or going there to get them. Then a third option emerged: Ask Israel for help.
His request reached Dr. Isaac Michaelson, then head of Hadassah's Department of Ophthalmology. Dr. Michaelson went to Liberia, examined the president's eyes and those of his family, and helped Tubman get a new pair of glasses. At the invitation of the president, Dr. Michaelson surveyed eye care throughout the nation. Within a year, that survey resulted in a 30-bed ophthalmic hospital in Liberia's capital, Monrovia, run by six Hadassah physicians, while seven Liberian doctors and nurses trained at Hadassah.
That was just the beginning of Hadassah's outreach to Africa. During the 1960s, Hadassah reviewed eye disease and services in newly independent Botswana, Tanzania, Ivory Coast, Ethiopia, Malawi, Rwanda, Lesotho, Ghana, Nigeria and Swaziland and helped those nations set up eye clinics and hospitals.
Dr. Michaelson made acceptance to Hadassah's senior ophthalmic residency program conditional on a minimum two-year service in Africa—resulting in a total of 48 Hadassah ophthalmologists helping establish modern eye care in Africa. (With African ophthalmology now largely self-sufficient, Hadassah's help today takes the form of two- to four-week missions to treat patients and guide doctors.)
By the early 1970s, Israeli-trained African doctors were heading medical departments and Health Ministry divisions in a dozen African nations. At the June ophthalmology conference in Jerusalem, Dr. Hugh Taylor of Melbourne, Australia, president of the International Council of Ophthalmology, recalled first encountering Hadassah in Liberia 40 years ago. "Every ophthalmologist I met there had trained at Hadassah!" he said. "A decade later, working in Kenya, I met a young Israeli physician named Jacob Pe'er, who was there setting up the entire ophthalmology department at Nakuru Provincial General Hospital. When I first visited Hadassah in Jerusalem two years ago, I was amazed that only a third of its ophthalmology trainees were Israeli. A third were Palestinian and the remainder international."
When the 1973 Yom Kippur War severed relations between Israel and much of Africa, then-Hadassah ophthalmology head Dr. Hanan Zauberman developed a five-year specialization program for qualified physicians from Latin America. The first candidates were from Ecuador, Peru, Panama and Mexico.
Today, the program has expanded and its graduates come from Africa, Latin America, Asia and Europe—as well as from the West Bank and Gaza. One of 15 foreign physicians and fellows currently studying in the program is Dr. Vofo Brite, a young ophthalmologist from Cameroon, in Central Africa. "My country's population is twice that of Israel, but we have only two retinal specialists," he told conference attendees. "My aim is to be the third."
"Some 126 ophthalmologists from 37 countries have done residencies and specializations at Hadassah," Dr. Jesus Vidaurri, a leading ophthalmic surgeon at Mexico's Centro de Oftalmología San José, shared. "I'm one of them. What I learned at Hadassah inspired me to change eye care in my community."
Wendy Elliman is a British-born science writer who has lived in Israel for more than four decades.
Read about the ongoing work of Hadassah's ophthalmology department in A Century of  Hadassah Ophthalmology.