Cantors in Concert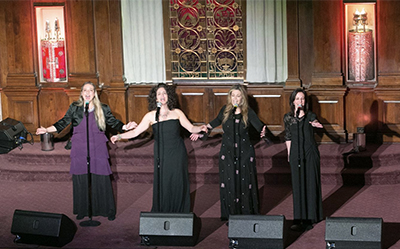 Female cantors today are creating opportunities to perform outside the synagogue, an echo of the Golden Age of Hazzanut in the 1930s and 1940s, when male cantors such as Yossele Rosenblatt and Moshe Koussevitzky were kings of both the synagogue and the concert hall and treated like rock stars.
Cantor Jessica Roskin of Temple Emanuel-El in Birmingham, Ala., sings in concerts at nonreligious functions sponsored by the Birmingham Holocaust Education Center and the Jewish Federation. Nancy Abramson, director of the Jewish Theological Seminary's cantorial school, sings with the Zamir Chorale of Boston, a 58-year-old mixed-gender choir that performs in major concert halls across the country. In May, Cantor Shayna Postman of Manhattan's Town & Village Synagogue was the mezzo-soprano soloist in a rendition of Charles Osborne's oratorio Souls on Fire at Congregation Ansche Chesed, also in New York City. Based on Elie Wiesel's book of the same name, the piece brings to life seven historical Hasidic masters, from the Baal Shem Tov to Menachem Mendel of Kotzk, using a mixed-gender choir, four cantorial soloists and two speakers.
"One of the reasons I said yes is that I've never sung in an oratorio like that," says Postman, who is celebrating her 20th year at her Conservative congregation. "I have training in classical singing, but I don't use it a lot. The music had a Hasidic feel to it because of the content, but it was tonal and experimented within typical Western tonality. There was jubilation and also angst and fear, which reflected the various texts."
Performing in English was something of a novelty as well. "I'm usually singing in Hebrew, Yiddish or Ladino," she explains, "but there was something special about singing those words in the way Osborne set them."
Six times a year, the four full-time cantors of Divas on the Bima leave their pulpits in the New York metropolitan area to perform around the country. The Divas—Alisa Pomerantz-Boro, Magda Fishman, Jen Cohen and Elizabeth Shammash, who range in age from 45 to 53—demonstrate their diverse musical backgrounds in a repertoire that includes madrigal quartets, musical theater selections by Jewish composers and original compositions. One of their most popular songs is "I'm a Hazzan," a parody of songwriting duo Jerry Leiber and Mike Stoller's "I'm a Woman." Pomerantz-Boro, of Congregation Beth El in Voorhees, N.J., co-wrote the lyrics with Cantor Gary Shapiro in 1993 when it was still novel to meet a Conservative female cantor, and she's been singing it ever since.
"We love to perform outside of our synagogues," says Pomerantz-Boro. "It's great exposure and it makes our synagogues proud that we represent them. Also, we don't view prayer as performing, so it is nice to receive applause."
Joanne Sydney Lessner is the author of the novel Pandora's Bottle and also writes reviews and features for Opera News and ZEALnyc.