Sacred Music in a Female Key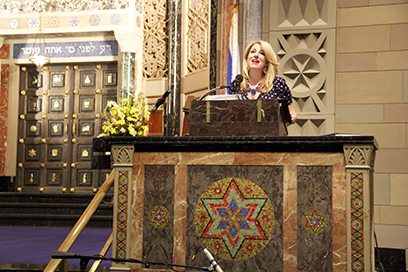 When worshipers at Congregation Rodeph Sholom in New York City gather in the sanctuary to hear the Rosh Hashanah service this year, Cantor Rebecca Garfein will lead them in prayer, as she has for almost two decades.
The formal service at one of the city's oldest and largest Reform congregations includes a children's choir, organ and piano. The musical selections reflect the solemnity of the holiday and serve as background for Garfein's shimmering mezzo-soprano voice that captures the emotion in the liturgy without overwhelming it.
"There's a sense of awe and drama that you don't really have the rest of the liturgical year," says Garfein, 50. "As a cantor, you really have to be in top form for the High Holy Days to deliver the level that is expected from the congregation in terms of agility, strength and stamina. It's a vocal marathon, but I look forward to the challenge."
This challenge is even greater when the prayers become personal, as they did last year for Garfein, when Rosh Hashanah fell just after the death of her husband, Marvin Gellman, from leukemia.
"I wrestle with the idea of the prayer for Rosh Hashanah, 'Who shall live and who shall die?' I found it very, very difficult last year," she says. "Even before that, when you sing those words and go through the litany of 'Who by stoning, who by fire, starvation, floods,' it's sobering. That's a tough piece of liturgy to deliver, because I look out into the congregation and I don't know what the year is going to bring."
Garfein is one of hundreds of women serving as cantors across the United States in a field that for decades was the sole province of men.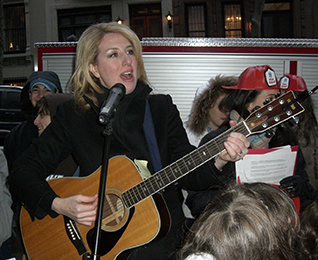 Women have made great strides since Barbara Ostfeld became the first ordained female cantor, after receiving ordination from the Reform movement's Hebrew Union College-Jewish Institute of Religion in 1975. In 1987, Erica Lippitz and Marla Barugel, became the first Conservative female cantors to be invested by the Jewish Theological Seminary. Today, women account for 65 percent of the over 500 members in the American Conference of Cantors, the professional organization of Reform cantors. The corresponding Conservative group, the Cantors Assembly, includes about 600 members—approximately 20 percent of them women.
The numbers are also in a state of flux at the seminaries where they train. The student population at the H.L. Miller Cantorial School at the Conservative movement's Jewish Theological Seminary of America is currently 60 percent women, according to Nancy Abramson, the school's director. "This year we graduated only men, next year is all women, and the year after next is half and half," she says.
In most Orthodox synagogues, cantor is a position still exclusively held by men due to the prohibition on women clergy as well as the concept of kol isha—that the female voice, particularly when singing, is inherently seductive and therefore forbidden. Today, most Orthodox synagogues employ cantors only on a part-time basis, primarily for the High Holidays.
Within the non-Orthodox world, it is not just the gender balance of the cantorate that has changed. The field itself has expanded beyond the historical model of the cantor—hazzan in Hebrew—whose primary function was to lead services with a beautiful, sonorous voice and be a religious role model.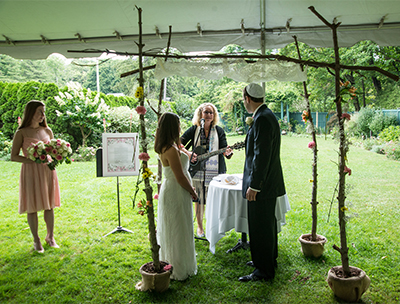 A striking voice is still a requirement for today's cantors—but so, too, is playing guitar or piano. Cantors are just as likely to walk among their congregants strumming a guitar and encouraging responsive singing as to lead formal services from a bimah. The role now extends to counseling, community outreach, education and officiating at life-cycle events. Garfein's responsibilities include, for example, directing the children's choir and teaching seventh graders in the Rodeph Sholom School, a day school associated with the congregation, to read from the Torah.
In the liberal Jewish movements, cantors have become, in most places, full clergy partners. And while a rabbi still gets top billing in the synagogue hierarchy, there is often little practical difference between a rabbi and a cantor in the eyes of a majority of congregants. Both attend seminary and take many of the same classes, but the rabbi is the master of texts and sermons while the cantor, with her or his sublime voice, is the expert in liturgical music.
Women have also played a key role in developing new tunes and liturgy. Deborah Katchko-Gray, 61, the cantor at Reform Congregation Shir Shalom in Ridgefield, Conn., notes the influence that the late singer-songwriter Debbie Friedman had on the cantorate. Her folk compositions and interactive style as a prayer leader (a layperson who leads services) had such an impact on liturgy that following her death in 2011, HUC renamed its cantorial school the Debbie Friedman School of Sacred Music. "We always had a prayer for healing in our services, but her version of 'Mi Shebeirach' became a new tradition, elevating this moment with music," says Katchko-Gray. "It opened up a whole new genre of composers writing healing music."
Katchko-Gray is a fourth-generation cantor. Her grandfather, Adolph Katchko, wrote the traditional chanting modes that are the basis of HUC's curriculum. Singing his music holds special meaning for her, especially during the High Holidays.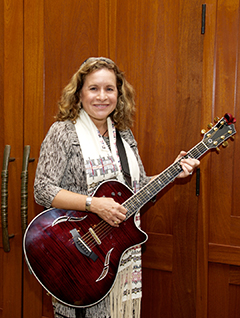 "I feel like my authentic self, channeling my father and my grandfather," says Katchko-Gray. "When I sing 'Shema Koleinu,' "—Hear Our Voices, a highlight of the High Holiday service as well as a part of the daily Amidah—"it's really a cry. My grandfather's music is the kind of music that illustrates the meaning of the words. It's word-painting, not just fitting words to a melody. That's the way the music should be: dignified, elegant, meaningful, spiritual."
The traditional melodies, written in keys suited to male voices, often need to be transposed, she explains, and many female cantors choose keys that are more comfortable for a congregation of untrained singers. Katchko-Gray, who published the first guitar songbook of cantorial music in female-friendly keys, had to change the keys of her grandfather's music to work with her soprano voice.
"I look for melodies that stick to your kishkes and bring the text to life," notes Katchko-Gray, who founded the crossdenominational Women Cantors' Network 36 years ago. What began as a support group for 12 women has blossomed into an international resource for more than 300. In June, the group held its annual conference in Cleveland, featuring workshops, services and a celebration of Israel.
"We even have a few men who have joined because they love our energy," she says. "All the egos are parked at the door. We just want to support and sing together and be better cantors—and be there for each other."
That kind of acceptance is sometimes dependent on location. Jessica Roskin, 51, the cantor at the Reform Temple Emanu-El in Birmingham, Ala., finds that being a Jewish female religious leader in the largely conservative South has particular challenges.
"There's this good old boys' network, and the other clergy you're dealing with are Christian. People don't take you as seriously out in the greater community," she says. "Even in my own congregation, it took years for them to understand that I was ordained and could do weddings and funerals on my own. As long as we had a male senior rabbi, I was always playing second fiddle to him. It's not that they didn't accept me, but there was a lot of ignorance as to what a cantor does."
To strengthen ties to her congregation, Roskin provided a historical perspective on the cantorate in sermons and articles for the temple bulletin. When the senior rabbi retired last summer—and after a search that did not produce a suitable rabbinic replacement—she became the sole leader of her congregation. "People have been joking and saying, 'We should call you rabbi now,' and I say: 'No, absolutely you should not,' "
says Roskin, who feels strongly that congregants should recognize that it is acceptable—and not new—for a cantor to lead a congregation.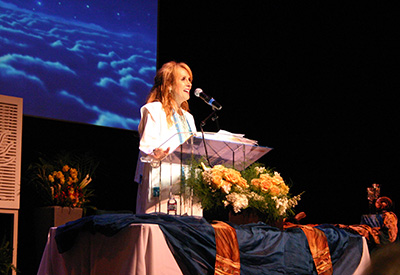 Some women choose to be both: Perhaps the best-known example is Angela Buchdahl, senior rabbi of Central Synagogue, New York City's oldest Reform synagogue. She began her career as a cantor before training as a rabbi, the first Asian-American to obtain either post. When the senior rabbi at Central Synagogue stepped down in 2014, Buchdahl, by then already serving as a rabbi, was chosen to lead the 2,300-household congregation.
Across the country, Judy Greenfeld, 59, founded the 12-year-old nondenominational Nachshon Minyan in Encino, Calif., as a cantor. In 2016, she received rabbinic ordination from the transdenominational Academy for Jewish Religion in Los Angeles.
"I asked myself, what could I do to be more for my congregants and for myself?" she says about becoming a rabbi, noting that her decision was not at the request of her congregants. "No one even cared. They thought I was their rabbi." Greenfeld has discovered that doing double duty eliminates the tensions that can occur between clergy. As an example, she notes the need to balance sermons and lectures with liturgy in services. "It's given me a unique insight into when there's too much singing—or too much talking," she explains. "People want to be moved. You can see when they daze out. I can be giving a sermon, and then I can break into song."
In their very public role, female cantors have addressed the tension and struggles that have touched women in other careers. In her capacity as current president of the Conservative movement's Cantors Assembly, Alisa Pomerantz-Boro noted the #MeToo movement at their annual convention in Palm Beach Gardens, Fla., in June. She organized several sessions for both men and women that focused on respecting boundaries, with Rabbi Laura Gold, a clinical psychologist, on hand to facilitate.
"As the only female spiritual leader in my shul, I find it critical to be open to every conversation, including issues surrounding #MeToo," says Pomerantz-Boro, the cantor at Congregation Beth El in Voorhees, N.J.
JTS's Abramson, 64, who served as the first female president of the Cantors Assembly, recalls being called a "Victoria's Secret cantor" by a congregant early in her career. She didn't say anything to the individual who made the remark. "I believe the speaker thought it was a compliment," she says. "I would respond differently now."
Female cantors interviewed for this article shared stories, some even from recent years, of being mistaken for the rabbi's wife or a temple secretary, or being addressed by their first names while a male rabbi or cantor is given his honorific. There's also a gender pay gap that affects all female clergy: Cantors' annual salaries range from about $45,000 to $200,000. According to a 2016 survey by the Reform movement's American Conference of Cantors, female cantors typically earn 86 percent of their male counterpart's salary. In response to the findings, the conference resolved to "work with congregations to ensure that pay for female cantors is in line with national norms for gender pay equity" and "to expect synagogue leadership" of Reform congregations "to enact fair and equitable compensation policies for clergy and staff regardless of gender identity."
The broader issue of acceptance sometimes overshadows gender equity when the Orthodox world intersects with liberal denominations. Then, female cantors say, they are reminded they are still pushing boundaries.
Garfein recalls an incident from her early days at Rodeph Sholom. "During a b'nei mitzvah, there were some very traditional Jews who came," she says. "When I was leading the prayers, they turned their backs to me. Colleagues who do interdenominational events have had people walk out or they are not allowed to participate. This still goes on, and it's very painful. It's hard to know if it will ever completely change. I think that by consistently being excellent and being the best we can be, that is one way to help turn the tide."
Katchko-Gray concurs. "My grandfather wrote an important essay on hazzanut, saying there really are no Reform, Conservative or Orthodox cantors, there are either good cantors or bad ones," she explains. "On the bimah, wonderful women aren't that much different than wonderful men. I want to sing the music as a cantor, not as a woman cantor."
Joanne Sydney Lessner is the author of the novel Pandora's Bottle and also writes reviews and features for Opera News and ZEALnyc.