The Politics of Spirituality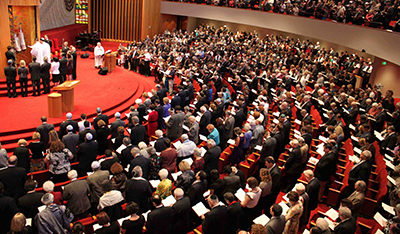 You could call Michelle Szpilzinger a wandering Jew. Over the past few years, the resident of the Kew Gardens section of Queens, N.Y., has vacillated between two synagogues in her heavily Orthodox neighborhood, searching for a place she feels comfortable.
"The Orthodox community is increasingly pro-Trump, and I'm a liberal," says Szpilzinger, 39. It is "for the first time making me feel completely out of sync. I used to feel a sense of solidarity and now that's gone." A granddaughter of four Holocaust survivors, she says she was raised to believe that dehumanizing and scapegoating minorities—as Jews have experienced over centuries—is wrong. The Orthodox community's overwhelming support for the president and most of his administration's policies is leaving her disillusioned with her lifelong community, says Szpilzinger, who works in the fine jewelry industry. "There's definitely been kind of an identity crisis. It makes me feel very lonely."
It's also a tough time for Reform Jews like Andrew Smith, a registered Republican who describes himself as a political conservative and social liberal. Smith, 65, moved to Scottsdale, Ariz., in November 2016 after 25 years of belonging to Reform congregation Temple Shaaray Tefila in Bedford Corners, N.Y., north of New York City. When the retired lawyer and venture capitalist relocated, he bought a gun—Arizona has some of the most liberal firearm laws in the country—and naturally gravitated to the local Reform temples. But he was so offended by one rabbi's sermon pointedly criticizing the Trump administration's immigration policy that separated families that Smith got up and walked out in protest.
The current political climate poses a challenge for both rabbis and congregants, and never more so than during the High Holidays, when more Jews flock to synagogue than at any other time of year. Expectations among congregants run high and the pressure on rabbis to connect to their communities intensifies. Many congregants want to feel moved and hear something powerful in their rabbis' sermons. Yet not everyone in synagogue is seeking the same thing. While some long to hear messages of moral clarity around the issues of the day, others hope to find sanctuary from the political histrionics playing out nearly everywhere else.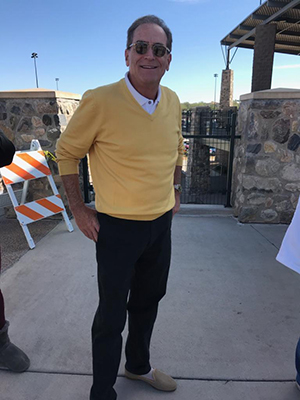 This, of course, is not the first time that political issues have divided congregations, but in the past, tensions often centered around Israel. Now even as some Jewish clergy feel compelled to comment on the president's policies—some supportive, others critical—they also don't want to alienate their members who seek comfort in their spiritual home.
As employees of nonprofit organizations with tax-exempt status, clergy are prohibited from endorsing one candidate over another during an election cycle, but they can, according to the Internal Revenue Service, "engage in a limited amount of lobbying (including ballot measures) and advocate for or against issues that are in the political arena."
Rabbi John Linder is the spiritual leader of Temple Solel, a congregation of 650 households in Paradise Valley, Ariz. It was his sermon—in which he called President Trump's vision "not my America"—that turned Smith off. "No question about it, the polarized political climate is absolutely felt within the congregation," says Linder. "I see my job as representing Jewish values with as much integrity as I can. In many cases, that challenges how people look at the world."
He knows that can become a problem. In his decade at Temple Solel, congregants have occasionally walked out to protest sermons and some, he acknowledges, even left the synagogue altogether. Nonetheless, he says, "I am trying to create a culture where people can disagree and not feel like they are on the outside because their perspective doesn't align with the rabbi's or the majority of the congregation."
Rabbi Rachel Kobrin, a Conservative rabbi, agrees that "it really is a balancing act for any rabbi—how to represent the moral values of our times and also be a place for people who have multiple opinions." Kobrin, who led Congregation Adath Jeshurun in Elkins Park, Pa., for several years before moving over the summer to Denver, where she now leads Congregation Rodef Shalom, says she has spoken from the bimah about immigration, guns and race and won plaudits for her ability to navigate the tensions—even from congregants who disagree with her liberal politics. Still, she says, "I've had congregants walk out on sermons, and it's terrible to know that your words have hit them in such a way that they feel they can't be in their sacred space."
The issues are so fraught, and people's feelings about their congregations so intense, that it is hard to find individuals willing to speak on the record about their experiences.
Rachel Berdugo, an attorney, wouldn't use her real name for fear of sparking anger and division in her community. She is frustrated by what she does and doesn't hear at her longtime Conservative synagogue in a well-to-do Long Island town in New York. The rabbi there—who, Berdugo takes pains to point out, is a very nice man with the security of a long-term employment contract—seems reluctant to take positions on the political issues filling the headlines.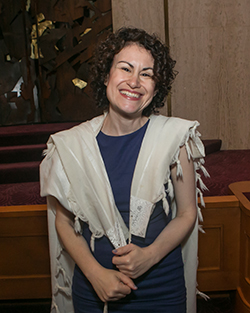 "In his sermons, the rabbi is lukewarm and tepid, speaking about the equivalent of the weather, and to me, that's an abdication of a leadership role," says the 52-year-old Berdugo. "For God's sake, say something!"
Most rabbinical students receive some guidance during their schooling on how they should approach political issues. Rabbi Bronwen Mullin, the rabbinic artist in residence at Manhattan's Town & Village Synagogue, recalls that at the Conservative movement's Jewish Theological Seminary of America, where she was ordained in 2017, the topic was discussed in two different classes. She recalls being told that "a rabbi cannot represent any political cause publicly for legal reasons, and then that we are simultaneously supposed to be the moral exemplars of our synagogues," Mullin says. "So, in order to be authentic to ourselves, we have to express our views, and as pastoral care providers, be able to hear and create space for alternative views. It's kind of broad."
Rabbi Daniel Nevins, dean of JTS's rabbinical school, says that in training students, "the easy part is what is actually forbidden"—the prohibition on endorsing candidates.
"What is more challenging," he notes, "is the tension between speaking boldly, which communities expect of their leaders, without creating a political orthodoxy that can quash debate and alienate people with legitimate disagreements. It is often best to focus on the values at stake in a public policy debate, and to explore nuances through the lens of Torah, rather than to demand that community members support the same policies and people chosen by the rabbi."
Rabbinical organizations, too, provide general guidance to their members, says Rabbi Mark Dratch, executive vice president of the Rabbinical Council of America, whose members include 1,000 mainstream Orthodox rabbis. "Rabbis should talk about religious, spiritual and ethical ideas that may have ramifications for public policy, but avoid partisanship," he says.
Although support for Trump is not universal among the Orthodox, the president scores high marks among the majority in that community. An American Jewish Committee poll last summer found that 71 percent of Orthodox Jews approve of the president's performance, compared to 21 percent among American Jews in general.
"Those who support him state that it is in large part due to his strong support for Israel and his conservative positions on many social issues that align with their views," says Dratch.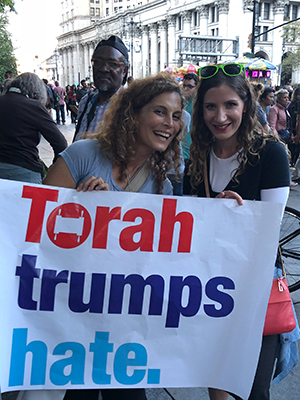 The quandary applies in reverse to the Reform movement, whose leaders have been outspoken in opposing some of the president's policies and words. "Part of our denomination's challenge is not to disenfranchise those whose politics don't line up with those of the movement," says Linder of Temple Solel in Arizona.
Rabbi Rick Jacobs, president of the Union for Reform Judaism, the largest Jewish denomination in America, says that in this exceedingly divisive time in history, "rabbis are using morality, not partisanship, as the guideline—bearing witness in their sermons to the most urgent societal and communal challenges their congregants face."
Noting that "the ancient Hebrew prophets weren't always popular because they refused to stay silent when moral debates raged," he adds: "If our Judaism leaves out social justice, then it betrays an essential pillar of our Jewish tradition. At this moment especially, we must find our Jewish voice on the critical issues facing our world, and yet we must simultaneously speak with respect and even humility. The stakes couldn't be higher."
Meanwhile, as Szpilzinger continues her search for a modern Orthodox synagogue within walking distance of her home where she feels comfortable, she is finding solace in a virtual community, the secret Facebook group Torah Trumps Hate. It was created in the aftermath of the 2016 election by and for observant and formerly Orthodox Jews who oppose the president's views, and has about 2,300 members. "It has been a comfort," says Szpilzinger.
For his part, Smith, the Republican who says he knows the president from when Trump was a real estate developer and they golfed at the same country club, says that as his search for a spiritual home continues, he plans to return to another synagogue he recently visited: Chabad of Paradise Valley. He says he likes it because politics play no role in synagogue life there. "Chabad makes you feel welcome, makes you feel comfortable, and builds a spiritual connection so you come back," says Smith.
"I don't come to synagogue for social issues and a perspective on the world. I come for one reason and one reason only: to disconnect from my secular life," he says. "I want a break from it."
Debra Nussbaum Cohen is an award-winning journalist in New York City and the author of Celebrating Your New Jewish Daughter: Creating Jewish Ways to Welcome Baby Girls into the Covenant.