The Latest Tourism Pitch: See Israel by Bike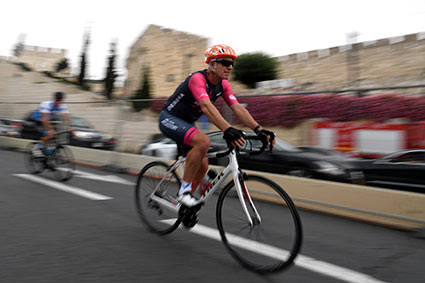 On Yom Kippur, thousands of Israelis famously take to the nation's traffic-free streets on bicycles. For year-round enthusiasts, Israel is quickly becoming a biking destination for professional cyclists as well as recreational riders taking advantage of the nation's expanding biking infrastructure.
The Giro d'Italia—one of three events making up cycling's Grand Tour, along with the Tour de France and Vuelta en España—began its May race outside Europe for the first time in the competition's history: The opening three-day route took riders through Jerusalem, Haifa, Tel Aviv, Beersheba and Eilat, promoting Israel as a tourist destination to an estimated 1 billion television viewers. Israel's participation in the Giro d'Italia was arranged by the Israel Cycling Academy, which also contributed a team to the race.
In another effort to encourage bicycle tourism, the government is developing the Israel Bike Trail as a continuous mountain biking experience connecting Mount Hermon in the north to Eilat in the south. When complete, the trail will be among the longest demarcated mountain biking routes in the world, with several stretches overlapping with early caravan routes and winding through major national sites. Thus far, segments totaling 188 miles in the south, from Mitzpe Ramon to Eilat, have been completed.