A Funny Thing Happened in Lucille Ball's Hometown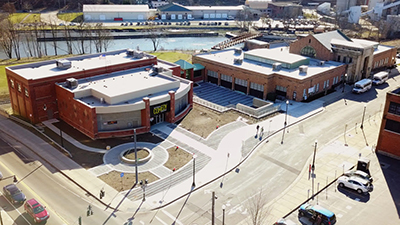 Do sitcoms and movies make you laugh? How about standup comedy? Whatever medium tickles your funny bone, the National Comedy Center, a massive new museum that celebrates the comedic arts, no doubt has it on display.
Located in Jamestown, N.Y., the technologically sophisticated venue was inspired by legendary funny lady Lucille Ball, who first envisioned a space dedicated to comedy in her hometown in the late 1980s; its opening in August coincided with the town's annual Lucille Ball Comedy Festival.
"From vaudeville to the internet, from Charlie Chaplin to Dave Chappelle and everything in between, we have something for everyone and every sense of humor," said Laura LaPlaca, the center's director of archives.
Indeed, the 37,000-square-foot facility caters to visitors' preferences. Upon entry, museum-goers complete a profile at a touchscreen kiosk, choosing among comedians, sitcoms and films from a variety of genres and eras. Their choices are then uploaded into a bracelet equipped with a radio frequency ID chip. The bracelet acts as a personalized guide through the center's 50 multimedia exhibits, accessing audio and video recordings of shows and routines as well as other interactive elements "to educate you further about what you like or expand the breadth of your knowledge by introducing you to genres and artists who you may not be familiar with," LaPlaca explained.
Beloved Jewish comedians past and present rank among the many personalities visitors will get acquainted with: Jerry Lewis, Jerry Seinfeld, George Burns, Gilda Radner, Rodney Dangerfield, Lewis Black and others. "We couldn't do vaudeville without mentioning the Marx Brothers, film without Mel Brooks, radio without Burns or standup without Mort Sahl and Joan Rivers," noted LaPlaca.
Seinfeld lovers will recognize the "puffy shirt"—one of the costumes and props scattered throughout. And those fond of slapstick will note Lewis's outfit from the 1963 film The Nutty Professor and the toupee Carl Reiner wore on The Dick Van Dyke Show. Reiner's script from the show as well as material from standup pioneer Shelley Berman, whose estate donated 40 boxes, are also on view.
Among the interactive exhibits is a room with a green screen where visitors take the place of Ana Gasteyer, Alec Baldwin and Molly Shannon in Saturday Night Live's "Schweddy Balls" skit. "Comedy Karaoke" allows standup devotees to take to the stage, choose a routine and perform before an impromptu audience.
The adults-only "Blue Room" tells the story of censorship and taboo in comedy. Accessed through glass doors on the basement level, viewers almost immediately come face to face with signs printed with George Carlin's famous "Seven Words You Can Never Say on Television." Risqué comics in the exhibit include Carlin, Richard Pryor and Rusty Warren (née Ilene Goldman). A display on Lenny Bruce—titled "Comedy and the First Amendment"—features the trench coat the legendary Jewish satirist and social critic would wear on stage in the event that he was taken to jail straight from a standup performance.
"Our core mission is to elevate comedy as an art," said LaPlaca, "and put the history of comedy into context for generations to come." 
Gerri Miller is an entertainment and lifestyle journalist who contributes to the Jewish Journal in Los Angeles and numerous other publications.