A Bar Mitzvah Ceremony in Uganda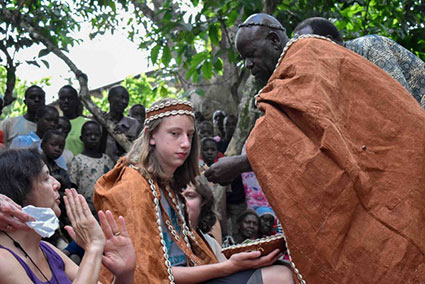 When Bess Morrison, desperate to conceive a child, traveled from New Jersey to visit a shamanic healer in Uganda 15 years ago, he told her: "You will have a son, and when he is born, you must bring me a goat."
Morrison, a professional singer, did better than that. Two years later, she and her husband, management consultant Fred Miller, brought
their infant son, Logan, back to Nakisenye, the shaman's village, for a traditional naming ceremony that involved "four goats, seven chickens and a wad of U.S. cash," Morrison recalled. And this past July, they brought Logan, now 14, back to celebrate a second bar mitzvah with the Abayudaya Jewish community of Uganda (his first took place in September 2017 at the United Synagogue of Hoboken).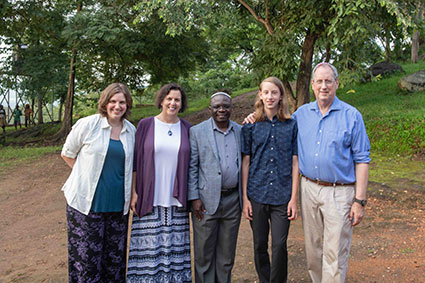 This time around, the Jersey City family traveled with 22 friends and family members for a three-week journey that began in Nakisenye, where Logan had raised money for a bar mitzvah project to build a well. "We had a whole manhood ceremony," said Morrison. "They met us with chanting and dancing and drumming that went on for two days."
After what Logan acknowledges was "a bit of culture shock," the family celebrated his milestone in the synagogue of Uganda's 2,000-strong Jewish community near the town of Mbale, overseen by Uganda Chief Rabbi Gershom Sizomu. Logan also raised money for eight Chromebooks to set up a computer lab at the local school; every Sunday, he teaches students coding via Skype.
Logan's global coming-of-age underlined for him the universality of Jewishness. "The melodies were obviously different," Logan said of chanting with the Abayudaya, "but it stuck to the same values: welcoming strangers from other communities."