'The Branch,' Hadassah's New Coexistence Podcast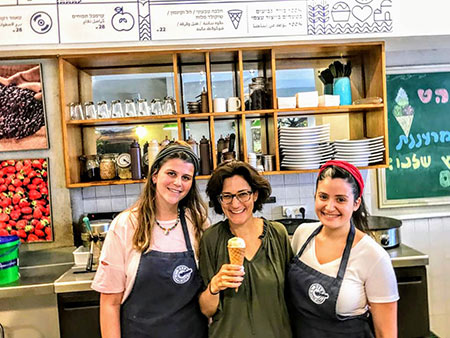 We live in an era when on-the-go working mothers enliven their commutes with audible media, and older listeners are increasingly enjoying the benefits of audiobooks and podcasts. Over the summer, Hadassah introduced into this media landscape The Branch, a podcast that aims to shine a positive light on today's Zionism by sharing inspiring stories of coexistence in Israel. With award-winning journalist Dina Kraft reporting each episode—new shows drop monthly—listeners will travel all over Israel to hear from Jews and Arabs working and living together. Rather than simply telling listeners what Zionism looks like today, Kraft is showing them by reporting on the ground from a host of education and art venues, businesses and places of healing for all people—including Hadassah Hospital.
The Branch launched in July with the episode "Harmony Onstage and Off." For the premiere, Kraft visited the Jaffa Theater and interviewed the two lead actors in a new cabaret musical titled Farid El Atrash, about the famed Egyptian singer and musician. The Jewish and Arab actors bring El Atrash's story to life, in both Hebrew and Arabic, especially delighting audience members who moved to Israel from Arab countries where El Atrash's music played a memorable role in their childhoods.
In another episode, "School Days," Kraft took listeners behind the scenes at Yad B'Yad (Hand in Hand), a bilingual, multicultural school in Jerusalem. Teachers and students here believe that this side-by-side learning model can and should be the new normal across Israel.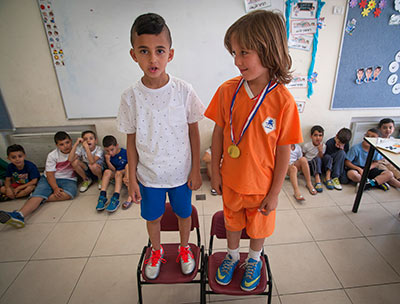 "Working on The Branch is like walking into a whole world I had previously just glimpsed from the edges," said Kraft. "I knew there were all sorts of ways Arab and Jewish citizens of Israel and even Jewish Israelis and Palestinians from Gaza and the West Bank were working to forge ties, not just in fleeting ways, but in everyday interaction."
Series producer Josh Kross echoes Kraft's sentiments. "I love that we're taking a model used by podcasting pioneers like This American Life," he said, "and we're using it to tell deep, interpersonal narratives that show dramatically different people doing more than just coexisting. They're actually living and sharing together at a deeper level."
An episode featuring the Hadassah Medical Organization highlights its role as a bridge to peace through medicine and its treatment—and employment—of everyone regardless of religion or ethnicity. Another report focuses on Buza Ice Cream, a growing network of shops co-owned by Alaa Sweetat, who is Muslim, and Adam Ziv, who is Jewish. In subsequent episodes, Kraft will explore some of the Jews and Arabs fueling Israel's thriving high-tech industry.
"The feedback I get from listeners encourages me to keep going," said Kraft. "They are hungry for these stories of hope, these stories of people connecting on a human level and contributing to a different, more hopeful future."
Subscribe to The Branch—along with Hadassah On Call, a podcast that explores the groundbreaking medicine practiced at Hadassah Hospital—on your favorite podcast app, such as iTunes or Stitcher. Like what you hear? Please rate and review Hadassah's podcasts.