Haftorah Across America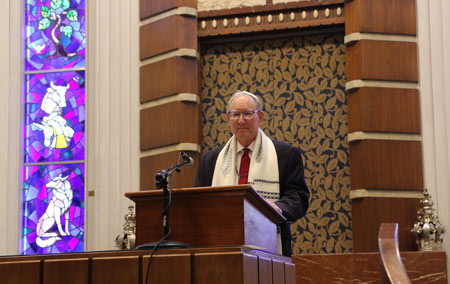 In a span of 18 years, Oklahoma resident Richard Borg chanted all 80 haftorah portions, the biblical readings from the Prophets that accompany the weekly and holiday Torah portions. It's a feat few laymen can claim. When friends and family asked what he would do next, he set a goal to chant haftorah in all 50 states.
Borg's inspiration has been his late Uncle Joe, who settled in Tulsa in 1919 by way of the Ukraine. The Russian émigré was known for his uncanny ability to walk up to the bimah and recite any portion without practicing.
"There are only a few Jews in Tulsa and even fewer who chant," said Borg, 67, a member of the city's Conservative Congregation B'nai Emunah. "My uncle was my role model. I wanted to find a way to follow in his footsteps, and this made sense."
In 1997, when B'nai Emunah offered an eight-week adult education haftorah class, Borg signed up. In 1998, he began chanting, completing every portion in 2016.
The estate-planning attorney has given himself 10 years to meet his self-imposed challenge of chanting across America. He has already participated in services in eight states, has scheduled two more and hopes to cover a total of 13 states by year end.
So how does Borg arrange his chanting appearances? "I research online synagogues or temples where I plan to travel," he explains on his GoFundMe page. "I check their calendars and, if there are no bar or bat mitzvahs or other conflicts, I call the rabbi or cantor, explain my goal, and show up on Shabbat morning with tallit in hand and chant. So far, everyone has been curious but very welcoming."
Borg hopes to finish up in Washington state, where his twin grandsons, Ezra and Harrison, live. He would like them to witness their "Grandpy" in action and celebrate his unrivaled accomplishment.