Pack Like a Pro: Travel Tips from Marcie Natan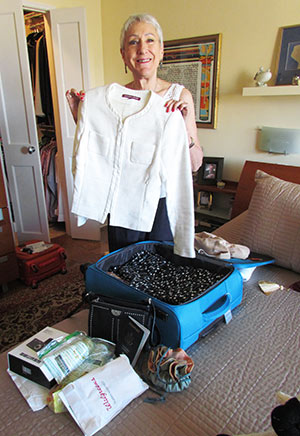 After past Hadassah National President Marcie Natan first visited Israel in 1970 with her husband, Eli, and their three children, she was determined to return to the country on a regular basis. Over 115 trips later, the intrepid traveler who today sits on the board of the Hadassah Medical Organization has earned a reputation within Hadassah as the consummate light packer. With our travel thoughts on October's From Dream to Innovation: Hadassah's Milestone Mission to Israel—and beyond that, on other wonderful Hadassah-organized tours—we reached out to Natan for advice on how and what to pack.
What's the longest trip you can take and still rely solely on a carry-on?

Two to three weeks, but it depends on whether or not I need to dress for formal occasions. I did attend Hadassah's conference in Washington in May with carry-on luggage even though we needed to be in dressy clothes several evenings. For formal occasions, part of the trick is a basic black dress that folds easily and a piece of glitzy jewelry to dress it up.
Let's talk shoes: What do you bring to Israel?

A usual trip to Israel can be done with one or two pairs of sensible shoes, such as clogs or comfortable sandals. If I need to be in heels, I take one pair that will work with whatever clothes I pack.
Handbags: What do you recommend?

I wear a small crossbody purse that can be put into my backpack. If I need something dressier, I have a black wristlet that I bought in Israel that packs easily.
Is it a rule that anyone traveling with you must pack in a carry-on?

I wish! My husband has learned to go with a carry-on, but when we travel with his sister or others, we do deal with waiting for luggage and hoping it arrives. Our granddaughter, however, has been well trained.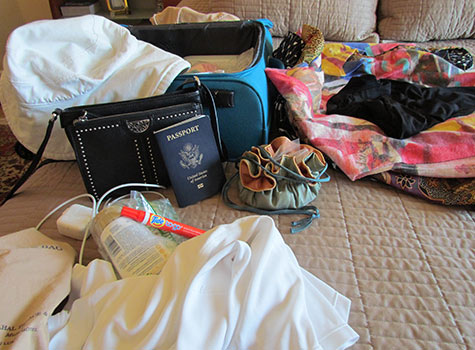 What are your top packing tips for those participating in the October mission?

Stick with a basic color or two so that you don't need lots of shoes and handbags. Even in summer, black pants usually work better than white, in the event of spills. Re-wear clothes and, by changing a scarf or jacket, make it look like you're in a whole new outfit. Weather is unpredictable so always be able to add or reduce a layer. And no matter the season, bring a pashmina to change your look and keep you warm in air conditioning.
Layer! Silk long underwear is a must for cooler climates and also allows for packing less bulky sweaters. I take underwear and, when possible, pants and tops that can be rinsed out and re-worn, especially when traveling in hot, humid climates. If I come home with something I didn't wear at all, I overpacked! Tide sticks are essential for small spots.
Basics can be put into small containers for travel: moisturizers, hand cream, etc. Every hotel will have a hair dryer. Keeping my hair short allows me to avoid other appliances for the hair and I can use any shampoo.
Finally, one of our Zionist imperatives is to shop in Israel, so focus on "less is more" and, if necessary, make a purchase.