RBG's Early Years in 'On the Basis of Sex'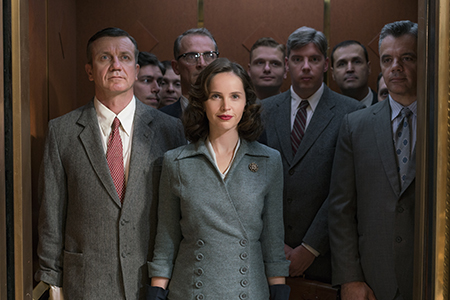 On the heels of the acclaimed documentary RBG, Supreme Court Justice Ruth Bader Ginsberg is back in the cinematic spotlight in On the Basis of Sex, with Felicity Jones deftly playing the cultural icon as a young woman.
Essentially an origin story, the film is a tribute to Ginsburg that takes viewers through her law school years, her romance with husband Martin Ginsburg (played by a charming Armie Hammer) and struggles as a mother and a young lawyer dealing with institutional sexism. The main focus of the film, however, is the career-defining, landmark gender discrimination case that she and Martin, a tax lawyer, successfully argued in the early 1970s.
Daniel Stiepleman—Ginsburg's nephew—wrote the script for the legal drama with his aunt's blessing, and input. The narrative, he said, is "the story of a young Jewish woman learning to speak persuasively to older, mostly Protestant, men of authority."
The question brought up by the film's exploration of Ginsburg's "journey to success," Stiepleman noted, will be familiar to many women—and to many Jews. "In order to be successful, how much should you blend in to the mainstream, and how much should you stand apart?
"It isn't a coincidence that Ruth's very first line in the movie, delivered while choosing between outfits for a dinner at the Harvard dean's house, is 'Which one makes me look more like a Harvard man?'"
Indeed, Ginsburg's struggles were personally resonant for director Mimi Leder, who said that much like Ginsburg, she has had "many doors slammed in my face" on the way to success. Included in the film are scenes of male-dominated New York City law firms refusing to even grant interviews to Ginsburg, even though the Columbia law graduate was top of her class. And, Leder added, both she and Ginsburg are Brooklyn-born Jews.
"Like countless generations of women before her and since," Leder said, "Ginsburg withstood the subtle slights and the overt discrimination of the culture around her, and changed that culture."
Bringing out the "the real person, the flaws" in such a well-known personality was a challenge, said Jones. The British actress watched and listened to old court cases and met with Ginsburg to prepare for her role. She also had to ignore comments from those who questioned her suitability for the part—notably that a non-Jew is playing the Jewish Ginsburg.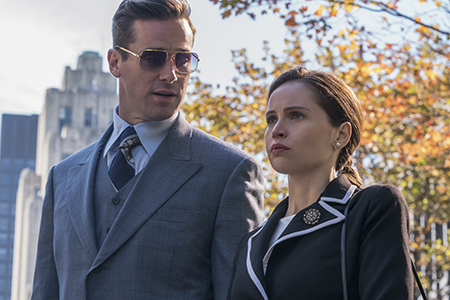 "Ruth being such an icon, I can understand that people have such high standards," she acknowledged. "For me, it was about honoring another human being and doing justice to her story. I just bury myself into it and try to be myopic in that focus."
Honoring doesn't mean ignoring the humor, affection and romance that was part of the Ginsburgs' relationship. Hammer cooked for his castmates in preparation for his role as Martin Ginsburg, an amateur chef who famously prepared meals for his family as well as lavish dinners. (A cookbook of Martin's recipes, Chef Supreme: Martin Ginsburg, compiled by spouses of Supreme Court justices, was published in 2011 in his memory and is available in the Supreme Court gift shop.)
And the movie includes a PG-13 rated sex scene—a tamer version than what was originally shot. Leder was initially concerned that Ginsburg would disapprove. However, she needn't have worried: "I'm fine with it," said the justice, who makes a cameo appearance at the film's end, fittingly shot on the steps of the Supreme Court.
On the Basis of Sex is available in select theaters on December 25 and opens nationwide on January 11.
Gerri Miller is an entertainment and lifestyle journalist who contributes to the Jewish Journal in Los Angeles and numerous other publications.