In Conversation With 'New York Times' Columnist Bari Weiss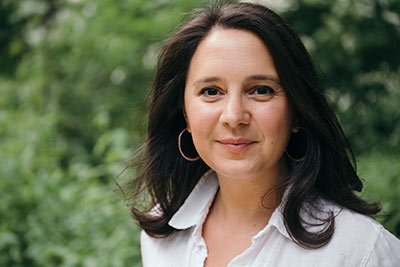 Bari Weiss began making waves as soon as she was hired as a staff editor and writer for The New York Times opinion section in 2017. In one of her earliest pieces, "I'm Glad the Dyke March Banned Jewish Stars," the journalist, 34, focused on what she regards as the danger of intersectionality—particularly for Jews who, even in a world rife with anti-Semitism, are not seen as victims in part because Israel is viewed as an oppressor.
Weiss, who lives in Manhattan, refers to herself as politically heterodox, and in her sharp, cleverly written columns, does not hesitate to tackle provocative ideas—from sexism and sexual misconduct to the monopoly that Israel's rabbinate has over marriage. She says she is "really bored by and not concerned with labels" in both politics and religion.
​Occasionally, Weiss's articles are personal. The Pittsburgh native wrote a moving op-ed in November after the Squirrel Hill massacre in the synagogue where she became a bat mitzvah. Whatever topic she tackles, Weiss's columns are rooted in her deeply Jewish view of the world. Before the Times, she worked at The Wall Street Journal and at Tablet, the online Jewish publication. This interview has been edited for brevity and clarity.
What balance do you seek to strike between your Jewish identity and your job at the newspaper?
I don't. The amazing privilege of being a Jewish woman in 21st-century
America—I count myself among the luckiest Jews in history—is that I don't ever think about checking my Jewish identity at the door of any space I enter. If that's what's being asked of me, then I know that's not a room I want to be in. One of the wonderful surprises about writing about topics like Yom Kippur and mortality for the Times is how much readers seem to relish those pieces.
What is your Jewish life like, week to week?
I think of myself as a Klal Yisrael Jew [one who loves the Jewish people more than any particular expression of Judaism]. I grew up in a family where we belonged to three synagogues—Reform, Conservative and Orthodox. It was not unusual for me to read Torah at shul and then go, say, to a Chabad family for lunch before heading to basketball practice. I am a staunch egalitarian and I'm never going to agree with a committed Orthodox Jew about certain issues. But if we're sitting together at a Shabbat table I try to ask: What points of commonality do we have? And what can I learn from that person?
Which of your Times columns do you believe has made the most impact, and why?
As both an editor and a writer, I think a lot about how to judge impact. Do you judge impact by virality [how often a piece is shared online]? If so, certainly my piece about the "Intellectual Dark Web" [about iconoclastic intellectual provocateurs, published last May] was the most impactful. The pieces I wrote from Pittsburgh did not have nearly as many readers, but a large percentage of those who read them wrote me extremely heartfelt notes and letters.
There is also something impactful about saying something you desperately wish you didn't have to. I'm proud of my column, "When Progressives Embrace Hate," about the leaders of the Women's March, which I wrote in August 2017. I raised the alarm about Linda Sarsour's poisonous views and the relationship between Tamika Mallory and Louis Farrakhan—associations that seemed to predict a troubling trajectory of the movement's positions on Jews. More than a year later, the warnings of that column have been scarily borne out.
Do you feel optimistic or pessimistic about this country's political direction?
Both. It's not saying anything new that I am very scared not just by the rise of Trumpism, but of the rise of blood-and-soil nativism around the world. What Jew aware of our recent history wouldn't be? But I also believe that giving in to despair is antithetical to living Jewishly. The other thing history teaches us is that people, sometimes just a few people, can make the difference. So that gives me hope. And one of the things I love about my job is that I get to publish some of the people who are trying to help not just explain, but lead us through this moment.
Debra Nussbaum Cohen is an award-winning journalist and New York City-based correspondent for the Israeli newspaper Haaretz. She is also the author of Celebrating Your New Jewish Daughter: Creating Jewish Ways to Welcome Baby Girls Into the Covenant.