Vojvodina, Between Belgrade and Budapest
Under a hand-painted garland of Art Nouveau roses is one of the most Instagrammed spots in Subotica, Serbia. "That's where Viktor Orban sat at the dedication ceremony," Robert Kovacs told me, indicating a front-row seat set below biblical inscriptions at the Subotica synagogue, a 1902 building whose lavish restoration was unveiled at a ceremony last year that featured Orban, the Hungarian prime minister.
Ever since, said Kovacs, who leads services as the community's hazzan, tourists have snapped selfies in the place once occupied by the conservative politician: "They want to sit right where Orban was."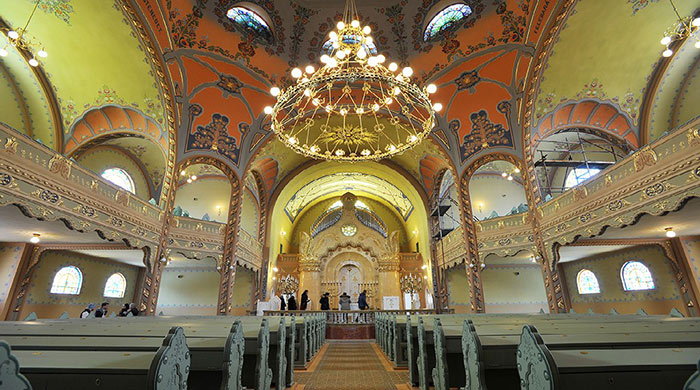 This was just one of many details, from politics to aesthetics, that I never expected to find in the Hungarian-Serbian territories between Belgrade and Budapest. I had traveled to see two of Europe's grandest and most historic synagogues—in Subotica and nearby Szeged, Hungary. Their recent restorations, plus the rich Jewish history in Novi Sad, Serbia's second-largest city, have put this region on the Jewish tourism map. As I quickly realized, these houses of worship are more than local landmarks; they are also keepers and signifiers of a distinctively hybrid Magyar-Jewish heritage. (Magyar refers to the tribal and ethnic association of the Hungarian people.)
And if some Europeans' appreciation for Orban, whose nationalist rhetoric has alarmed many in the West, came as a surprise, so did the whimsical, brightly colored interior of the Subotica sanctuary; the magnificent Austro-Hungarian boulevards of Szeged; and the domed synagogue that heralds Jevrejska (literally "Jewish") Street in the center of Novi Sad. Together, the three cities were vital hubs of Central European Jewish life from the late 18th century until the Holocaust.
My trip into Vojvodina, Serbia's northernmost province that includes Novi Sad and Subotica, began when I left the green hills of Belgrade behind for the flat Danubian Plain. It was the closest landscape to the American Midwest I'd seen in Europe, I thought as my car passed through endless cornfields.
The drive north was more than a geographical reorientation. Serbia is a Slavic, Balkan nation from Belgrade south; Vojvodina, part of Hungary until World War I, is a cauldron of Mitteleuropean diversity. The Hapsburg legacy is evident in Vojvodina's six official languages and a Hungarian cultural influence whose persistence belies a shrinking population share: Roughly 12 percent in this region of two million people identify as Hungarians, including the approximately 1,000 Jews.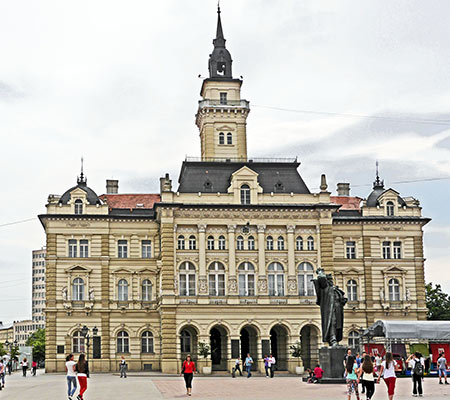 I had read European history books devoted to this area, but it was another thing entirely to see Vojvodina's ethnoreligious past laid out, literally, across the core of Novi Sad. The cathedral overlooking the main square, Trg Slobode (Freedom Square), is not Serbian Orthodox but Catholic, the faith of most Hungarians. In case you had any doubt about its parishioners' allegiances, the interior is festooned with garlands in the Magyar flag colors—red, white and green.
Just off the square is Jevrejska, a boulevard where the golden domes of the Novi Sad synagogue cast long shadows and serve as a reminder of how integral the Jewish presence once was. About 4,000 Jews lived here before World War II, a community prosperous enough to engage the illustrious Jewish architect Lipot Baumhorn to design his only Serbian synagogue. No longer in use for worship, the building—now a city-run concert venue—remains a symbol for the 400-strong Jewish community.
Steps from Novi Sad's pastel-hued historic main square are grimy alleys and deteriorating blocks that bear obvious scars of conflict—not only from successive empires, but also from the Balkan Wars of the 1990s, when NATO bombardment destroyed all three bridges that crossed the Danube here. I gazed over the rebuilt spans from the hilltop Petrovaradin Fortress, a Hapsburg fortification with sweeping views of the river and red-roof cityscape.
It was tempting to linger at the cafés along Zmaj Jovina Street, Novi Sad's lively pedestrian thoroughfare, lined with boutiques and filled day and night with stylish crowds. Instead, I drove further north to Subotica, a city of 100,000 people just a few miles from the Hungarian border.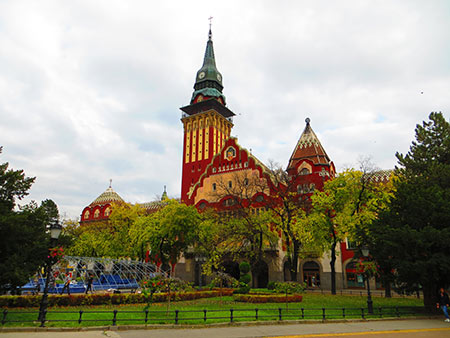 Subotica is fabled for its profusion of Art Nouveau architecture. Along tree-lined boulevards are lacy, scalloped rooflines, walls festooned with curlicues and buildings in quirky colors like marigold and sage green. Even the fountains in the park have rosettes on them.
Those fin-de-siècle motifs are the visual hallmark of Subotica (Szabadka in Hungarian) and of the Jewish architects who quite literally put their stamp on the city.
Jewish Freemasons left secret symbols, from Solomonic pillars to cryptic triangles, on buildings around Subotica, according to Branka Banjanin, a veteran of the tourist office who now coordinates the local Jewish community, which also numbers about 400.
The most prominent Freemasons were the Budapest Jewish architects Marcell Komor and Dezso Jakab, who together designed Subotica's town hall as well as its 1902 synagogue. Their distinctive style—think Antonio Gaudí meets Hansel and Gretel—is evident in both structures' diamond-tiled roofs and striking, red-and-white facades.
But the interiors are even more hallucinatory. The synagogue's pews are seafoam green; its staircase, Yves Klein blue; and its stained-glass windows are shaped like blooming tulips, the national flower of Hungary. "These floral designs are very typical of the Hungarian folkloric style," Banjanin noted, pointing to walls covered in looping vines with heart-shaped flourishes and flowers resembling googly eyes—all in riotous hues of orange, purple and lime green. "Our dual identities are written on our visual aesthetic."
Magyar heritage, Banjanin explained, is a point of pride for Subotica's Jews, both young and old. Vojvodina Jews—in Novi Sad and nearby Hungary, too—have long considered themselves among the continent's most comfortably assimilated. And although the Hungarian language is declining in the area, a new Jewish generation is exercising their hybridity in other ways, for instance applying for European Union passports based on Hungarian and Croatian ancestry to access study and work opportunities abroad. (Serbia, once the very heart of Europe, is not an E.U. member.)
As the Hungarian era faded into memory, Subotica's remaining Jews felt an increasing urgency to restore the landmark synagogue, which became city property in the 1970s. The six-year, multimillion-euro restoration was completed in December 2017 and funded jointly by the Hungarian and Serbian governments, the two nations' Jewish communities as well as the E. U. and the World Monuments Fund. The synagogue hosts holiday services as well as year-round cultural events. When I visited, Banjanin was organizing an 18th-century Ladino opera and a concert of the Four Jewish Cantors of Budapest for Subotica's annual fall Jewish festival.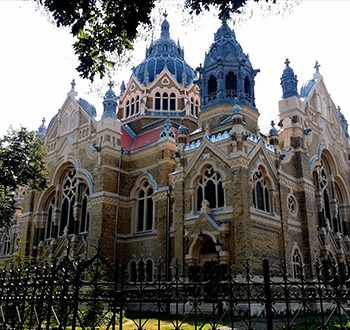 Kovacs, the synagogue's hazzan, told me that while neither he nor his friends have experienced anti-Semitism in multicultural Serbia—and the Jewish communities I visited were largely unaffected by the Balkan Wars—he is reticent about his Jewish identity once he crosses the border into Hungary. Personally, I never experienced anything but friendliness, though I did sense a certain change in pressure as I crossed into the wild forests of southern Hungary.
In one sleepy hungarian village after another, church steeples were decorated with the same floral motifs I'd seen in Subotica. But whereas the Serbian cities had buzzed with energy, the Hungarian towns were tidy and quiet. In Szeged, a major university town and Hungary's third-largest city, the floodlit streets were empty after dark. Everyone I asked pointed me to the same three restaurants.
But Szeged, Hungary's paprika capital, doesn't need gastronomic variety; it has good looks instead. After the great flood of 1879 destroyed virtually the entire city, Emperor Franz Joseph vowed to rebuild Szeged more beautiful than before. He obviously kept his promise, I thought, as I surveyed elegant boulevards lined with Vienna-style palaces.
On a leafy side street, the Szeged New Synagogue, built in 1907, is considered to be architect Lipot Baumhorn's crowning achievement (its dome is carved on his gravestone). Architecturally, the massive building is a synthesis of Art Nouveau, classicism and the Moorish elements in vogue around 1900. "Love your neighbor as yourself," reads the archway inscription in both Hebrew and Hungarian—the latter revealing the influence of Chief Rabbi Immanuel Low, a towering prewar presence among Szeged Jewry who championed the use of the Hungarian language in the pews.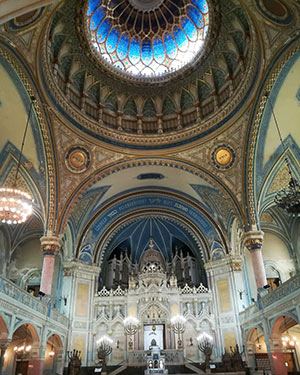 The cheerful inscription took on a mournful irony once I entered the lobby, where a Holocaust exhibit reminded me what happened when Hungarians failed to love their Jewish neighbors. While most wall texts, frustratingly, are in Hungarian, no translation is needed for the names on the memorial plaque, nor for the photos of desperate mothers clutching children in the Szeged ghetto.
Yet like the building itself, about half of Szeged's Jewish community—now estimated at 300 people, down from nearly 5,000 before the war—survived the Holocaust, unlike the majority of Hungary's Jews.
In September 2017, hundreds gathered to celebrate the restoration of Baumhorn's masterpiece, from the stained glass windows to Rabbi Low's biblical garden, where fragrant herbs are sprouting again after decades of neglect.
WHAT TO SEE
Szeged is less than two hours from Budapest by car and about four hours from Vienna, Bratislava and Zagreb. From there, it is a short drive to Subotica across the Hungarian-Serbian border. Novi Sad is roughly another hour south via train or the Belgrade highway.
Drivers should be aware that border crossings between Serbia and Hungary often involve waits of five hours or more in both directions during the summer vacation months, especially August.
Novi Sad
It's easy to admire the facade of the historic Novi Sad synagogue at 9 Jevrejska Street. But to enter the synagogue-turned-cultural-venue, you'll have to make arrangements: The Novi Sad tourism office offers free Jewish heritage walking tours from May to October that include the synagogue. The Jewish Community of Novi Sad opens the synagogue for groups with prior reservations.
The most enjoyable way to experience this glorious building is to attend a concert, such as the series organized by The Music Youth Organization of Novi Sad, performances by the Hashira Choir or local Jewish dance group Ma'ayan.
Subotica
Subotica synagogue, the city's most visited attraction, is down the street from City Hall. Sharing the landscaped campus at 6 Trg Sinagoge is a Holocaust memorial and the Jewish community center, where you can tour the chapel used for weekly worship and a gallery featuring vintage photographs and ritual artifacts. To arrange a visit, contact Branka Banjanin.
With its diamond-tiled roof, lacey towers and red fairytale facade, City Hall is an Art Nouveau landmark. The 1910 structure, which dominates the Slobode and Republike plazas, was designed by Budapest Jewish "starchitects" Marcell Komor and Dezso Jakab.
The circa 1923 Old Jewish Hospital, now a school, is at 22 Adolfa Singera Street, just east of Ferenc Rajhla Park. Overlooking the park itself is the blue-and-orange Rajhla Palace, whose scalloped 1904 roofline is punctuated by floral rosettes and heart-shaped ivy.
The Subotica tourist office has an online itinerary for a self-guided walking tour of Jewish heritage sites around the city.
Szeged
Szeged New Synagogue is arguably one of the most impressive religious buildings—anywhere. The house of worship features an ornate blue-and-gold sanctuary and a memorial hall with plaques commemorating Szeged's Holocaust victims as well as wartime photographs—some by noted Jewish photojournalist Bela Liebman—depicting the Szeged ghetto and the desecrated synagogue interior. It is open to the public every
day except Shabbat and Jewish holidays.
In July and August, the synagogue hosts Sunday organ concerts as part of the Szeged Open Air Festival. Autumn brings a lineup of Hungarian and international performers for the annual Jewish Cultural Festival, while concerts take place between April and October in the sanctuary.
Around the corner is the 1843 Szeged Old Synagogue (the tourist office can assist with most major sights in Szeged), a classical edifice preserved as a cultural venue. Exterior plaques commemorate Jewish soldiers who died in World War I as well as the water level during the Great Flood of 1879 that destroyed most of Szeged. In August, the Old Synagogue hosts the annual THEALTER avant-garde festival—some performances of which, thankfully, do not require translation.
Szeged's moving Holocaust Memorial, in the park outside the city cathedral, was the first in Hungary to be installed by the Catholic Church, in 2014; the monument depicts Catholic and Jewish sailors stranded in a boat, appealing to the heavens in a gesture of ecumenical solidarity.
Hilary Danailova writes about travel, culture, politics and lifestyle for numerous publications.