Going to a Film Festival? Here's What to See
Politics, pig farmers and lacrosse are among the fresh plot lines of new Jewish and Israeli movies being screened at film festivals around the United States this winter and spring, from Atlanta, Phoenix and San Diego (all in February), and from Miami to Houston (in January and March, respectively; check your local Jewish film festival website for specific dates and movie listings). Cinematic trends that show no sign of slowing down are explorations of ultra-Orthodox society and Holocaust films from Eastern European countries.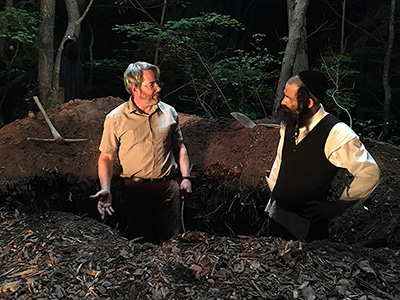 Exploring the haredi world 
In the dark buddy comedy To Dust, Hasidic cantor Shmuel (played by Geza Rohrig) is struggling with the recent loss of his wife. Unable to find comfort in Jewish mourning rituals and obsessed by fears that his wife's soul cannot be at peace until her body has decomposed, Shmuel recruits Albert (Matthew Broderick), a bored community college biology professor, to help him. Their bumbling quest to understand the biological process of death and decay takes them from homespun forensic experiments to clandestine trips to graveyards. The film will also run in select theaters in February.
The documentary City of Joel provides unprecedented access to a cloistered religious world in rural New York. The village of Kiryas Yoel (Joel's Hebrew spelling), a modern-day shtetl of 22,000 Satmar Hasidim, is one square mile. Director Jesse Sweet explores daily life in the town as well as the turf war that began with the community's attempt to annex adjacent land in the larger Monroe Township for its growing population—a move opposed by local, secular neighbors.
Out of Israel 
The civil war in Ethiopia is the backdrop of Fig Tree, which follows Mina, a 16-year-old Jewish girl, and her attempt to save her Christian boyfriend, Eli, from being forced into a military junta, even as Mina's family is preparing to escape to Israel. Writer-director Aalam-Warqe Davidian, who left Ethiopia for Israel at the age of 11, mines her own experience for the tragic love story.
Another coming-of-age drama set during a time of political turbulence, Red Cow takes place in the years leading up to Prime Minister Yitzhak Rabin's assassination in 1995. The film tackles sexual awakening and forbidden love as 17-year-old Benny comes to question the religious and political leanings of her caring yet patriarchal father,
a figure of authority in their ultra-religious settler community.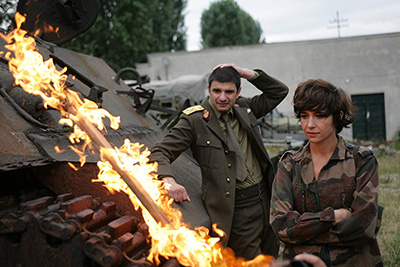 European Holocaust Films 
Romanian director Radu Jude's ambitious satire I Do Not Care If We Go Down in History as Barbarians—a phrase from a notorious political speech that preceded the 1941 killing of over 25,000 Jews in Odessa by Romanian troops—follows a young, idealistic theater director's attempt to create an outdoor re-enactment of the massacre, despite the municipal government's attempts to
censor her.
Austrian documentary The Waldheim Waltz takes a sharp look at former United Nations Secretary-General Kurt Waldheim's wartime role in the Nazi regime.
In Slovakia's The Interpreter, 80-year-old Ali Ungar discovers the diary of the SS officer who killed his parents, and sets off on a journey of revenge with the officer's estranged son.
Other Films of Note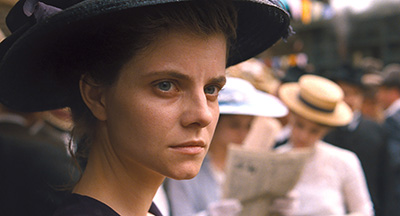 German-Jewish refugees Alfred Lion and Francis Wolf founded the iconic Blue Note Records jazz label in 1939 and helped launch the careers of an impressive roster of African-American jazz stars, including Miles Davis and John Coltrane. It Must Schwing!, the title of this moving documentary, is also the demand that Lion made (in his German-accented English) of any music recorded at the studio. 
Sunset, an atmospheric mystery by Hungarian-Jewish filmmaker Laszlo Nemes—whose previous feature, Son of Saul, won an Academy Award—follows beautiful, orphaned Irisz Leiter. She arrives in Budapest in 1913 looking for work in the millinery store where her parents died. She is also determined to find her missing brother, who might have caused their deaths.
Jewish ophthalmologist Bobby Selkin taught lacrosse in Charlotte Secondary School, a predominantly African-American charter high school in North Carolina, as part of a volunteer school program to help at-risk teens. Crossroads, an appealing sports documentary, charts the way Selkin and his ragtag lacrosse team become contenders for a state championship.
Cardiologist Harry Rosenmerck (James Caan) left the United States—and his family—to become a pig farmer in Israel. In Holy Lands, a French dramedy based on the book of the same name, Harry's estranged son (Jonathan Rhys Meyer) and terminally ill ex-wife (Rosanna Arquette) as well as other family members of the former doctor confront him and his choices.