In Hebrew, What's Old Is New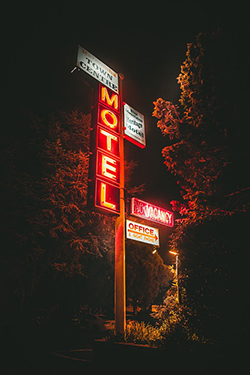 Hebrew is an "old-new" language. its poetry derives from its lilting biblical archaisms and shiny neologisms. Take, for example, the root ל–ו–נ (lamed, vav, nun), to stay for the night. Because the root's meaning is circumscribed to a particular time—nighttime—scholars have conjectured that it is itself derived from yet another root, one that has its source in the word לַיְלָה (layla), night.
Even the root's restrictive meaning can be nuanced. In Jeremiah, a natural disaster leads some doubters to compare an absent God to an אֺרֵחַ נָטָה לָלוּן (ore'ah natah la-lun), "a traveler who stops for one night." In his 1996 novel of the same Hebrew name, A Guest for the Night, Nobel Prize laureate S.Y. Agnon adapts the biblical phrase to describe a traveler who can't bring himself to leave.
Using our root in an ethical context, Leviticus reminds employers of the duty to avoid‭ ‬הֲלָנַת‭ ‬שָׂכָר‭ ‬(halanat sakhar), keeping a worker's wages overnight.
Several biblical uses of the root have to do with travel. Journeying from Moab to Bethlehem, Ruth pledges her loyalty to her mother-in-law, Naomi, saying‭ ‬בַּאֲשֶׁר‭ ‬תָּלִינִי‭ ‬אָלִין‭ ‬(ba-asher talini alin), "Where you lodge I will lodge."
On the road during his quest for a wife, Jacob finds some stones suitable for pillows,‭ ‬וַיָּלֶן‭ ‬שָׁם‭ ‬(va-yalen sham), and "stops for the night." Traveling back to Canaan with provisions they have bought in Egypt, Joseph's brothers stop at a‭ ‬מָּלוֹן‭ ‬(malon), "night encampment," and are startled to find their knapsacks filled with money. Today, malon is a hotel; מְלוֹנַאי‭ ‬ (melonai), hotelkeeper; and‭ ‬מְלוֹנִית‭ ‬(melonit), motel. Isaiah describes a מְלוּנָה‭ ‬ (melunah) as a prototypical sukkah in which a watchman guarding the crops in the field would spend the night. Today, melunah is a dog kennel.
The Talmud offers an intriguing pitfall for misreading a phrase. The expression‭ ‬מַיִם‭ ‬שֶׁלָּנוּ‭ ‬(mayim shellanu) sounds like "our water." In the tractate that deals with baking matzot for Passover, however, the phrase refers to "water that has been kept overnight," in vessels protecting it from leaven.
When Hebrew national poet Hayyim Nachman Bialik, in his piece "My Poetry," addresses the question of the mournful sources of his writings, he uses our root to assert that it comes from a plaintive cricket that would‭ ‬מִתְּלוֹנֵן‭ ‬(mitlonen), dwell, in the walls of his decrepit childhood home. Is Bialik playing with us here? Or is it only a linguistic coincidence that the noun‭ ‬תְּלוּנָה‭ ‬(telunah), complaint—a staple of his poetry—is derived from a different root that looks exactly like ours? What's old is often new, and vice versa.
Joseph Lowin's columns for Hadassah Magazine are collected in the books HebrewSpeak and HebrewTalk.