The Hidden Rebellion in 'Who Will Write Our History'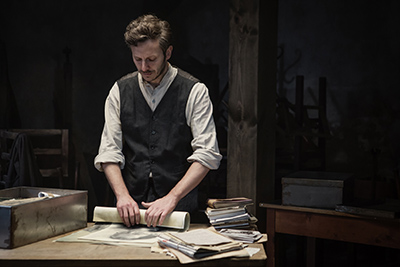 We all know about the Warsaw Ghetto Uprising, when a small band of Jews fought off the Nazis for four weeks in the spring of 1943. Less well-known is that at the same time and in the same ghetto, a Jewish collective, code-named Oyneg Shabes, carried out a quieter act of rebellion. They secretly compiled essays, letters, poems, newspapers, records, Nazi pronouncements and photographs that documented life in the ghetto from the Jewish point of view as well as the atrocities endured there. The 60,000 documents were buried in three separate, hidden caches.
Most of the group's 60-plus members didn't survive, but their archives—two caches were unearthed, in 1946 and 1950—endure as an invaluable historical record. The treasure, also known as the Ringelblum Archives after ghetto resident, historian and Oyneg Shabes founder Emanuel Ringelblum, is now the subject of filmmaker Roberta Grossman's documentary Who Will Write Our History, based on the 2007 book of the same name by Samuel Kassow.
Seven years in the making, the film combines archival material and dramatizations shot in Poland, with dialogue in Polish and Yiddish. It also features voice overs from actors Adrien Brody and Joan Allen, who provide narrations based on the writings of Oyneg Shabes members Ringelblum and Rachel Auerbach.
"These were a group of people living under the most extreme circumstances who were willing to die for the truth," said Grossman. Her research included visits to the Oyneg Shabes archive at the Jewish Historical Institute in Warsaw, where items from both caches are on public display (the third cache remains buried, its location unknown).
The film premiered in January 2019 with a global screening event on International Holocaust Remembrance Day. Screening events are also scheduled for 2020, go to the film's Facebook page for information.
Gerri Miller is an entertainment and lifestyle journalist who contributes to the Jewish Journal in Los Angeles and numerous other publications.