Koolulam, Israel's Mass Singing Sensation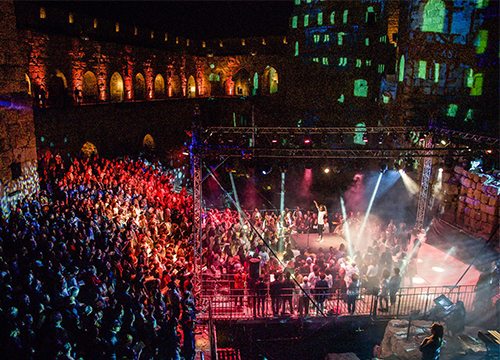 One evening in December, 3,500 people showed up to sing the Israeli hit "Me'alay Dmam" ("Stillness Above Me") outside the Eshkol cultural center in the south of the country in support of the Gaza border communities that face frequent rocket fire and attacks. The crowd included people from throughout Israel—religious boys with kippot and earlocks, Ethiopian mothers holding young children, twentysomethings with nose rings and older men in buttoned-down shirts. Directed by a gentleman standing on a central platform, they joined together in three-part harmony, caught in the moment, belting out the song while waving flashlights to its rhythms.
Earlier, during the summer, Jews, Muslims and Christians gathered at the Tower of David in Jerusalem's Old City to croon Bob Marley's "One Love." And last April, Holocaust survivors and their families sang Ofra Haza's "Chai" in Jerusalem's Beit Avi Chai center for Yom HaShoah.
These events, and over a dozen others that have taken place in public spaces, schools, even a hospital, are part of Koolulam, a social initiative that fosters unity through song. Despite—or perhaps because of—growing religious and political fractures, Israelis have jumped at the opportunity to express solidarity by singing with strangers; the $11 tickets for each meetup usually sell out in minutes. And thanks to professionally edited videos shared on social media (facebook.com/koolulam), which often attract hundreds of thousands of views, Koolulam has gained a global following.
Or Taicher, Michal Shahaf Shneiderman and Ben Yefet launched Koolulam in April 2017. Yefet, 27, founder of the VocaTikva youth singing program—and the director of the December gathering near the Gaza border—handles the music. Taicher, 34, and Shahaf Shneiderman, 34, who both have backgrounds in public relations and business, work behind the scenes to expand Koolulam.
"We've grown to a team of 60," said Shahaf Shneiderman, who attributes the popularity of the events to a desire to get away from society's growing emphasis on individualism and competition. "People want to be with other people, not their smartphone or computer screens, and feel part of something bigger."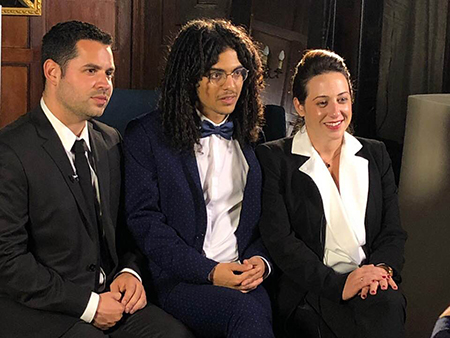 Koolulam has devised a winning formula: The group plans a gathering and publicizes it. Ticketholders show up—in one case, more than 10,000 at an arena in Tel Aviv for a pre-Yom Ha'atzmaut sing-along—and are organized into three groups based on pitch. For 45 minutes, music educators teach the different parts of the song, with about five run-throughs, encouraging and electrifying the crowd. Then
everyone sings together, accompanied by musical instruments.
Last year, Koolulam was awarded the Jerusalem Unity Prize. In October, Taicher, Yefet and Shahaf Shneiderman traveled to New York to receive the Game Changers Award from the Asia Society for their summer concert in Jerusalem.
The team also has staged an event outside Israel—what they hope is the first of many. Traveling from the award ceremony in New York to Johannesburg, South Africa, they led the 4,000 people who showed up at the invitation of the King David Schools, a network of Jewish day schools in the city, in singing "I Lived" by OneRepublic, in English and Zulu.
"We're developing a program for schools," Shahaf Shneiderman said, "and we're in discussions with many organizations in the U.S. to do a tour there soon, too."
Renee Ghert-Zand is a freelance journalist covering Israel and the Jewish world.