D.J. Miri Petel, She's Got the Beat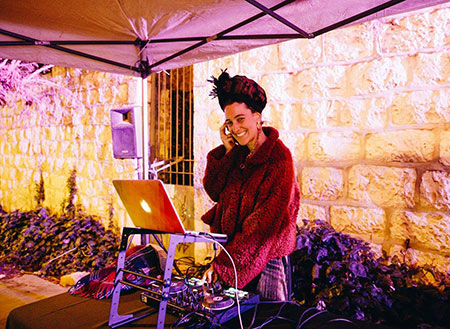 Jerusalem-based D.J. Miri Petel gets partygoers up on the dance floor, at the same time earning second looks from many when they notice her tichel—the scarf wound prominently around her hair for religious modesty.
Petel, 29, has found a way to reconcile her modern Orthodox lifestyle with her passion for music and movement. She makes no apology for working not only women-only events but also mixed-gender ones, where people are free to dance with whomever they choose. She works weddings, bat mitzvah celebrations and other bashes. In 2018, her largest gigs were a Purim party attended by 1,200 women and an event for 3,000 male and female Israeli scouts.
"There has been no opposition to what I do, at least not to my face," she said. "In fact, most people are surprised in a good way."
She plays a broad selection of dance-worthy music—go to mixcloud.com/djmiripetel to hear sets including the Middle Eastern-influenced, Hebrew-language "Feminen Mystique"—but consciously avoids songs with misogynistic themes or crude language.
Petel, who works about four major gigs a month, learned to D.J. while pursuing a movement degree at the prestigious Jerusalem Academy of Music and Dance. A D.J. at monthly open dances in downtown Jerusalem took her on as an informal apprentice.
She is intent on getting more women to become D.J.s. Since June 2017, she has taught 10-week courses for women (mostly observant) who come from all corners of the country equipped with their own digital controllers.
"Not all the women are sure they want to be professional D.J.s, but they all really love people and music," Petel said, adding that women can make an important contribution to the male-dominated profession. Women have all the right characteristics for getting an audience up on its feet, chief among them "sensitivity, flexibility and an ability to multitask."