Fighting Anti-Semitism With Matzah Balls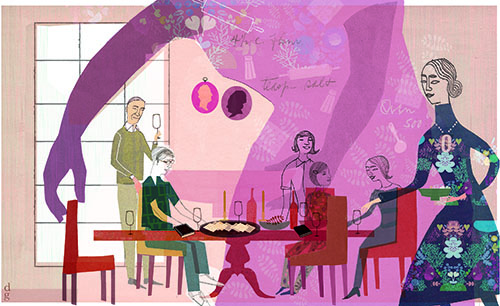 It's time to start planning for Passover, but the holiday will never be the same for me and my family. We have had about 25 people at our seder every year, and I make food for about 40. For the past 15 years, my wonderful mother-in-law, Joyce Fienberg, helped me plan, cook, panic, organize and create a warm, inclusive and close-to-flawless seder. ​
But Joyce and I can't make seder together ever again. She was among the 11 Jews murdered at the Tree of Life synagogue in Pittsburgh during Shabbat morning services.
After waiting for hours with other families at the Pittsburgh Jewish Community Center on that fateful day in late October, my husband and I were told of Joyce's death. A mountain of sorrow plummeted down on us, crushing our hearts and souls under its weight. For almost 24 hours we were alone, as family and friends traveled from France, Israel, Canada and across the United States to be with us.
​After a sudden death, the world shatters. When you lose someone central to your family, the shock reverberates through each surviving family member. You need to be together to find a tether to reality. The ritual of shiva saved us. A bubble of love was created by family, friends, rabbis and complete strangers through hugs, visits, emails, letters and texts. Our focus was on envisioning a universe with a Joyce-sized hole in it.  ​​
Joyce was a beautiful and giving person. She would happily and insistently sacrifice her time to take care of not just her family, but an extended array of friends from Pittsburgh to Paris to Perth. Her matzah ball soup was a perfect example. She had a gift for making consistently light and fluffy matzah balls. At one point she made three different kinds to meet everyone's needs: her regular recipe; a half-whole-wheat version for those looking to be a little healthier; and a gluten-free version she relentlessly experimented with for years, primarily for my late celiac father-in-law. Of course, there were always extras to take home—two or three pints of chicken soup and a bag of matzah balls. What turned out to be her final batch, which she made for us last Rosh Hashanah, is still sitting in my freezer, where it will stay until my daughter needs chicken soup—that final loving hug and kiss from her bubbe.
Now, with Passover almost here, how can our family celebrate the holiday without her? But Jewish women don't give up, we do what needs to be done. At Passover time, seders, matzah and telling the Exodus story are critical expressions of being Jewish. Our synagogues and our homes have to be places to freely continue the chain of our stories and our people. Having or attending a seder directly defies the goals of the Pittsburgh murderer. But can we go further?
To honor Joyce's memory, I am launching a campaign called "2forSeder" to address the ignorance that forms the foundation of anti-Semitism and intolerance. Invite two friends or acquaintances who are not familiar with the Passover story and rituals to your seder. Sharing the warmth of your Jewish home builds an understanding of who we are that goes beyond the Haggadah story. By setting two extra places at the table and making a few more matzah balls, we can all take part in the ongoing and critical battle to reduce anti-Semitism.
As Jewish women, our collective generosity, warmth and ability to make way too much food for the holidays ensure that everyone is included and welcome, regardless of a person's background or knowledge of Judaism. Joyce, a life member of Hadassah, knew that and lived it as a true woman of valor—a strong, proud and giving Jewish woman.
I'm not hosting this year's seder—I'll be retreating into the bubble of love that our family provides and let one of our cousins host. Maybe I'll help out by making the soup. Does anyone have a recipe for half-whole-wheat matzah balls?
Marnie Fienberg, a co-president of the Northern Virginia Chapter of Hadassah, is a strategic planner and communicator. Go to 2forseder.org to learn about her campaign.