In Israel, Hadassah Membership Has Its Privileges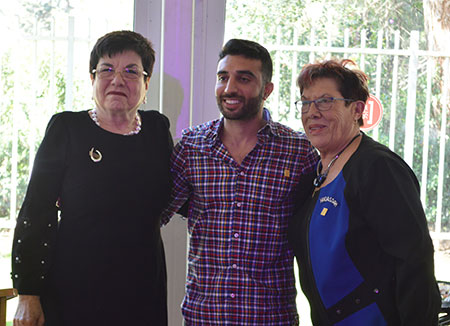 When the Levonah chapter of Hadassah-Israel in Modiin wanted to celebrate the centennial of Hadassah Hospital's ophthalmology department, getting a speaker was easy. Dr. Joshua Kruger, a specialist in neuro-ophthalmology, lives in Modiin—as do many Hadassah doctors and nurses.
"That's only one of the many advantages of having your Hadassah chapter half an hour from both Ein Kerem and Mount Scopus," said Ellen Shemesh, chapter co-president. A life member and mother of three originally from North Miami Beach, Fla., Shemesh's move to Israel almost five years ago was the fulfillment of a lifelong dream. Soon after arriving in Modiin, she saw an invitation in English to join Hadassah women studying Torah and saying psalms for the return of three Israeli teenaged boys kidnapped by terrorists.
"That was such a meaningful beginning of my Hadassah life in Israel," she said. "I liked the women right away, and gradually the Hadassah chapter became the center of our family's social life."
"We get a lot of English-speaking immigrants in Modiin," Shemesh said about the town of 90,000 equidistant from Jerusalem and Tel Aviv, where homes cost less than in the big cities. "Women from South Africa and Australia are also happy to join our chapter."
That Modiin group, with just over 100 members, follows in the tradition of the first Hadassah-Israel chapter, Tamar, founded in 1983 by American immigrants who likewise primarily spoke English. Today, Hadassah-Israel chapters—located in all of the country's major cities and several suburbs—fundraise for specific projects at Hadassah Medical Center, advocate for women's health and assist in immigrant absorption, among other initiatives.
"Not belonging to a Hadassah chapter was inconceivable for most of us," said Annabel Yuval, 92, who is originally from Chicago and became a founding member and second chapter president of Tamar. The founding president was the late Rose Joshua, who had made aliyah from Minneapolis. (Joshua had been one of the Hadassah leaders who inspired Minnesota-based Nordic Ware to create the Bundt pan in 1950.) This year, Jerusalem's two English-speaking chapters, Tamar and Nechama, joined together—with a combined membership of 530 women—under the leadership of Anne Rothenberg. Before making aliyah in 2017, Rothenberg headed Hadassah's Capital District in Albany, N.Y.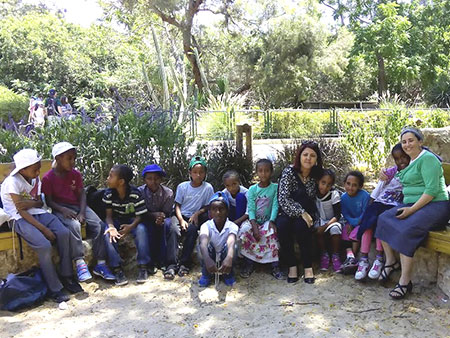 At the same time that the Levonah English-speaking chapter is flourishing in Modiin, so, too, is the town's 80-member Hebrew chapter, called Mor. There are still more English-speakers among the 2,000 members of Hadassah-Israel—and they are considered the more formidable in terms of fundraising—but there are 11 burgeoning Hebrew-speaking groups.
Indeed, at Hadassah-Israel's annual conference held in Jerusalem in January, dubbed "Israel Celebrates 70," 250 participants signed up for lectures in Hebrew while 50 attended ones delivered in English.
Mor in Modiin and six other Hebrew-speaking chapters—in Rishon LeZion, Rehovot, Bat Yam, Netanya, Petach Tikvah and Haifa—regularly sponsor "Three C's Cafes" in their communities: conversation, consultation and company, designed for women who are victims of domestic violence and who are trying to rebuild their lives. The women meet over coffee and sandwiches, and the groups sponsor motivational speakers to discuss the practical side of women's empowerment—for instance, writing a résumé and job-hunting.
Other members volunteer in preschools and at afterschool programs, providing remedial and enrichment assistance. Still others volunteer in hostels for homeless teens and runaways. All chapters run programs promoting health awareness, particularly
for women and children.

Both the English and Hebrew-speaking chapters support Hadassah Medical Center's fundraising initiatives and Hadassah national projects, such as a day at a waterpark for the teens of Hadassah Neurim Youth Village.
Among the groups' other activities: Hadassah-Israel volunteers maintain the children's lending library at the hospital campus in Ein Kerem. At Mount Scopus, members take EKG measurements and visit patients undergoing rehabilitation. A well-attended Walk-a-Thon in May 2018 raised money for the new rehabilitation center on Mount Scopus.
Hadassah-Israel's current president is sabra Nira Greenstein. She's a retired nurse and mother of five from Rehovot, where she served six years as chapter head. "I was drawn to the medical side of Hadassah and my love of volunteering," she said. "We've found a model that works very well in Israel, and we're glad to be growing."
Barbara Sofer is a veteran journalist and author as well as Israel director of public relations for Hadassah. She lives in Jerusalem.