JWRP and Hadassah, Zionist Women Working Together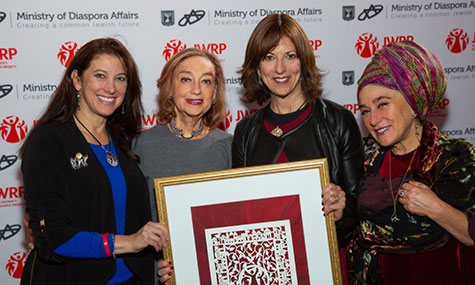 A community of strong, like-minded Jewish mothers drawn from one geographic location; an inspiring—and largely subsidized—eight-day tour of Israel; and post-trip seminars to cement attachment to fellow travelers, to Israel and to one's own Jewish identity. That is the winning formula of the "Momentum" trip to Israel organized by the Jewish Women's Renaissance Project (JWRP), a leading outreach group that has sent over 15,000 Jewish women to Israel since 2009.
Sensing a set of shared Zionist, community-building values, Hadassah Executive Director/CEO Janice Weinman created a partnership with JWRP, opening up Momentum trips for Hadassah members in cities across the country, including Boston, Miami and Chicago. To honor her work spearheading the collaboration, JWRP presented Weinman with the Pamela Claman Award at its third annual conference held in College Park, Md., in December 2018.
"Together, we will ensure that the future generations continue with Jewish values and Israel," Weinman said as she received the award, which pays tribute to an international role model who has impacted the Jewish world with her leadership. "This is the power of women when we come together."