Teaching 'Never Again' to a New Generation, and in Spanish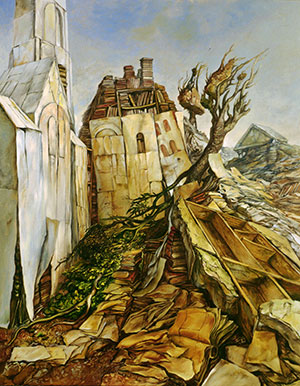 Years ago, when Michael Berenbaum was teaching a class on the Holocaust at Georgetown University, a young student came to his office and told him she was a Cambodian genocide survivor. "I threw out the syllabus and had her tell her story to the class," recalled Berenbaum, a noted Holocaust scholar and museum consultant. "The students were absolutely amazed that one of the classmates sitting next to them had this backstory. The idea that somebody your own age could have gone through an experience like this is overwhelming."
As the Cambodian student made clear, a story told by peers can bring distant, abstract genocide into sharp and compelling relief. It is a lesson Holocaust museums are taking to heart as they embark on a wave of reinvention, updating their "Never Again" message for a generation whose Holocaust ignorance can be shocking: One-fifth of American millennials are unsure what the Holocaust was, and two-thirds have never heard of Auschwitz, according to a 2018 survey by the Conference on Jewish Material Claims Against Germany.
New Holocaust museums in the United States aim to speak to millennials and younger Americans in more ways than one. This June, the Holocaust Museum Houston will re-open as the nation's first bilingual museum dedicated to the Shoah. Fifty multimedia screens spread across 57,000 square feet will greet visitors, with Spanish used alongside English to reach Texas's large Hispanic population. Updated, digital-rich Holocaust exhibitions will include an extensive gallery with artwork by child survivor Samuel Bak and a fishing boat of the type used by Danish fishermen to ferry Jews secretly to safety. In addition, the reimagined museum will add a Human Rights Gallery featuring diverse modern figures, including Malala Yousafzai, the young Pakistani female education advocate; and Rigoberta Menchú, the Guatemalan indigenous rights activist.
New, re-opened or expanded Holocaust museums and core exhibitions are also debuting in Cincinnati, Skokie, Brooklyn, Philadelphia and Dallas, with more in the planning stages. Alongside digitally remade Shoah exhibitions are galleries that draw thought-provoking parallels: between local anti-racism activists and Nazi-era resisters; 1930s teens and today's; and the anti-Semitism and propaganda of Hitler's Europe and the xenophobia and social media distortions of modern-day despots.
While contemporary events provide a compelling context for these lessons, the timing of these new exhibitions has more to do with efforts to reach those increasingly removed—physically and psychically—from 1930s Europe as well as the fact that the generation of survivors whose vital presence long animated Holocaust programs will soon be gone.
"Our audience and our world have changed dramatically," observed Sara Bloomfield, executive director of the United States Holocaust Memorial Museum in Washington, D.C.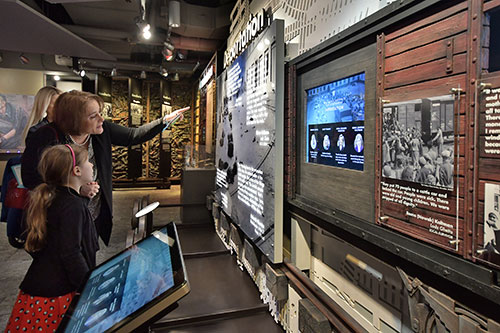 According to Berenbaum, a consensus has emerged that museums can present the Holocaust while also focusing on contemporary social justice and human rights issues without diminishing the Shoah's memory. They can apply lessons from the former to the latter, without trivializing the uniqueness—or the Jewishness—of what happened in Nazi Europe. "It's a universal story of human suffering, survival and resilience," said Berenbaum, who has held leadership roles at the Washington Holocaust museum and at Steven Spielberg's USC Shoah Foundation. "When we look at the Holocaust, we see echoes in our contemporary world: the rise of authoritarianism, the teetering of democracies, the indifference to refugees."
About 10 years ago, the Washington institution, one of the first Holocaust museums to include a more universal mandate, began consciously broadening its scope "beyond the 'what' of the Holocaust to include the 'why' and the big ideas around it," Bloomfield said. Over the past few years, temporary exhibitions have featured cautionary tales about "what made the Holocaust possible." The eerie echoes of Nazi racial science in today's white nationalist rhetoric was the subject of one show; another, on how Hitler used radio for propaganda, prompted viewers to consider the role of technology in modern-day "fake news."
Some of that broader scope is also evident in Houston, where a 22-foot screen in the immersive Diarists' Hall will put Texas teens face-to-face with projected images of their wartime peers from Bosnia, Syria and Rwanda—as well as Anne Frank. Patrons can leave their own handwritten "diary" entries while audio clips play snippets from the writings of other young diarists. "You have to build empathy for it to be relevant," noted Kelly Zúñiga, CEO of the museum.
From the main Holocaust exhibit, visitors walk directly into the new Human Rights Gallery, where Armenian, Cambodian and Native American genocides are considered alongside civil rights icons Martin Luther King Jr. and Cesar Chavez. "In the most diverse city in the U.S., we feel it's important for people to learn about someone who looks like them," Zúñiga explained of the decision to include figures such as Chavez, the Mexican-American labor activist.
Alejandro Baer, the Stephen C. Feinstein chair and director of the Center for Holocaust and Genocide Studies at the University of Minnesota, sees a distinctly American Jewish tendency at work among the new museums and venues. "American Jews have this eagerness to universalize, to make the Jewish experience resonate with the wider public," Baer wrote in an email from Madrid.
One way is to emphasize that resonance through local stories of prejudice and resistance. Louise Raggio, a trailblazing lawyer who championed legal equality for Texas women, is among the activists highlighted in The Texas Upstanders' Wall in a new, America-focused social justice exhibition at the soon-to-open Dallas Holocaust and Human Rights Museum, which is replacing an existing local Holocaust institution.
People in Dallas may find it hard to understand why Nazi Europe is relevant to them, Mary Pat Higgins, the museum's president and CEO, said, explaining the rationale for the museum's new Human Rights and Pivot to America galleries. "We want them to understand prejudice and discrimination right here at home—and what their individual responsibility is to stand up against it."
While women's suffrage is hardly comparable to the Holocaust, the new galleries make clear that the abrogation of human rights is a continuum, with genocide at the extreme end. "And it starts with marginalization," Higgins said, noting that the museum hopes to educate 100,000 student visitors annually.
Technology is another way museums are engaging generations raised on iPads and smartphones. Holographs allow visitors to interact with survivors at the Take a Stand Center, which opened in 2017 at the Illinois Holocaust Museum & Education Center in Skokie as well as at the Holocaust Museum Houston and other venues.
In Philadelphia, the Horwitz-Wasserman Holocaust Memorial Plaza, an expanded park area centered around the city's 1964 Shoah monument, opened in October and features a personalized walking tour available on the USC Shoah Foundation IWalk app. The app guides listeners around the highlights of the park, such as its Six Pillars sculpture and Eternal Flame, as well as provides testimonial from Holocaust survivors. Eszter Kutas, head of the plaza project and a granddaughter of survivors, said the local Anti-Defamation League chapter uses IWalk for its anti-bias program in Philadelphia schools.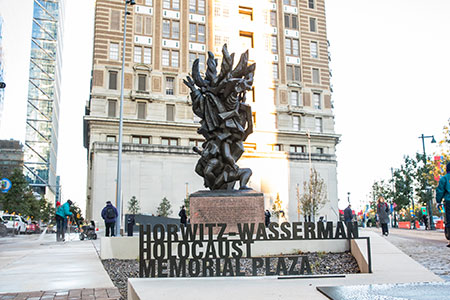 "Our whole world has gone video, and younger people in particular learn through video a lot more than they do through reading facts," reflected Sarah Weiss, executive director of the Nancy & David Wolf Holocaust & Humanity Center in Cincinnati, which opened in an expanded space in January with 42 interactive digital screens. "If we can grab a young person through this updated format, it makes us more powerful."
Like their Texas counterparts, Cincinnati audiences have responded to local narratives and to the resonance of a museum housed in the city's historic Union Terminal, where, 70 years ago, some Holocaust survivors took their first steps in their adopted city. With a new Humanity Gallery that features, among others, a Cincinnati interfaith group formed after the 9/11 attacks to "stand up to hate," the center has broadened its mission "to look at not only what happened," said Weiss, "but also how individuals overcame tragedy and gave back to our American society."
Hilary Danailova writes about travel, culture, politics and lifestyle for numerous publications.