Therapist Esther Perel on Reframing Our Relationships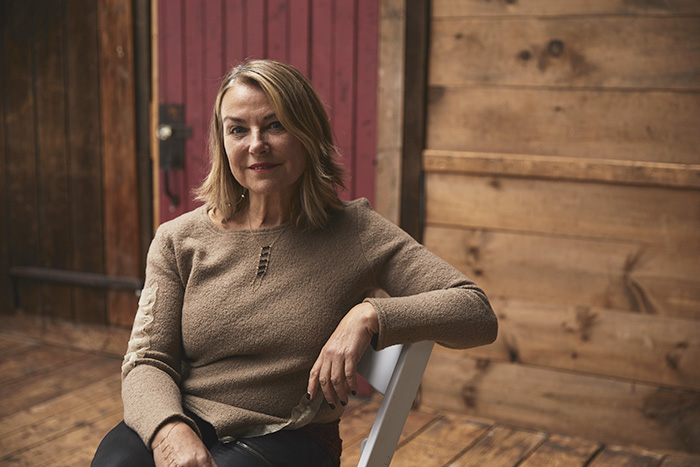 Esther Perel leans close and looks directly into my eyes. Her immediate and unwavering focus is startling, but then, Perel is all about creating connections and breaking conventions.
She has biked from her home to meet me in the lounge of the trendy SoHo Grand Hotel, located in the same downtown Manhattan neighborhood where she lives. Wearing pinstriped trousers and a white button-down shirt with burgundy cuffs, her choppy blonde bob emerges from a sleek Closca collapsible helmet, which she folds and puts into her bag. And then, the intense blue-eyed gaze from under arched eyebrows homes in, waiting for me to begin the conversation that will range from office life to modern love and incorporate aspects of her mantra: "The quality of your relationships determines the quality of your life."
Perel, 61, has become the Wonder Woman of relationship therapy, counseling those who seek help both in the bedroom and in the boardroom. In her European-accented English, the charismatic Belgian-born psychotherapist tutors a global audience in the language of relationships, targeting often delicate topics—infidelity, desire, jealousy, sex—in a bold yet empathetic manner.
"I create stages for conversations that need to happen, and that people don't know how to have," says Perel, who is fluent in nine languages (Flemish, French, German, Yiddish, Spanish, Italian, Portuguese, English and Hebrew, all learned growing up or through her travels). Indeed, she has created an expanding multimedia empire around her exploration of contemporary relationships, captivating audiences through her podcast series, video seminars, weekly newsletters (available through her website, estherperel.com), YouTube videos, Instagram feed and appearances at conferences and on talk shows.
Her best-selling books, Mating in Captivity: Unlocking Erotic Intelligence
, released in 2006, and last year's The State of Affairs: Rethinking Infidelity
, have been translated into dozens of languages, including Hebrew. Her popular podcast Where Should We Begin? has been on numerous top-50 lists since its debut in 2017. Now in its third season, each episode brings millions of listeners into intimate therapy sessions as Perel guides and questions real-life couples, helping them break through negative patterns of interaction.
In one episode, titled "Speak to Me in French," Perel counsels a married couple struggling with "a cauldron of sexual confusion and dysfunction," according to husband Scott. Perhaps they are "sexually mismatched," says his wife, who is not named. The two met in college in the late 1990s, and both are survivors of childhood sexual abuse. They had come to Perel for help in communicating and feeling desire for each other.
"When I listen to this couple, I imagine sex is a subject mired in pain and trauma," Perel narrates in between the couple's unscripted exchanges. "So I think, 'How do I guide them to at least one sexual experience where sexuality can be experienced with lightness, fun and joy?' "
Stating that they need a fresh perspective, Perel recommends that for the duration of the session, the two either take on a pseudonym, speak in different accents or wear blindfolds. The wife agrees to be blindfolded. Scott divulges that he has already created an alter ego that he adopts with his wife: Jean-Claude, a French-speaking character without sexual hang-ups. His wife adds that he sometimes calls her by a French name—Jacqueline.
"That is fantastic!" Perel exclaims.
Perel's suggestion allows the couple to relax and laugh at themselves, and the session continues with an honest exploration of how their childhood trauma has been transferred to their sexual relationship. "There's no greater vengeance against sexual abuse than to reclaim one's full sexuality and celebrate it," Perel concludes in her narration.
Other episodes tackle a couple's attempts to find trust in the aftermath of an affair; the hurt feelings of a spouse who believes her partner's attention to their children is excessive; and the changing dynamics of a relationship when one partner has a terminal disease. Perel's approach is sensible, accepting and engaging, with a touch of humor, even as she helps navigate the most intimate of subjects with advice that seems obvious in retrospect. With its open, almost voyeuristic look at real problems in actual modern relationships, Where Should We Begin? demystifies couples therapy. The Atlantic described the podcast as "the Rosetta Stone of feelings," and Oprah Winfrey has added Perel to her SuperSoul 100, a list of influential leaders who are "using their voices to elevate humanity."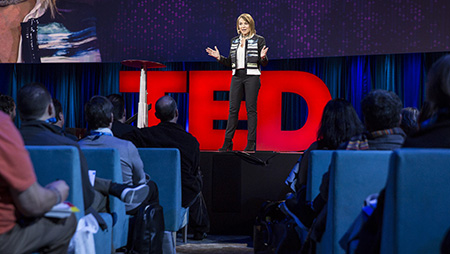 Perel's TED Talks have garnered more than 25 million views. She also serves as an organizational consultant to Fortune 500 companies around the world, teaching skills like listening, accountability and trust.
"She's so engaging and warm and has this way of understanding people's situations around which they may feel hard feelings, like shame," says Kelly Stoetzel, a friend who has worked closely with Perel in her professional capacity at TED, where she is head of conferences. "She deeply understands the challenges in relationships and sexuality that we don't talk about because we think they are unique to us—but she knows that they're not."
If Perel appears fearless in untangling complex human emotion, she is in fact inhabited by a deep sense of dread that everything might disappear in a moment—a classic legacy for a daughter of Holocaust survivors. She is often called a successor to Dr. Ruth—herself a child of the Holocaust—whose explicit conversations helped open up frank discussions about sex and sexuality.
Perel points out that much has changed in the landscape of relationships since Dr. Ruth's career took off in the 1980s. Smartphones and apps have revolutionized the way people meet and mate, leading to an overwhelming choice in partners that can be crippling and end in self-doubt. People long to find a soulmate, the one-and-only, she says during our interview, yet a person in a healthy relationship might fear missing out on finding someone better, so they don't commit. And, after marriage, our all-consuming focus on our screens and our phone addiction "lead to cheating and isolation—even with a partner right next to you," she adds.
What we expect from relationships has become increasingly fluid, she acknowledges: "Relationships used to be governed by rules, by duty and by obligations that were very clear and set. They were hierarchical, and everybody knew their place," with clear delineations of gender roles. But today, "you negotiate with everyone—your husband, your children, your boss."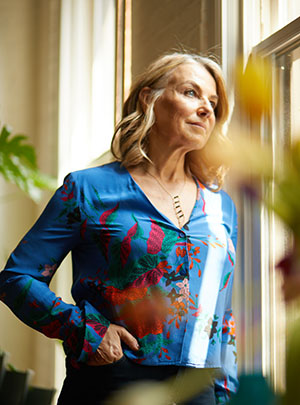 Indeed, Perel is currently developing a podcast that will explore cultural shifts and workplace relationships. And in March, she led a session at the South by Southwest conference in Austin on what business leaders can learn about workplace dynamics from couples therapy.
"Tell me," she encouraged the audience, "how many of you have experienced a hard relationship at work? How many of you thought that you were part of the problem? How many of you remember that night when you ruminated and fretted about that person who makes you miserable while they are sleeping perfectly fine?" Her questions at the session drew murmurs of recognition and appreciative laughter.
"It's the quality of our relationships that determines the quality of our lives," she said at the session, which is available on YouTube, using her signature phrase. But, she added, "it's equally true that the quality of our relationships at work determines the actual quality of our work and our ability to succeed."
Perel is also focusing her attention on masculinity and shifting gender dynamics, based on the premise that changing the emotional lives of men will also change the lives of women. As feminism redefined what it means to be a woman, and women continue to enter once male-dominated spheres, she says, it is time to redefine manhood, too.
The debates around masculinity and the #MeToo movement have become so polarized, she suggests, that they don't leave space for men to experience their own full complexity and diversity. "I am trying to create a different conversation than the one that we are having, a version that doesn't just lash out," she explains, but that gives men the resources to express themselves within today's gender dynamic.
Despite a heavy workload pursuing what she describes as a "public health campaign on relationships," Perel maintains a private practice, though she is not currently accepting new clients. Her office in Manhattan's Flatiron district is where her podcast sessions are recorded, the designer red chair where she sits a bright pop of color facing light-brown couches.
Perel's audience for her podcast and videos spans all ages—though the majority are between 25 and 34—and includes both men and women. In her various filmed appearances, she is simultaneously powerful and feminine, intense and boundlessly energetic. "I can fill up the space," Perel says with a laugh. She can lecture like the professor she was at New York University School of Medicine in the 1980s and 1990s, where she taught couples and family therapy, yet she is also fun-loving and musical—she plays guitar and sings (sometimes during sessions); has done improv and puppetry; enjoys movies and theater; and is an avid traveler.
Being Jewish, Perel says, is another essential part of her identity: "You can't know me without it." She is affiliated with Lab/Shul, an experimental, artistic Jewish community in downtown Manhattan. Though she doesn't overtly quote Jewish teachings, "she brings the Talmudic eye to her work—consciously looking at human situations from different angles," says Rabbi Amichai Lau-Lavie, the founder and spiritual leader of Lab/Shul, who has known Perel for 20 years. Perel and Lau-Levi, also a child of survivors, have given talks together during the High Holidays.
In describing Perel, "the word vivacious comes to me," says Lau-Lavie. "She helps people frame inconvenient, uncomfortable and excruciatingly important conversations."
One good example is how Perel tackled the paradoxical tension between erotic and domestic aspects of marriage in Mating in Captivity. The book expanded on her 2003 essay, "In Search of Erotic Intelligence," an exploration of marriage and sexuality in the United States from a foreign therapist's perspective that went viral. "Excitement is interwoven with uncertainty, and with the willingness to embrace the unknown rather than to shield ourselves from it," she writes in the book, explaining that security and stability in a long-term relationship may exist at the expense of erotic interest. Good sex requires mystery, she advises, and, in contrast to other therapists' approach, counsels cultivating a little distance—even some secrecy—in marriage.
When readers responded strongly to the book's chapter on infidelity that deconstructs monogamy and the causes behind extramarital affairs, contacting her through email and social media, she confronted the subject in her second book, The State of Affairs. The book looks at cheating through an objective lens, as a portal into contemporary expectations and desires, even asking if an affair can be good for a marriage. "I wanted to create a new conversation for the oldest sin—one that affects half the population—
and do it justice," she says. "Two people experience one event in completely different ways. How do you create a dual perspective and talk about what it means to both?"
Perel is adept at redefinition, helping clients reshape their life stories into more hopeful ones. It's something she learned from her parents, Sala Ferlegier and Icek Perel, who passed away several years ago. They were sole survivors of families that lived near each other in Poland but had different backgrounds. Her mother came from educated Gerer Hasidic aristocracy and her father couldn't read or write, though he spoke five languages. "They never would have been married if not for the war," Perel says. "They were liberated from neighboring camps on the same day and met on the road, when people were looking for survivors from cities they knew."
In 1945, they arrived illegally in Leuven, Belgium, about 16 miles from Brussels. Perel's brother, Leon, was born there in 1946. "Every Saturday night," she recalls, "they would take the trolley to Brussels to go dancing. I owe them much of my perspective on life, my belief in the power of will, the search for meaning and the resilience of the human spirit."
Born 12 years after her brother, Perel and her family moved to Antwerp when she was 5. She grew up there surrounded by survivors. Though the family was not religious and didn't keep kosher, they led a culturally rich Jewish life, observing the holidays "the old way," she notes. They had separate dishes for Passover and walked to synagogue for an hour on the High Holidays. Perel attended a Jewish day school and was active in Hanoar Hatzioni, the Zionist youth movement, and, she says, her mother was a Hadassah member. After her parents bought an apartment in Tel Aviv in 1972, the family began splitting their time between Israel and Belgium.
Perel received a B.A. in educational psychology and French literature from the Hebrew University in Jerusalem and a master's degree in expressive art therapy from Lesley University in Cambridge, Mass., where she met her husband, Jack Saul. Today, Saul is a practicing psychotherapist as well as founding director of the international trauma studies program at Columbia University.
After earning her master's, Perel drew on her own experiences to work with families in cultural transition and refugees facing migration. Before her groundbreaking 2003 essay, she had focused on intercultural, interracial and interreligious families and worked extensively with Jewish organizations, including running workshops for interfaith couples at the 92nd St Y for 18 years and speaking at several Hadassah conferences. Her travels around the world often take her to Israel.
She understands the rise in intermarriage in the context of American society: "Jews have become integrated into the free-love, free-choice enterprise of America," she says. "We are looking in romantic love for those very things that we used to look for in religion: transcendence, mystery, meaning, ecstasy, belonging. That's why sometimes relationships crash. It's a big burden." She advises her own two sons, Adam, 25, and Noam, 22, to look for a partner who understands that their Judaism matters and has a vision of life that matches theirs.
Despite the accolades and social media attention, Perel is astounded when people recognize her on her bike, wearing her helmet and glasses. Sometimes they ask for an autograph and, sometimes, they reveal something deeper.
"They tell me, 'You said something that changed my life,' " she says, thrilled about her connection with listeners. "It's not fluff."
"For so many years, I only sat in my office," she notes as she heads out for another corporate training. But, she adds, "I have more to do in this world."
Rahel Musleah, a frequent contributor to Hadassah Magazine, runs Jewish tours to India and speaks about its communities (explorejewishindia.com).