Selling Spain to Jewish Tourists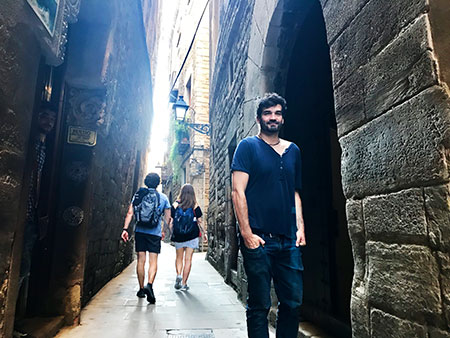 Beyond a heavy, nondescript door in one of the tight alleyways of Barcelona's Jewish Quarter, Victor Sorenssen operates the Mozaika cultural organization, through which he sets up food tours, literary events and workshops to promote Jewish history and culture in Spain. He attempts to present a realistic and dynamic picture of the hundreds of thousands of Jews who once lived in Spain as well as the country's 30,000-strong community today. But just now, he faces a strange dilemma. As he takes a break from work, he overhears an independent tour guide informing tourists that the area is frozen in time, having once been the home of ancient Jews.
"I'm here, having a cigarette on the balcony, and I hear tour guides saying the Jews were expelled in 1492 and since then there are no Jews at all in the city," says Sorenssen, laughing. "I want to shout out to them, 'I'm here!' "
Sorenssen, 35, is referring to Spain's folkloric portrayal of its medieval Jews and ignorance about current communities. Five centuries ago, some 300,000 Spanish Jews were exiled, murdered or tortured. Countless others were forcibly converted to Christianity and became known as conversos. These are crucial historical facts that are downplayed on many state-affiliated tours of onetime Jewish neighborhoods in Barcelona and beyond. Instead, non-Jewish guides often paint medieval Jewry as caricature, defined almost singularly by their alleged wealth.
For centuries, the subject of the Jews and the Inquisition were taboo. Only in 1975, with the death of dictator Francisco Franco, did the silence around the country's cruel treatment of its Jews begin to lift. Then, in the early 1990s, two things happened that would further raise the profile of Jews in Spain.
The number of Jews in Spain began to modestly grow in the economic hubs of Madrid and Barcelona thanks to a wave of immigration from Argentina. The newcomers—mostly Reform and Conservative Jews fleeing a worsening economic climate and violent anti-Semitism—were drastically different from their Orthodox, generally insular Moroccan Jewish predecessors, who had arrived in the 1950s and 1960s and had mostly kept a low profile. The Argentinian immigrants felt no qualms expressing their Judaism publicly, speaking openly about their faith with their non-Jewish neighbors, celebrating Jewish foods and using their synagogues for social as well as religious events.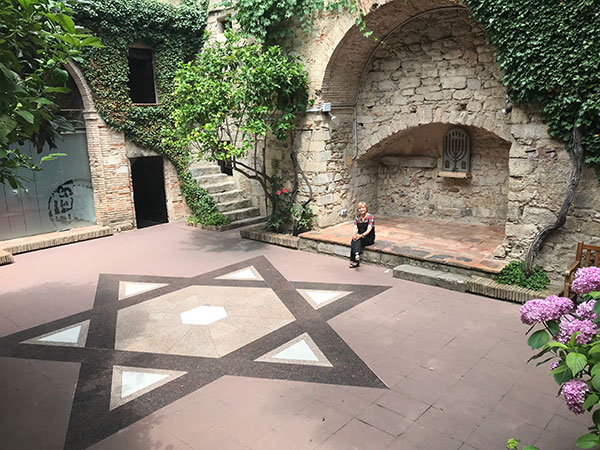 At the same time as Jews were immigrating to Spain, the government, without input from reputable scholars or Jews, charged ahead with promoting tourism focused on Jewish heritage. Almost at once, it became commonplace for uninformed guides to embellish Jewish history.
"Jews had been absent for so long that it was easy to manipulate the truth," said Dominique Tomasov Blinder, an architect and tour guide of Jewish Barcelona, which is today home to around 15,000 Jews. Since the government's earliest efforts to promote Jewish tourism, both academics and members of the Spanish Jewish community have charged that the efforts are more directed at attracting tourist dollars than accurately portraying the country's celebrated Jewish history.
Soon enough, Jewish tourists from around the world were flocking to cities like Toledo, which boasts two intact medieval synagogues, and Girona, the birthplace of kabbalist rabbi Nahmanides, known as the Ramban. Indeed, Girona's Jewish Quarter is considered by many experts to be the best preserved on the continent.
In 1995, to meet growing interest, Spain's government debuted the Red de Juderías, the Network of Jewish Quarters. Assumpció Hosta, a historian and one of the original, non-Jewish founders of the network, acknowledged that while some of the projects have consulted with Jewish experts, "our way of talking is from our non-Jewish point of view." She claims that the network's emphasis has always been educational and rejects the charge that the government was largely trying to monetize Jewish sights. The approach she favors is "not about the negative, but the positive," she said, explaining why details of the Inquisition and persecution of Jews are frequently omitted from tours.
Moises Hassan-Amselem, a Jewish studies lecturer at the Pablo de Olavide University and a Jewish tour guide in Seville, worries that state-sponsored tourism initiatives carried out without rigorous academic research may further entrench Jewish stereotypes, like the connection between Jews and finance.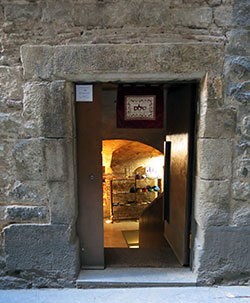 Before the Inquisition, the Jewish population of Seville stood at 2,300 people. Today, the city has about 100 Jewish residents and little in the way of Jewish attractions, despite the popularity of its Jewish neighborhood among tourists.
"Seville was one of the main cities during the Middle Ages, but unfortunately all that history is now gone, and the heritage and the patrimony are gone," Hassan-Amselem said. Nonetheless, tour guides often bill the charming, Instagram-able Jewish Quarter, in close proximity to the palace, as an indication of the prosperity of Seville's medieval Jews. In truth, the houses in the Jewish Quarter are only a century old. At the time that Jews inhabited the area, it was a slum, not remotely resembling the "antiquated" splendor visitors encounter today, he said. "Jews have become fashionable."   
Fashionable and profitable, believe many critics of the government's 2015 Sephardic ancestry law, which offers citizenship to descendants of expelled Jews who pass Spanish exams and provide vetted genealogies. But the law has been cumbersome for Jews to navigate, and among the approximately 6,000 who have prevailed in becoming citizens, only a few hundred have relocated to Spain. The majority, instead, are using the new European passport for convenience in travel or business, according to government officials.
Whatever the reality of Spain's promotion of Jewish heritage travel, there remains considerable anti-Semitism and anti-Israel sentiment in the country. In 2015, the Anti-Defamation League found that 65 percent of Spaniards believed that it was "probably true" that Jews are more loyal to Israel than their country of residence, while 53 percent said the Jews have "too much power in the business world."
And it was only in 2015 that a tiny village in the north changed its name from Castrillo Matajudíos, or Camp Kill Jews, to its more benign, original name: Castrillo Mota de Judíos, Jews' Hill Camp.
Meanwhile, some Spanish media have published blatantly anti-Israel coverage. In 2016, a satirical cartoon printed by El Jueves magazine included images of hook-nosed Israelis, a Torah scroll wrapped in scrotum skin and a depiction of an Israeli soldier weeping as he urinated on a Palestinian man. "You don't understand," the soldier pleaded. "My parents were in a concentration camp."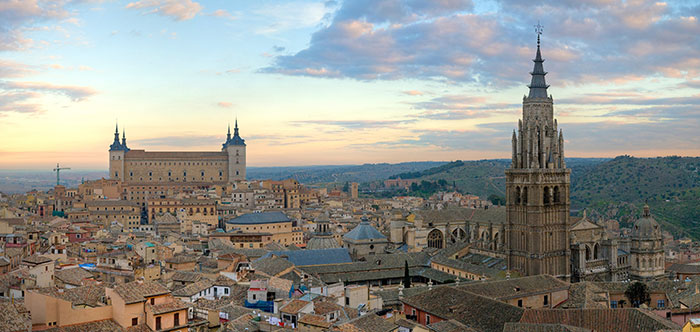 Alongside the development of heritage travel, a curious, parallel fascination with Jewish tradition has flourished, especially in isolated, economically weak regions where almost no Jews live today. Among the most notable is The Conversos, an annual summer theater festival held in the village of Hervas. Residents don flowing skirts, Moroccan djellaba robes and babushka scarves and gather in the town center for plays, concerts and other festivities. Though they are described as Jewish by the townspeople, the costumes have dubious bona fides.
Elsewhere, in the Galician town of Ribadavia, a local bakery owned by an elderly non-Jewish woman named Herminia is flooded with visitors looking to sample her renowned "dulces Hebreos." In 2012, the baker told the El Pais newspaper, "I make cakes with the Star of David, gingerbreads and maamuls [date-filled pastries common among Sephardic Jews], which are so called because they look like mammoth tusks. I did not know the names, so I called them 'Jewish pastries.' "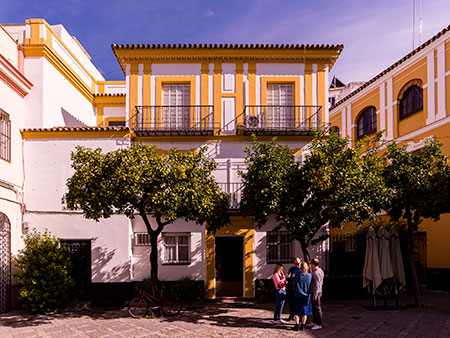 Judith Cohen, an ethnomusicologist specializing in Judeo-Spanish songs, has attended The Conversos and noted the oftentimes well-meaning but not always accurate portrayal of Jewish history. "They think they're being benevolent," she explained. "They think they're portraying Jews as a people with culture, interesting people who had colorful weddings."
In the Spanish town of Alburquerque, along the border with Portugal, Cohen visited a home that was presented as the local "medieval synagogue." It was adorned with Hebrew letters haphazardly strewn on the walls and a copy of the Siete Partidas, a 13th-century statutory book written by the monarch Alfonso X that includes several anti-Jewish ordinances.
Alburquerque residents had told Cohen they were among the first towns in the region to connect to the internet. When she asked them if they ever tried to fact-check their presentation of Jews, they shrugged. She pressed further, asking if such a gross misrepresentation of Catholicism would cause offense, to which they answered, "Of course, that's different!"
In these remote towns, Cohen has felt torn between what she has witnessed to be genuine interest in Spain's Jewish past and blatant appropriation of that very heritage.
BARCELONA
Barcelona's storied Jewish Quarter—which goes by its Catalan name, El Call—makes up a small area of its Gothic Quarter. Its oldest building is the 12th-century Casa Adret, formerly the home of a 14th-century Spanish Jewish businessman that today operates as the Jewish Cultural Center of Barcelona and the headquarters of the organization Mozaika. Among Mozaika's most popular initiatives are Jewish cooking classes for locals and tourists.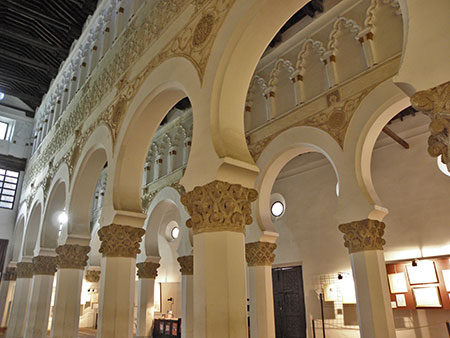 Visitors to El Call should not miss the Major Synagogue. The synagogue lies in the basement of a building dating to at least the fourth century. Its worship space was excavated and reopened as a two-room museum in 2002. While regular services are not conducted in the sanctuary, it is available for private events. The synagogue has been described as the oldest in Europe, though that claim is debatable since the space was not always used as a synagogue.
For a comprehensive walking tour of El Call and the saga of the area's Jews and their relations with Catholic neighbors, contact Dominique Tomasov Blinder at Urban Cultours.
Southwest of Barcelona, ascend Montjuic, Catalan for "mountain of the Jews," by cable car or funicular.  Here, remains of a Jewish cemetery dating back to the ninth century have been declared a landmark site. However, preservation of the cemetery, whose precise boundaries are unclear, is a subject of contention, with many local Jews arguing that the city should invest more funds for upkeep. Montjuic is also home to one of Spain's three Holocaust memorials.
SEVILLE
Seville's Jewish Quarter, known improbably as Santa Cruz, is the city's tourist hub. In the 14th century, it was home to more than 450 Jewish families, making it the second-largest Jewish population in the Castile kingdom after Toledo. The main synagogue, which was converted into the Santa Maria de la Blanca church after the Inquisition, is believed to retain the original interior. The neighborhood was fully reconstructed at the beginning of the 20th century and therefore features buildings that mostly date back only about a century, long after the city's Jewish population was violently expelled. 
To see what Jewish studies professor and local tour guide Moises Hassan-Amselem believes to be Seville's only authentic Jewish site, venture outside the medieval city walls to the Murillo gardens, where a parking lot stands on the grounds of an ancient Jewish cemetery. Down several flights of stairs, visitors will encounter a single Jewish grave, behind glass. Its contents were emptied and transferred to a local archaeological museum in the 1990s, at the time of the parking lot's construction.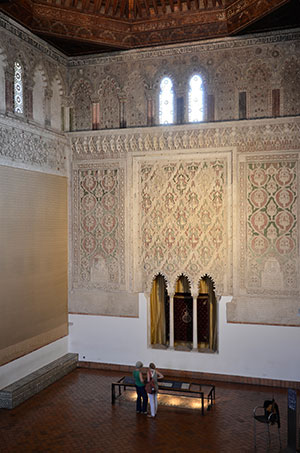 TOLEDO
Toledo's Jewish Quarter boasts the largest concentration of authentic Jewish remains. Spanish tour guide Asher Bentolila gives tours of the neighborhood, which spans nearly 10 percent of the Old City and which was known in medieval times as the "Jerusalem of Spain" because of its importance as a center of learning.
The area is home to two medieval synagogues, both owned today by the local bishop. (The Jewish houses of worship were converted into churches after the Jews' expulsion.) El Transito de Nuestro Señora is often referred to by Jews as the Samuel Ha-Levi Abulafia synagogue, after the Toledo Jew who commissioned its building around 1357. In 1964, the Sephardic Museum was established by royal decree on the grounds of the synagogue in one of the earliest state-sponsored efforts to preserve Sephardic culture.
Built around 1180, the Ibn Shoshan synagogue was seized in 1411 by a local priest and converted into Santa Maria de la Blanca—the same name as the church and onetime synagogue in Seville.
GIRONA
Stroll down central la Força Street to encounter the historical delights of Girona's well-preserved Call. First, visit the Bonastruc ça Porta Center, built on the site of an ancient synagogue. (A mid-15th-century mikveh has been excavated in the center's basement.) The vibrant center today houses the Jewish History Museum and community offices. Next up, be on the lookout for a Judaica store and a recently opened Chabad House, both taking up residence in stone buildings and courtyards once owned by Jews. At the end of the street, at Institut Vell Square, a centuries-old doorway features an indentation where a mezuzah once lay. For information on visiting Girona's Call, go to girona.cat/call/eng.
Shira Rubin is an American journalist based in Tel Aviv. Follow her on Instagram @for_bread_alone.