'Not Our Kind,' When Genteel Anti-Semitism Was the Norm
Eleanor Moskowitz and Patricia Bellamy meet when their taxis collide on a rainy New York morning in 1947, a foreshadowing for the collision of their lives. Just a few blocks separate their homes—Eleanor's on Second Avenue, Patricia's on Park—yet they are worlds apart. When wealthy WASP Patricia hires Eleanor, daughter of Jewish immigrants, to tutor her 13-year-old, Margaux, recovering at home from polio, can the gulf between their worlds narrow?
Not Our Kind: A Novel
by Kitty Zeldis (nom de plume of a Brooklyn author) is a paean to mid-20th-century New York. And the lush details—velvet opera capes, the glittering Chrysler building—draw readers into deeper stories of anti-Semitism and changing roles of women in that era of American history.
The novel focuses on one summer when Eleanor accompanies the Bellamy family to their Connecticut country home, and she tries to draw Margaux out of the shell she has developed since polio damaged her leg. Alternating chapters told from Eleanor and Patricia's points of view portray Patricia's deteriorating relationship with her sometimes brutal husband, Wynn, alongside Eleanor's blooming love for Patricia's brother, Tom.
Anti-Semitism in this book is sometimes outright, as when Wynn characterizes Eleanor's kindness to Margaux as "looking for a financial edge." The author also describes what she calls "almost nonchalant" anti-Semitism, as when Patricia invites Eleanor to her country club, then introduces her as Eleanor Moss.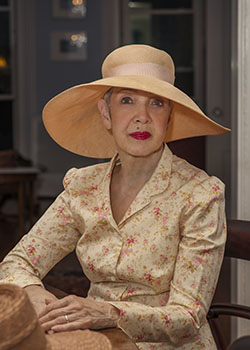 Not our kind: That's how the Bellamys see Jewish Eleanor, while Eleanor's mother, Irina, realizing her daughter is falling for Tom, issues the same warning. But religion isn't the only "other" here. Margaux calls herself a cripple and hides from friends. Widow Irina, supporting herself as a milliner, doesn't fit in with the homemaker mothers of Eleanor's friends nor with the wealthy women who buy her hats. Even Vassar-educated Eleanor no longer fits in with her own marriage-bound friends.
Not Our Kind underscores the differences between the women who followed traditional societal expectations and those who grabbed post-World War II opportunities for jobs and education. Both Eleanor, who is single and lives with her mother, and Patricia dream of living independently. "What if there were another way to live?" Eleanor thinks. "Not with a husband, not with Irina, but—alone."
This book's exploration of women's independence inevitably addresses sex. Zeldis's characters discover the pleasure of sex, but they also experience sexual assault, both within and outside of marriage.
Eleanor and Patricia as well as Margaux and Irina face decisions about how heavily to weigh appearances and traditional expectations. Some of the solutions to their problems may seem a bit simplistic; when Patricia finally contemplates divorce, the plot gives her an easier out. But the themes of this novel are worthy of attention, especially at this moment in history, when women may wonder if we've come as far, since the 1940s, as we'd hoped.
Elizabeth Edelglass is a Judaic librarian, fiction writer and book reviewer living in Woodbridge, Conn.