Was It Bashert? Or Was It Hadassah?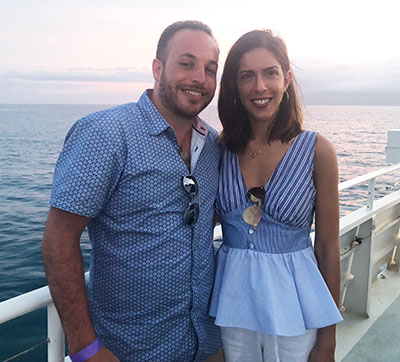 Emily Young and Isaac Rosen are getting married in September, after meeting in June 2018 at a Hadassah event both their mothers had insisted they attend.
Emily, a television news reporter, had just moved back to the New York City area from Fargo, N.D., after a brief stint as the weekend anchor at KVLY. She was living with her mother, Renée Young, having fled the cold of the upper Midwest to warm up back home in Scarsdale, N.Y.
Isaac was in law school at Pace University and had just moved back to his family's home in White Plains, N.Y., after a fire had damaged his apartment.
Both of their mothers have strong Hadassah affiliations.
Renée Young is the public relations director for Hadassah, the Women's Zionist Organization of America. Rachel Freedman, Isaac's mother, is principal owner and president of a chemical company and was until recently president of Hadassah Westchester.
Indeed, it was at the Hadassah Westchester Spring Meeting where they met. Renée Young, attending in her professional capacity, urged her daughter to accompany her to the benefit, which was held at Congregation Emanu-El in Rye, N.Y. Freedman, wanting to share her love of Hadassah volunteerism with her son, pleaded with Isaac to attend. Neither Emily nor Isaac, who are both 29, could say no to their mothers.
According to Emily, now an on-air reporter for FiOS 1 News, it was she who asked for Isaac's phone number, after nudging from her mother. Two weeks later, they went on their first date in Mamaroneck, N.Y., overlooking the Long Island Sound. And in a few months, the couple will be married less than a mile from that spot, at the Mamaroneck Beach & Yacht Club.
Mazel tov, Emily and Isaac!