Near Eilat, an Airport Rises in the Desert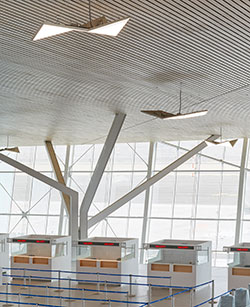 In a desert valley surrounded by ruddy mountains, Israel has opened its new southern gateway—Ramon Airport—11 miles north of Eilat.
Named for Israeli astronaut Ilan Ramon, who died in the 2003 Columbia shuttle disaster, and his son Asaf, an Israel Air Force pilot killed in a training accident in 2009, it is Israel's first civilian airport planned and built from scratch.
The $47-million facility replaced Eilat Airport and civilian use of nearby Ovda Airport. In its first year, it is expected to accommodate two million travelers, both domestic and international, eventually climbing to four million annually.
With runways suitable for planes of all sizes, it can take over for Ben-Gurion, Israel's main international airport in Tel Aviv, in an emergency. Domestic flights have begun; international flights will be added gradually.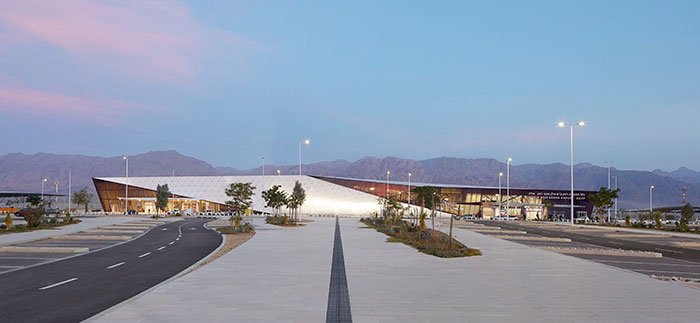 Two Israeli firms, Mann Shinar and Moshe Zur Architects, provided the design. The mushroom-like rock formations nearby inspired the shape of the passenger terminal. Its interior features tree-like asymmetrical stanchions and bamboo paneling. The exterior of the terminal and the 164-foot control tower are clad in gleaming white triangular insulating panels. The windows afford an unobstructed view of the surrounding mountains.
According to architect Asaf Mann, "Nearly all the 45 companies involved were Israeli. We're quite proud it was done with Israeli firms."