Momentum Marks 10 Years and More Than 17,000 Participants
JERUSALEM (JTA) — Momentum, formerly known as the Jewish Women's Renaissance Project, celebrated its 10th anniversary at an event in Israel with 500 participants from nine countries.
More than 17,000 Jewish women and men have participated in the year-long program designed to connect Jewish families to Jewish tradition and Israel, which includes a heavily subsidized eight-day trip to Israel. Participants also commit to becoming involved in programs when they return from Israel, including community activities, Israel engagement programs, Jewish education, global learning, and leadership development.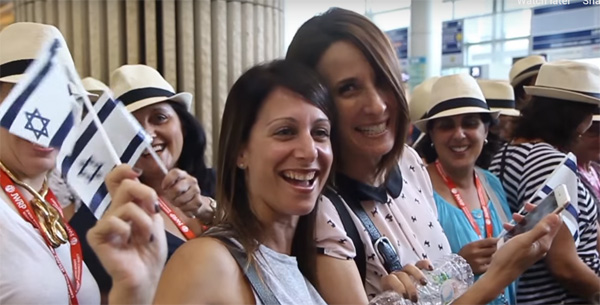 The rebranding of the organization, once nicknamed "Birthright for Moms,"  includes a new multimedia website with original content that presents daily life and family issues through a Jewish lens.
"When we launched the movement 10 years ago, our goal was to inspire greater pride and identity among Jewish mothers based on timeless values," said Lori Palatnik, Momentum founding director. "While the Israel experience will remain central to that concept, with Momentum, we're thrilled to embrace a far broader vision. We're bringing 'Jewish to life' for women throughout the world, enabling them to tap into Jewish inspiration and wisdom everyday and to apply it to every avenue of their lives."
Speakers at Monday night's event included Speaker of the Knesset Yuli Edelstein, author and journalist Lihi Lapid; and Israeli educator and Israel Prize Winner Miriam Peretz, Both women are Momentum Israel Public Council Members. The Shalva Band, whose members are musicians with disabilities and who performed at this year's Eurovision were the featured performers.