'A Rich Brew: How Cafés Created Modern Jewish Culture'
A Rich Brew: How Cafés Created Modern Jewish Culture
 By Shachar M. Pinsker (NYU Press, 384 pp. $35)
Shachar M. Pinsker's A Rich Brew: How Cafés Created Modern Jewish Culture takes you to the coffeehouses that became the urban refuges of Jewish writers, thinkers, political activists and even gangsters from the mid-19th to the mid-20th centuries after they left behind their close-knit villages.
Pinsker, professor of Hebrew and Jewish literature at the University of Michigan, focuses on Odessa, Warsaw, Vienna, Berlin, New York and Tel Aviv-Jaffa because, he writes, these "way stations for Jewish intellectuals on the move across Europe and beyond were central to modern Jewish creativity." The Jews frequenting these cafes often mixed easily with non-Jews, learning secular culture. Exposure to the press, literature, theater, art and politics assimilated these facets into Jewish culture.
A short list of significant cafes includes Odessa's Café Fanconi, a favorite of the young Sholem Aleichem, who paid homage to it by depicting it humorously in his novel The Letters of Menakhem Mendl and Sheyna-Sheyndl. Isaac Bashevis Singer found a home in Warsaw's Tlomackie 13 during his early years as a writer.
At the turn of the 19th century, Vienna, capital of the Hapsburg Empire, began to develop, as did the Jewish community, which patronized the city's cafes. Pinsker describes Café Central as "a grand space with domes and arches and a central hall''; Franz Werfel included Café Central in his novel Barbara oder die Frommigkeit. The Marxist Leon Trotsky was also a regular. Other significant coffeehouses in Vienna were Café Imperial, Café de l'Europe and Café Landtmann, whose habitués included composers Gustav Mahler and Arnold Schoenberg, artist Gustav Klimt and philosopher Ludwig Wittgenstein as well as the budding psychoanalyst Sigmund Freud. Of note, Café Herrenhof drew female writers, including Vicki Baum, who wrote the best-selling 1929 novel Grand Hotel.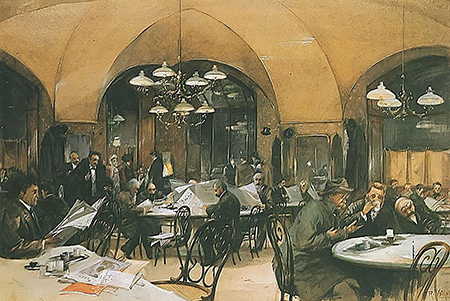 Berlin's Café Monopol was known as the center for Zionism. Itamar Ben-Avi, the son of Eliezer Ben-Yehuda, who revived Hebrew in Palestine, was studying at Berlin University between 1904 and 1908. In his memoir, he wrote that at Café Monopol, you could meet "all of German Jewry, with its guests from Moscow, Warsaw, Odessa, Vilna, Lemberg, Prague…. You merely had to order a cup of coffee with a single pastry on the side, and this enabled you to spend many hours there."
In New York City, the first building of Congregation B'nai Jeshurun was bought at auction in the Tontine Coffee House in 1826 in the Wall Street area. The legendary Café Royal on Second Avenue thrived, in part, because it was next door to several theaters, attracting not only writers and journalists but the celebrities they wrote about. Operating from 1910 to 1952, Café Royal was memorialized in the photographs of Weegee, the pseudonym of Arthur Fellig, whose images are included among the many photos and sketches in the book.
Herrick's Café on the Lower East Side of Manhattan was an important gathering place for Yiddish writers and journalists, among them Abraham Cahan, who became editor of the Yiddish Forverts and author of The Rise of David Levinsky.
From the 1920s to 1946, Tel Aviv had more cafes per capita than most European and American cities did, writes Pinsker. It was in coffeehouses such as Sheleg Levanon and Café Casino Galei Aviv that Ahad Ha'am and Hayim Nahman Bialik would socialize and work; writer Leah Goldberg patronized the legendary Café Kassit.
This meticulously researched book pays tribute to an electrifying network of cafes that once incubated modern Jewish culture.
Sherry Shameer Cohen is a freelance journalist, copywriter and theater critic based in Stamford, Conn.