Sexual Harassment Takes a Toll on Health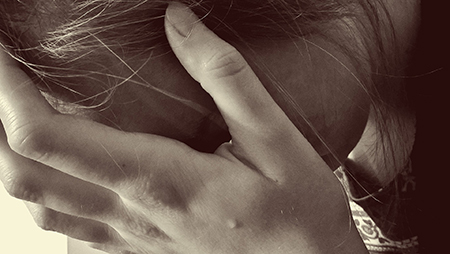 Ignoring sexual comments and obnoxious remarks from male customers is almost "in the job description" for a restaurant server and bartender, according to Rhiannon, who has worked in the field since she was a teenager.
But the 26-year-old resident of California's High Desert area, who preferred not to give her last name, said other incidents continue to haunt her. Like the night two years ago when she was serving a rowdy group of men, and one of them wrapped his arms around her waist, refusing to let her go.
"He had his face in mine trying to kiss me," Rhiannon said, "and I'm bending backwards trying to get away from him. He was like, 'Am I making you uncomfortable?' And I said, 'Yes, yes, you are.' And he said, 'O.K, I'll let you go,' and then squeezes me tighter, starts to grope me. I've never felt so trapped in my life."
After that, whenever the man, a close friend of the owner, came into the restaurant, Rhiannon found herself having an anxiety attack—stomach churning, mind racing, hands shaking. She had been prescribed Xanax a year earlier for postpartum anxiety but had rarely taken it. Yet whenever she saw this man, she rushed to take the drug. Even with the medication, her unsteady hands made it difficult to carry trays. When Rhiannon changed jobs recently, the sexist remarks continued but she found her new boss to be supportive, and she stopped feeling anxious.
Sexual harassment has been recognized as a frequent, even daily, stressor in the lives of American women for decades. But psychologists, researchers and advocates in the field have only recently begun to examine the issue through a different lens—not just as a cultural problem but as a threat to women's health. From mental health issues like anxiety, depression and post-traumatic stress disorder to physical illnesses like gastrointestinal problems, insomnia and even heart disease, several medical studies have linked sexual harassment to health concerns that can follow women throughout their lives, according to a 2018 review by the International Society for Traumatic Stress Studies.
The number of women at risk is alarming. A national survey released in April 2019, conducted by the National Opinion Research Center at the University of Chicago with the nonprofit Stop Street Harassment as well as other organizations, found that 81 percent of women and 43 percent of men have experienced sexual harassment or assault during their lifetime. Verbal comments were most common, but 49 percent of women also reported unwelcome sexual touching or groping, 27 percent had been followed and 30 percent had been flashed. A survey by the Anti-Defamation League released in February 2019 found that 18 percent of Americans had been sexually harassed online.
Psychologist Susan Lipkins, who specializes in treatment of sexual harassment and bullying, says that depression, anxiety and PTSD are common among victims. She points out that it is impossible to predict when harassing behavior might turn into something more aggressive. And for someone who was sexually harassed or abused as an adolescent, re-experiencing harassment from a boss or coworker will likely cause more intense trauma.
Lipkins, who is based in Port Washington, N.Y., encourages anyone experiencing symptoms from sexual harassment to seek help from a mental health professional as well as use methods like mindfulness, relaxation and exercise to reduce stress. She also says that reporting harassment to an employer or institution can be an important part of recovery and that receiving a supportive response can actually mitigate the victim's trauma.
"There is a lot of ambivalence around reporting," said Lipkins. "It's hard to know when and how to report and whether that report is going to be taken appropriately seriously or not." She added that "if there are people who respond and not only take care of you but look into it and stop the harassment, then you feel much more powerful and positive."
This was Tarah Chieffi's experience in her early 20s, when an effective response from an employer left her feeling empowered. While working at a hotel in Louisville, Ky., Chieffi, 37, said her manager made frequent comments about her body and clothing as well as told sexually explicit stories. After six months, Chieffi's discomfort grew into severe anxiety. She dreaded going to work.
"I did not have a lot of self-esteem at the time," said Chieffi, "but I went to someone outside of the organization, and they said, 'You know, you can call the corporate office and make a report against him and tell them that you're not comfortable in this environment.' So, I did that, and they actually were very responsive."
She said the franchise headquarters sent a representative to interview her and her manager and informed him that this behavior would not be tolerated. When the harassment continued, Chieffi reported it a second time, and the manager was fired. Her anxiety disappeared.
Even an anonymous report may be beneficial. Emily May, co-founder and executive director of Hollaback!, an organization aimed at combating harassment in public spaces, has seen a range of mental health consequences for victims, including people who have become suicidal. She is concerned about the lack of resources dedicated to supporting victims of harassment, compared with those available for sexual assault or domestic violence. In addition to anti-harassment programs, Hollaback!  has collected over 14,000 stories on its social media platforms. In 2013, researchers from the Georgia Institute of Technology interviewed those participants and found that posting on the website helped them manage their trauma. "They no longer saw it as a personal problem or something they did wrong," said May. "Instead, they were able to see it as a societal problem, and as a result, start to take action."
But not everyone finds relief after reporting incidents of sexual harassment. After a man followed Emily Tarantino around a local park in her hometown of Glens Falls, N.Y., she tried to report the incident to the police. A police officer told her they had had a couple of complaints about the individual but he had "never really done anything," so she shouldn't worry. "Nothing was done," said the 29-year-old Tarantino, who had previously worked at the park as an employee. She said she no longer felt safe visiting the park, and the loss has led to depression.
"My safe place was taken," Tarantino said. "My sanity was taken; my identity, my legacy. Not to mention the place for my kids to run and play."
Dr. Inbal Reuveni, currently working at Columbia University while on hiatus from her position as head of women's mental health services at Hadassah Medical Center in Jerusalem, warned that when institutions ignore or tolerate sexual harassment, it "can re-victimize and exacerbate the negative mental health sequela of the trauma." She stressed that "it is crucial that victims are listened to, believed and supported."
But it is still unclear whether that support can actually reduce health consequences. Clinical and health psychologist Rebecca Thurston at the University of Pittsburgh is researching the connection between sexual harassment and assault and physical disease outcomes. Her latest study, published in JAMA Internal Medicine in October 2018, found that women who had been sexually harassed had significantly higher rates of hypertension. This was true even when controlling for factors such as race, ethnicity, body size and socioeconomic status. Thurston plans to design further studies to examine whether anything can moderate this risk.
"Do women have to just accept the fact that they're at higher risk for high blood pressure? Or is there something they can actually do to protect themselves?" Thurston asked. "Does getting treatment help? Does reporting the incident help? Does having a supportive work environment matter?"
For Tarah Chieffi, the next step is teaching her three young sons to be sensitive to inappropriate behavior. She is encouraged that the #MeToo movement has sparked a public conversation around sexual misconduct and that bystanders are being taught to speak up and intervene. "More people are speaking out," said Chieffi, "and also more men. I would love to think that my sons would do that someday." 
Sarah Yahr Tucker is a writer based in Los Angeles, Calif.