Summertime, and the Living Is Grammatical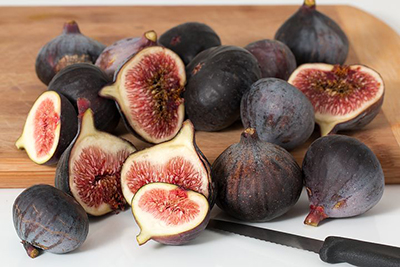 Over the centuries, Hebrew grammarians have looked for—and found—etymological connections between seemingly dissimilar derivations. Nevertheless, there are roots that resemble each other yet are unrelated. Take the example of the root ק–י–צ (kof, yod, tsadi), summer.
In Scripture, our root takes us to a climatological season, one of only two recognized in the ancient Near East. Psalm 74:17 acknowledges God's creation of these polarities: קַיִץ‭ ‬וָחֹרֶף‭ ‬אַתָּה‭ ‬יְצַרְתָּם (kayits va-horef ata yetsartam), "Summer and winter you created them."
The root also leads to an agricultural season, rolling out a generic word for summer fruit, קֵיצָה (keitsa). Specifically, the root refers to a fruit that ripens in summer—figs. The prophet Amos was by profession "a tender of sycamore fig trees." Fittingly, God's prophetic revelation to Amos involves the apparition of a‭ ‬כְּלוּב קָיִץ (keluv kayits), "basket of figs." Interpreting this vision, Amos, very much the doomsayer, cannot resist the temptation to make an etymologically chancy association between קַיִץ (kayits), summer, and קֵץ (kets), end. With these figs, he announces,בָּא הַקֵּץ‭ ‬אֶל‭ ‬עַמִּי‭ ‬(ba ha-ketz el ammi), "The end has come for my people."
Our root shows up in other Jewish texts: Proverbs 6:8 extols the industrious ant as if it were the Woman of Valor herself, saying‭ ‬תָּכִין‭ ‬בַּקַּיִץ‭ ‬לַחְמָהּ (takhin ba-kayits lahmah), "She lays up her stores during the summer." One of the less well-known episodes of Absalom's revolt against his father, King David, is an episode involving מֵאָה‭ ‬קַיִץ‭ ‬(me'ah kayits), "100 cakes of figs," as a bribe made to David on the battlefield. Apparently, David was not fond of Fig Newtons, since this effort at enticement did not work.
Today, students wishing to take a Hebrew immersion course register at a בֵּית‭ ‬סֵפֶר‭ ‬קַיִץ (beit sefer kayits), summer school. As Israel turns on its‭ ‬שְׁען‭ ‬קַיִץ‭ ‬(she'on kayits), summer clock, to give its residents an extra hour of sunshine, one can observe many fashionable women on Tel Aviv boulevards sporting a‭ ‬שִׂמְלָה‭ ‬קֵיצִית‭ ‬(simlah keitsit), summer dress.
The Aramaic cognate of kayits, קַיְטָא (kayta), summertime, has assumed a prominent place in modern Hebrew. In current Hebrew, קַיטָנָה (kaitanah) is a summer camp; קַיטָנִים (kaitanim), summer vacationers; and‭ ‬עִיר‭ ‬קַיִט‭ ‬(ir kayit), resort town. These expressions, having arrived in Mandate Palestine in the early 20th century, have, like other new arrivals, comfortably assimilated into modern Israel.
Joseph Lowin's columns for Hadassah Magazine are collected in the books HebrewSpeak and HebrewTalk.