The Rising Tide of Martha's Vineyard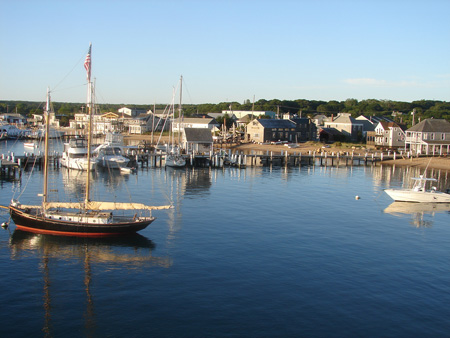 Every July, as our Buick glided up a hill near Keith Farm and the ocean came into view, my parents would make the same remark about Martha's Vineyard, the Massachusetts island where we spent my childhood summers. "Hasn't changed a bit," my father would beam as he waved at pastures hemmed by mossy stone walls and harbors dotted with fishing shacks.
To a degree surprising for such a fabled resort, Martha's Vineyard remains the low-key idyll my parents, Jeri and Bud Larson, discovered during their honeymoon in the 1970s. (It may be the last place on the Eastern Seaboard where people still routinely hitchhike.) A distinctly rural way of life endures, free of traffic lights and McMansion sprawl, thanks to an inherent remoteness—45 minutes by ferry from mainland Cape Cod—and a rugged New England culture that prizes that remoteness, defeating occasional talk of a bridge.
Yet in recent years, social media has attracted more crowds than a causeway ever could. Call it the Obama Effect: a massive influx of younger, style-conscious visitors, inspired by images of then-President Barack and First Lady Michelle Obama cycling through pine forests and schmoozing with celebrities on Victorian porches. Conspicuously well-dressed tourists have always thronged the "down-island" ports—Vineyard Haven, Oak Bluffs and Edgartown—but the fishing village of Menemsha, on Martha's Vineyard's western end, has become so popular at sunset that beachside parking is restricted, forcing would-be rosé sippers to shuttle in by bus.
Celebrity, politics and Jewish culture have lately blossomed in a symbiotic embrace, casting a glamorous spotlight on a resort that prides itself on being a kind of anti-Hamptons. When I was a kid, everyone's parents drove station wagons down the winding, rutted road to Squibnocket Beach in Chilmark, even if they were masters of the universe back in the city. Tie-dye T-shirts and shorts were a uniform for hippies and preppies alike. The resident political celebrities were the Kennedy clan, but they were notoriously private, and nobody ever saw them.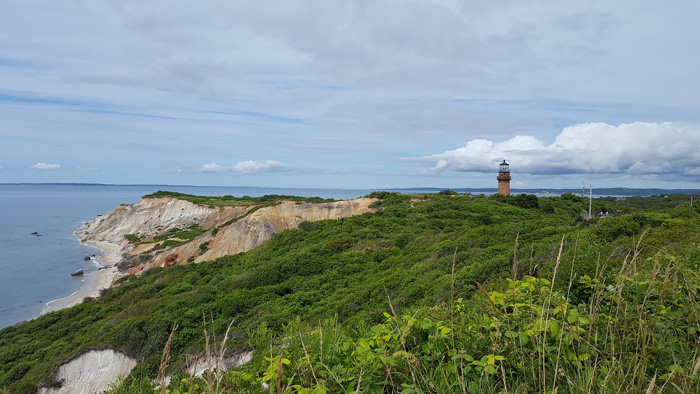 But these days, it's hard to miss Bernie Sanders and Elizabeth Warren holding fundraisers alongside the Clintons, or food writers Michael Pollan and Joan Nathan headlining the Martha's Vineyard Book Festival. The Summer Institute, a lecture series at the Martha's Vineyard Hebrew Center in Vineyard Haven—the island's only synagogue—sells out 300 seats with a lineup of Jewish luminaries, this summer including U.S. Rep. Adam Schiff, a high-profile Democrat from California, and New Yorker writer Adam Gopnik, among others.
In February 2018, comedian Amy Schumer was one of a recent wave of Jewish celebrities to be married here in nuptials at the intersection of Jewish life and local farm culture: Her groom was island chef Chris Fischer, who won a James Beard Award for his cookbook featuring Martha's Vineyard recipes. By last summer, when Alan Dershowitz groused to The New York Times that left-wing islanders shunned him for his centrist Democratic politics, those Chilmark neighbors—locals and celebs alike—basically yawned.
All this attention has certainly raised the island's profile as well as its Jewish quotient. Right now feels more like Martha's Vineyard's Jewish cultural moment than any I've ever witnessed over my repeated visits. "It is a whole different level," agreed Bonnie George, president of the Hebrew Center, where August Shabbat services may draw 75 worshipers—a mix of locals and weekenders, farmers and bankers and columnists, from the kosher observant to a pair of retired ministers who just dig synagogue.
Martha's Vineyard was always notably diverse for its size and location. The Wampanoag tribe has lived in the western settlement of Aquinnah for 10,000 years, and today owns 500 acres of land on the island they once called Noepe. In 1602, the story goes, English explorer Bartholomew Gosnold—who had settled in the region to harvest sassafras—named the island for his daughter Martha.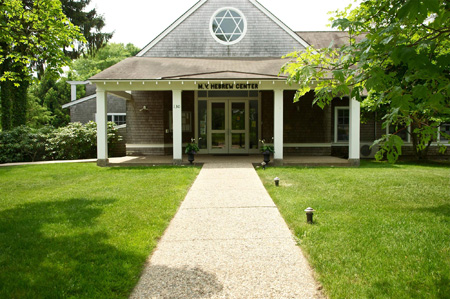 Plenty of farmers still bear the surnames of their English settler ancestors, and Portuguese has been a lingua franca for generations, spoken first by European seafarers and, more recently, by Brazilian immigrants. In July and August, the patios of Oak Bluffs feel like old home week for African-American families who have summered in the village for at least a century.
That diversity, hardly a given in New England resorts, is part of what seduced a generation of Jewish vacationers from New York City and Boston in the 1970s. Many, like George and my parents, now call the island home at least part of the year. In Martha's Vineyard, Jewish, literary and ethnic cultures now overlap to a degree that "the Hebrew Center has become the cultural hub of the island," as George put it.
Richard Michelson, a poet and children's book author from Northampton, Mass., has watched the scene evolve from his candy-colored gingerbread house in Cottage City, a 19th-century Methodist campground at the heart of Victorian-era Oak Bluffs. Shel Silverstein, the iconic children's poet, "preceded me as the Jewish children's author in the campground," Michelson joked. On any given evening, his porch is likely to host island Jewish literary fixtures like novelist Geraldine Brooks and cartoonist Jules Feiffer.
One January, Michelson holed up on the island to write undisturbed, figuring nobody would be around. Then he ran into Feiffer at Cronig's, a local supermarket founded over 100 years ago by the island's first Jewish resident, Sam Cronig, a Lithuanian immigrant who came for the fresh air. "There went our hideaway," recalled Michelson.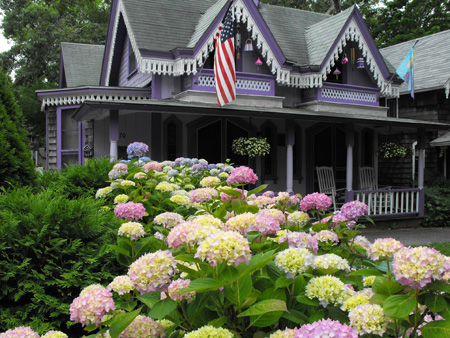 You can still hide on the island, but it's harder than in Cronig's day. Would-be hermits take refuge in Aquinnah, where my Great-Aunt Mary reportedly lived for decades without ever running into us. The island turns wilder and more rural as you head west, past the airport that in summer can feel as busy as JFK in New York, through oak forests and farmland and the odd tidal inlet. Somewhere in Chilmark, cell service dies out—and that's how locals like it.
Along the ocean, Edgartown's dunes give way to massive red-clay cliffs. These reach a zenith at Aquinnah, with views over the Wampanoag tribal lands to the (fittingly virginal) Elizabeth Islands. The circa-1799 Gay Head Lighthouse beckons from atop a cliff; in a concession to centuries of erosion, the landmark was recently relocated more than 100 feet inland.
In another hundred years, I expect the Gay Head Lighthouse will still flash its pattern—three whites, one red—over the shoals known as Devil's Bridge, site of many shipwrecks. It will probably still be impossible to order a gin and tonic in Menemsha, a village in the town of Chilmark, which has been a "dry" zone since Colonial days. And Jewish adventurers will still find their way here, via New York or elsewhere, seeking community and inspiration by the blue Atlantic. 
WHAT TO SEE
Edgartown, Vineyard Haven and Oak Bluffs are the island's three main port towns. While each boasts a distinct personality, all are compact and walkable, with an appealing mix of vintage hotels, boutiques, ice cream shops, fish joints and art galleries.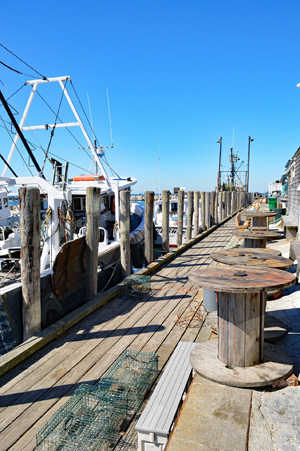 A year-round ferry dock anchors the busy harbor at Vineyard Haven, where the best views are from the beachside Black Dog Tavern (pick up one of their iconic T-shirts at the shop next door). The Martha's Vineyard Hebrew Center is just a few blocks from the Martha's Vineyard Playhouse, a year-round venue for professional theater, with a poetry series hosted by Jewish public radio personality Arnie Reisman in the off-season.
Oak Bluffs, known for its Victorian gingerbread cottages and lively bar scene, is the heart of the island's African-American community. In summer, join the Polar Bears Club at Inkwell Beach for a 70-year tradition of morning swims. Or take a spin on the Flying Horses carousel. Built in 1876, it's the oldest operating merry-go-round of its kind.
Picket fences and rose gardens are the hallmark of Edgartown, a quintessential New England whaling port, where Revival-style manses have second-floor balconies known as widow walks (for the mariners' wives who paced while gazing out to sea). Just off North Water Street, tour another relic of whaling days—the historic Edgartown Lighthouse—or hop a two-minute ferry ride to Chappaquiddick, an islet whose notoriety is inversely proportional to its size. (Late Massachusetts Senator Edward Kennedy's negligence while driving his car over a one-lane bridge here—and leaving the scene of the crime—resulted in the drowning of his companion, Mary Jo Kopechne, in 1969).
Two of the best public beaches lie on the outskirts of Edgartown: Joseph Sylvia State Beach, a family favorite on Vineyard Sound; and windswept South Beach in Katama, on the ocean side. Stock up on picnic fare at Morning Glory Farm, a family-run institution whose market is a destination for organic produce, chef-prepared foods and New England-style breads and pies.
The shingled Grange Hall is the heart of West Tisbury, a mid-isle farming hamlet. In summer, the agricultural-cum-community center hosts a twice-weekly farmer's market, a film series and Islanders Write, a literary workshop. Alley's General Store, founded in 1858 and Martha's Vineyard's oldest continuously operating business, sells everything from toys to coffee.
Steven Spielberg arguably put Martha's Vineyard on the cultural map with Jaws, the 1975 blockbuster set in the waters off Menemsha. Few sharks have been spotted since, and the sleepy, ramshackle harbor, surrounded by faded lobstermen's shacks and thickets of wild roses, looks as it did when celebrated American artist Thomas Hart Benton painted here in 1920.
IF YOU GO
Most visitors and all vehicles arrive on a multilevel ferry operated through the Steamship Authority, which has hourly departures year-round from the Woods Hole dock at Falmouth on Cape Cod. To bring a car, make an online reservation as far in advance as possible.
Passenger ferries depart from Quonset Point, R.I., with a parking lot just off I-95; New Bedford; and Hyannis on Cape Cod. Several airlines offer nonstop flights to Martha's Vineyard from New York; JetBlue, in partnership with Cape Air, connects through Boston.
A car is the easiest way to get around, but schlepping it over is a hassle, and taxis are expensive. Fortunately, the Martha's Vineyard Transit Authority offers accessible bus service and will drop you wherever you need to go.
With a well-maintained network of paths, Martha's Vineyard is a cyclist's paradise; rent a bike or bring yours on the ferry. Distances can be surprisingly substantial, so be prepared for hours of hard exercise if you're headed out of town (and back).
Chilmark is a "dry" town, restricted by Puritan-era blue laws from selling alcohol—so bring your own.
Many beaches restrict entry to property owners or town residents, but visitors can often get access to passes or car permits through their hotel or rental home.
Martha's Vineyard is a breeding ground for tick-borne diseases. Take maximum precautions (DEET is the go-to repellant) and check thoroughly after every outing.
Hillary Danailova writes about travel, culture, politics and lifestyle.