Coexistence on the Menu at Izak Hummus in Jerusalem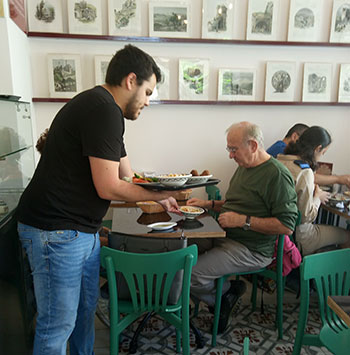 It may seem that the last thing Jerusalem needs is another hummus joint. But newcomer Izak offers something different. The restaurant is co-owned by Samir Kanwane, who is Arab, and Gal Itach, who is Jewish.
On a recent afternoon, Izak was packed with soldiers scooping up hummus with pita as fast as they could. The restaurant, on Shamai Street just off Ben Yehuda Street, has about 20 seats inside and a few more outside.
The menu—overseen by Kanwane, who does all the cooking—is similarly diminutive, with just hummus, falafel, pita and French fries served on colorful Armenian pottery dishes. Kanwane's hummus is closer to the Arab version, chunky and slightly sour, than the smooth varieties found in most Israeli establishments, and he tops it with either chickpeas or mushrooms.
His falafel is oval-shaped and green thanks to a mixture of herbs. Izak supplies free refills of hummus—a new and very popular trend in Israel.
The owners were too busy cooking and serving to chat much when I visited. "It's going great," said Itach, who serves all the food and processes payments, when I asked how business was faring. "Now please get out of my way."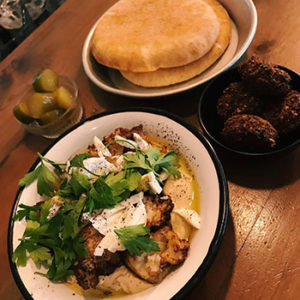 The customers seemed to be enjoying their meals. Tuvia and Eva Brandes said they had been to Izak's several times and didn't even know it was co-owned by an Arab and a Jew.
"The hummus is made well and the service is excellent here," said Tuvia. "I would even consider eating another bowl, but hummus is one of those things that needs to be eaten in moderation."
A sign on the wall says the restaurant dedicates 20 percent of its proceeds to "promote educating children towards cultural lovingkindness." Specifically, Itach said he and his partner donate to several organizations serving Arab and Jewish children with disabilities.