Why We Still ❤ 'Fiddler,' a New Documentary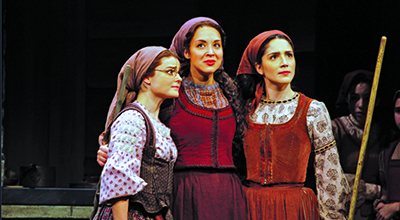 A new documentary on Fiddler on the Roof? As Tevye said, "Sounds crazy, no?"
From the popular Off Broadway Yiddish version to a national tour of the original, it is clear that Fiddler is—once again—having a moment. But is there anything further to glean from the musical about Jewish life in a shtetl in czarist Russia?
Fiddler: A Miracle of Miracles, in select movie theaters nationwide beginning August 23, proves that the iconic musical has fresh relevance—and celebrity fans. The documentary recounts the show's origins in Sholem Aleichem's Tevye tales. Using archival footage from its opening on Broadway in 1964 and the 1971 movie version as well as interviews and discussions about the social upheaval of the 1960s, the filmmakers connect Fiddler to our uneasy sociopolitical present.
"We talk about themes like female empowerment, racism, the breaking of traditions on a gender and a generational level," said Valerie Thomas, who co-wrote and produced the film with director Max Lewkowicz.
And Golde should be seen as an early role model for women, Thomas asserted: "The women in the show are incredibly strong. Golde is Tevye's equal. The daughters stand up to their father and thousands of years of tradition but don't break the bonds entirely—it's done in a way that's loving but firm."
The musical is a pull for theater luminaries like Harvey Fierstein and Lin-Manuel Miranda, both of whom appear in the documentary. Be on the lookout for memorable footage of Miranda surprising his bride, Vanessa Nadal, at their 2010 wedding reception by singing "To Life"—and persuading her Latino family to join in. Tradition, indeed.
Gerri Miller is an entertainment and lifestyle journalist who contributes to the Jewish Journal in Los Angeles and numerous other publications.