Alternating Perspectives in HBO's 'Our Boys'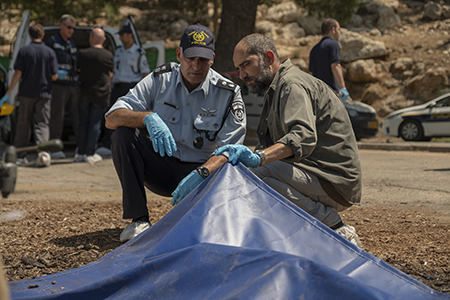 In the summer of 2014, three Jewish teenagers—Naftali Fraenkel, Gilad Shaar and Eyal Yifrah—were abducted in Jerusalem and murdered by Hamas terrorists, plunging Israel into mourning. The night of the boys' funerals, Palestinian teenager Mohammed Abu Khdeir was murdered by three Israeli extremists seeking revenge. The murders contributed to the ongoing violence, including Palestinian riots and rocket fire from Gaza, that ultimately culminated in the Israel Defense Forces' Operation Protective Edge in Gaza. In HBO's Our Boys, which debuts with two episodes on August 12 and is available on streaming platforms, the original killings are the trigger for a deeper story about the psychology of hate and vengeance.
Filmed in Hebrew and Arabic on location in Jerusalem, and weaving actual news footage into the narrative, Our Boys is a gritty procedural thriller that evokes sympathy for characters on both sides of the conflict. Simon, a Shin Bet detective and terrorism specialist, played by award-winning Israeli filmmaker Shlomi Elkabetz in his first acting role, is tasked with investigating Abu Khdeir's murder. Based on true events, the 10-part miniseries alternates between Simon's investigation and the perspectives of Abu Khdeir's family and his killers.
"We were quite cautious to represent things as they are. It wasn't about being balanced, it was about being true to what happened," said Hagai Levi, who wrote, directed and produced the drama with fellow Israeli Joseph Cedar and Palestinian Tawfik Abu-Wael. "With every step we took, every scene we wrote or shot, we had to ask, 'Are we doing the right thing?' "
Shows like this can foster greater understanding, said Keshet Media Group CEO and Executive Producer Avi Nir. He feels that audiences will relate to the pain of Abu Khdeir's parents, regardless of what "side" they are on. "You cannot predict whether it will change things," he said, "but the mere fact that it resonates is important."
Added Levi, "What we've dealt with here is so relevant. We tried to understand hate crime. That's relevant to America, to Europe, to everywhere."