A Support Group for Mothers of the Sickest Kids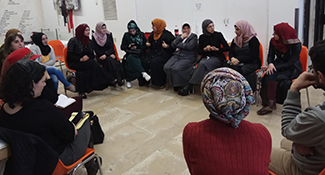 In an out-of-the way foyer at Hadassah Hospital's campus on Mount Scopus, the staff of the Pediatric Palliative and Supportive Care Center set a table with a spread of salads, tuna wraps and cheese. The air is scented with coffee. The February welcome brunch is the first meeting of a support group called the Mother's Day Club—Yom al-Ume in Arabic—for Muslim mothers bringing up children with chronic, life-threatening health issues.
At the brunch, the center's co-directors, Drs. Rivka Brooks and Isaiah Wexler, express delight that 10 women showed up. "It's a wonderful start," says Dr. Brooks. "We know how busy these women are and they are taking out time for themselves."
The group was the brainchild of Aya Azhmen, who, while caring for her son Bilal at Mount Scopus, overheard other Arabic-speaking parents divulging frustration and anger about their situation. But she and her husband, Muhammed, weren't angry. "We feel God had presented us with this enormous challenge to love and care for all of our children," she says. She decided to create a support group to help other families accept their children as well.
The mothers all wear hijabs, in red, pink, black and turquoise. Most are also wearing long, dark coat-like dresses, but one woman is in jeans and another in a stylish black pantsuit and heels. Their lives have been altered by the constant demands of caring for their very sick children. They have met or at least spotted each other in the wards and intensive care unit of Mount Scopus, where their children frequently receive care. One mother, who like many others in the group prefers not to give her name, describes their lives: "We're one week at home, then a month at the hospital. This is my second home."
Dr. Wexler, whom one of the women calls "Grandpa Wexler," opens the gathering: "I know that there must be times we're not always sensitive enough to all your needs," he says. "We want to say that we're open to hear what's not working for you.
"I feel so grateful that I work here in Hadassah Hospital, where there is respect for all of God's creations," he says. "You model this love and dignity by your care for your children with so many challenges, through sleepless nights and long hospital stays. We learn so much from you."
Sitting in a circle, the women talk about their children's names. One woman says she found her daughter's name, Rimas, on an internet search, only later discovering that the name means "devilish fairy." Another young mother was having trouble in an Interior Ministry office, and named her daughter Sarah after a registry clerk who went out of her way to help her.
The stories break the ice, but soon the talk turns somber as the women discuss their children's poor health. Some of their children are both deaf and blind, others have malformed gastrointestinal systems or heart, lung, kidney and brain irregularities. Each child has a unique cluster of congenital anomalies, metabolic disorders and orphan diseases, which are rare, possibly genetic, disorders. One woman, older than the others, has two children of her own and is a foster mom to her brother's five children.
She also took in an abandoned baby girl who needed three heart surgeries, has a single kidney and a hole in her esophagus. When she tells her story, the others applaud her for taking on a child with so many special needs. She brought the little 15-month-old to the meeting in a stroller, and matter-of-factly injects food into her feeding tube before holding her close. "My dream is that one day she'll be well enough to go to a special education kindergarten, but she has to learn to swallow first," she says.
A 20-something mom tells how she refused to believe a prenatal ultrasound that showed heart, kidney and brain malformations in her fetus. When her son was born, "he looked normal, better than normal, handsome and smiling," she says. But at 4 months old, seizures began and he stopped nursing.
The women shed no tears for themselves or their children until one of them breaks down while speaking of her only daughter's recent death at the age of 10 months. The others surround her, comforting her with hugs.
"I had never really heard of children being so sick and incurable until I had my daughter," she says, tears running down her cheeks. "When she died, I became estranged from my family. I couldn't cry at home. No one could understand how much I missed her. They thought a burden had been lifted, but they were wrong.
"Only here do I feel understood," she adds. "At Hadassah, I never felt like an outsider. Hadassah is my oxygen."  
Barbara Sofer is a veteran journalist and author as well as the Israel director of public relations for Hadassah. She lives in Jerusalem.